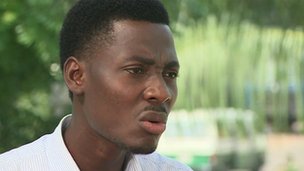 On the 2nd of January 2013, the BBC published a report about going "Inside Nigeria's Secret Gay Club" by Tomi Oladipo. The news feature and video report discussed Nigeria's proposed Same Sex Marriage (Prohibition) Bill, talked to Nigerian Gay Rights Activist Rashidi Williams who asked "Who is advocating for (Gay) Marriage?… All we are asking for is to repeal the repressive laws in this country so that people are free….and can access sexual health services, HIV prevention services and if they are HIV positive, are able to access treatment services in the totality of who they are and (not face) discrimination."
The BBC visited the club and though they were not allowed to film inside, a few brave members spoke to them. See excerpts from the report below.
Click HERE to watch the video and read the full story.
Inside the Club
About 50 people, mostly men, crowd around the front porch of a social club in Nigeria's biggest city, Lagos, cheering on a shy-looking young man, who proceeds to sing a ballad.
Backstage, another man puts on his wig and takes a quick glance at his pocket mirror, before adjusting his tight-fitting red dress.
Five other men also dressed in drag outfits appear, checking on each other's make-up as they wait for their turn to perform for the crowd.
"A friend invited me here a few months ago," one chatty spectator says excitedly. "I love this place because it makes me feel at home".
Members of the "Club" Speak
Kunle (not his real name), a gay man living in Lagos, is outraged by the proposed law: "How does a government think that sending someone to prison would change his or her sexual orientation?
One member of the club talked about how he "went for deliverance for 6 months" trying to change his sexual orientation but "it came back stronger than ever".
The Word on the Street
"How do you even become gay, not to mention wanting to get married to another man?" asks Okechukwu Ikenna, a 33-year-old software engineer, visibly irritated by the topic.
Lawmakers Feedback
"Ours is to weigh the aggregate of opinion – what the majority of Nigerians want," says Abike Dabiri, a member of the House of Representatives.
"If majority of Nigerians want same-sex marriage, then why not?"
She adds: "You have a right to your sexual preference but by trying to turn it into marriage do you realise you could be infringing on the human rights of the other person who finds it repulsive?"
****
Whether or not anyone "supports" gay marriage is their personal opinion, however, this bill seems to have wider reaching implications. For example, friends and family members of gay people could get implicated if they do not report cases of same-sex unions because they could be seen as being in support of them. Health workers could turn away gay patients due to fear of prosecution etc…
What are your thoughts?