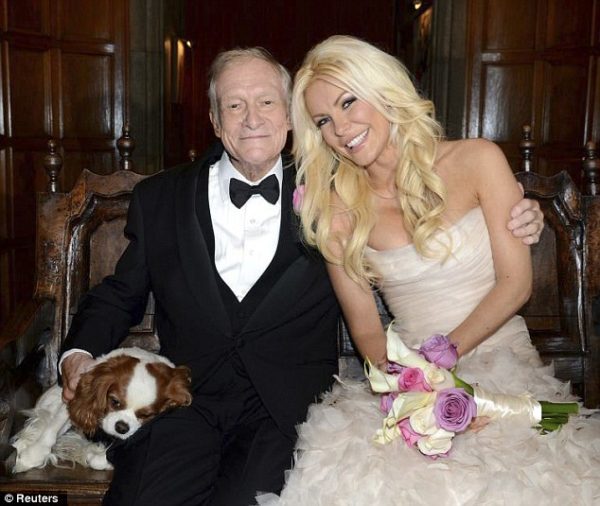 If you watch E! Network or if you are pop culture fan, you will be familiar with Hugh Hefner, Founder of Playboy Magazine, one of the world's most recognized brands. For six seasons on the show "The Girls Next Door – Girls of the Playboy Mansion", Hefner maintained his reputation as a ladies' man even though he is well into his 80s.
During the 6th season of the show, a model named Crystal Harris was introduced as one of Hugh's new girlfriends. In just a few months, she had displaced his longtime "main" girlfriend, Holly Madison and the Playboy Founder announced that he was now a "one woman man". Soon after that, on December 24 2010, the Hugh Hefner and Crystal Harris got engaged.
Their wedding was scheduled for June 18 2011. Just five days before the wedding, the young bride broke up the relationship and "ran away". Exactly a year after that breakup the couple were back together and on the 31st of December 2012, the 86 year old groom and the 26 year old bride tied the knot at the Playboy Mansion in California, USA.
The bride wore the same blush pink strapless wedding dress by Romona Keveza which she picked out for their 2011 wedding! The couple said "I Do" under a rose covered archway in the Playboy Mansion followed by an intimate reception where jazz singer Brenda Whitaker performed with her band.


We can name one or two Nigerian moguls who have also married much younger ladies so the 60 year difference isn't that shocking or is it? Crystal has stated publicly that she is not marrying Hugh for his money, but "for his good looks and dynamic personality."
Wishing them all the very best.
Photo Credit: Reuters | Instagram – Hugh Hefner & Crystal Harris