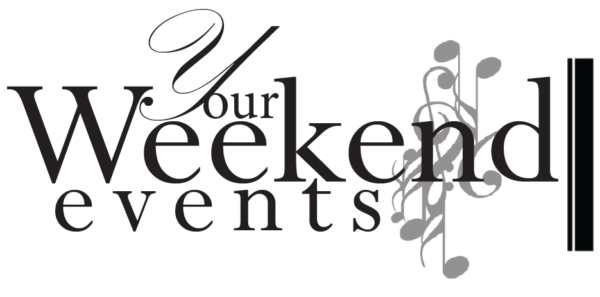 Good Afternoon BellaNaijarians.
It's Thursday and BN Events is back with its fun listing of events to be spotted in this weekend. From Lagos to Benin to New York City, we've got you covered. Sit back, relax and see for yourself places of interests to be spotted with your loved ones.
See you all next week.
Ciao!
GUESS Fashion Day with the BellaNaija Style Team
You are cordially invited to the GUESS Fashion Day at the Social Media Week Lagos today 21st February 2013. Entry to all events is FREE and there is WiFi internet so you can spend the whole day with us. The event takes place at the Porsche Centre in Victoria Island, Lagos. The day long event presented by the iconic GUESS lifestyle brand will include a day of panels discussing social media and the business of fashion in Africa. Other highlights of the day include a fashion presentation featuring models outfitted in GUESS, networking opportunities, and an exclusive cocktail mixer featuring DJ Neptune. Click HERE for the full schedule
Date: Thursday 21st February 2013
Time: 9 AM – 9 PM
Venue: Porsche Centre, 179 Akin Adesola Victoria Island, Lagos
___________________________________________________________________________________________________
SmartMark Limited presents NIKE 50% Sale
SmartMark Limited, the exclusive distributor of the NIKE brand in Nigeria has announced a 50% price slash on selected NIKE merchandise from now till Sunday 10th March 2013 at all FastForward stores in major cities in Nigeria.
Date: Thursday 21st February 2013 – Sunday 10th March 2013
Venues: Adeniran Ogunsanya Shopping Mall, Surulere, Lagos | Murtala Mohammed Airport, Terminal 2, Ikeja, Lagos | Ikeja City Mall, Ikeja, Lagos | The Palms Shopping Mall, Lekki, Lagos | Ceddi Plaza 264, Tafawa Balewa Way, Central Business District, Abuja | 107, Aba Road, Port Harcourt, Rivers
Contact: For more info and general inquiries, call 0814838314
______________________________________________________________________________________________________________
The Body Alchemist 6 Week After Burn Boot Camp
If you are looking to take your workouts to the next level and achieve maximum, the Body Alchemist "After Burn" boot camp is just right for you. This high intensity circuit training workout will raise your metabolism and keep you burning fat all day long. Tony Ekaidem (The instructor) guarantees you will not be disappointed with the results. The fee is N 35,000, please contact them for payment information.
Date: Thursday 21st February 2013 – Friday 22nd February 2013
Time
5:30 AM – Fun Factory, Lekki Phase 1, By Phase 1 Gate on Admiralty Way, Lekki, Lagos
6:30 AM – Fun Factory, Lekki Phase 1, By Phase 1 Gate on Admiralty Way, Lekki, Lagos
7:45 AM – Astrotruf 2000, Ikoyi, By Osborne Road, Lagos
Contact: For more info and general inquiries, call 07045885120 | 07045885121 | e-mail [email protected] | log on to the official website
_________________________________________________________________________________________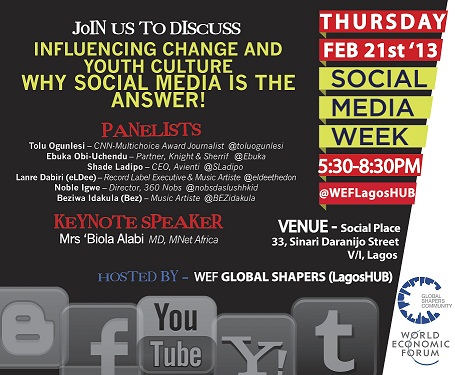 Influencing Change & Youth Culture
Join panelists Tolu Ogunlesi, Ebuka Obi-Uchendu, Shade Ladipo, eLDee, Noble Igwe and Bez today at the Social Media Week Influencing Change and Youth Culture themed event, The keynote speaker is Biola Alabi, MD M-Net Africa. Admission is free for all.
Date: Thursday 21st February 2013
Time: 5:30 PM – 8:30 PM
Venue: Social Place, 33 Sinari Daranijio Street, Victoria Island, Lagos
_____________________________________________________________________________________________
African Artists' Foundation presents Line.Sign.Symbol
You are cordially invited to the solo exhibition of Uche Uzorka tagged "Line.Sign.Symbol". Uche Uzorka is a graduate of the University of Nigeria, Nsukka. He majored in painting. Admission is free for all.
Date: Thursday 21st February 2013 – Saturday 23rd February 2013
Time: 7 PM
Venue: African Artists' Foundation (AAF) HQ, 54 Raymond Njoku Street, Ikoyi, Lagos
_____________________________________________________________________________________________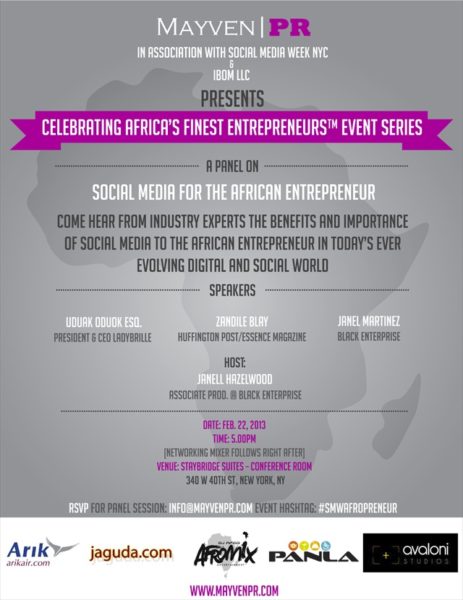 Mayven PR, Social Media Week NYC & IBOM LLC present Celebrating Africa's Finest Entrepreneurs Event
Social Media Week, a week-long worldwide event that explores the social, cultural and economic impact of social media in this ever changing society will end this Friday with the theme Social Media and the African entrepreneur in New York City. Panelists at the event include Uduak Oduok Esq. (Attorney & CEO of Ladybrille), Zandile Blay (Huffington Post) and Janel Martinez (Black Enterprise). Admission is free for all but you have to register at SocialMediaWeek.org.
Date: Friday 22nd February 2013
Time: 5 PM
Venue: Strybridge Suites Conference Room 340 W 40th St, New York
___________________________________________________________________________________________________
Grosvenor Store's Cocktail Celebratory Party
You are cordially invited to celebrate the granting of Grosvenor Store's Royal Warrant to The Queen of England at a cocktail evening this Friday at its flagship store. Admission is free for all but you have to call 08055216058 to RSVP.
Date: Friday 22nd February 2013
Time: 6 PM – 8 PM
Venue: Grosvenor Store, 63 Awolowo Road, South West Ikoyi, Lagos
___________________________________________________________________________________________________
YALDA presents Adopt an Idea Fundraising Gala
Youth Alliance for Leadership and Development in Africa (YALDA) is hosting its Adopt an Idea Fundraising Gala Dinner this Saturday at the Lagoon Restaurant. YALDA is an international non-profit organization that helps young innovators channel their ideas towards developing positive leadership skills and work ethics in Nigeria. This year eight young and innovative individuals, that were selected during its international conference in 2012, will be presenting their unique ideas to the invited guests. These guests have been selected based on their commitment and dedication to Africa's development. There will be four types of tables reservations, seating 10 each – Chairman/ Chairperson tables (exclusive VVIP and limited in number), CEO tables (VIP tables and limited in number), Manager tables, Supporter tables and Individual tickets.
Date: Saturday 23rd February 2013
Venue:  The Lagoon Restaurant, 1C Ozumba Mbadiwe Street, Victoria Island, Lagos
Tickets: To purchase tickets, in Dollar Currency | in Naira Currency
Contact: For more info and general inquiries, call 08038108441 | 08107572129 | e-mail [email protected] | [email protected]
___________________________________________________________________________________________________
Miss Nigeria Edo State Audition
The Edo audition for the 2013 Miss Nigeria competition will hold this Saturday. This audition is open to all female Nigerian citizens between the ages of 18 and 25. Click here for all the details for auditions on BN
Date: Saturday 23rd February 2013
Time: 10AM – 1PM
Venue: Best Western Hotel – Evbuomwan Street, off Sapele Road, Etete, Benin City, Edo State
Contact: For more info and general inquiries, email [email protected] | call 08033278752 | 08091892258 | follow them on Twitter | like their Facebook page
___________________________________________________________________________________________________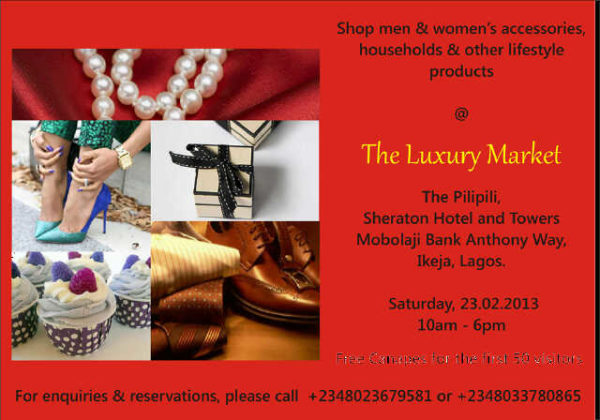 The Luxury Market's Shopping Event
Shop for men and women's clothing and accessories as well as household and lifestyle products at the Luxury Market's shopping event this Saturday. There will be free canapes for the first 30 guests. Admission is free for all.
Date: Saturday 23rd February 2013
Time: 10 AM – 6 PM
Venue: The Pilipili Sheraton Hotel & Towers, Mobolaji Bank Anthony Way, Ikeja, Lagos
___________________________________________________________________________________________________
The Maiden Launch of  the Role Model Forum
Do you have an idea that can stand the drill of Mentors? Then be sure to attend the Role Model Forum & Idea Battle tagged #iBATTLE at the Merit House, Abuja. Admission is free for all.
Date: Saturday 23rd February 2013
Time: 11 AM – 3 PM
Venue: Merit House, Maitama FCT, Abuja
Contact: For more info and general inquiries, call 08186089346 | 07061552047 | [email protected]
_____________________________________________________________________________________________
Jumia & Sleek Beauty Studio present Fashion Fair
Nigerian online retailer Jumia and make-up brand Sleek Studio present Jumia/Sleek Fashion Fair. This event will be a combination of a runway show and sales fair. It promises to be a fun gathering with lots of Jumia/Sleek goody bags with Jumia online shopping vouchers/ redeemable Sleek makeup vouchers, good music and refreshments. The first 30 people at the event will get free Sleek studio skin care pack. There will also be giveaways from various brands. Admission is free for all.
Date: Saturday 23rd February 2013
Time: 12 Noon – 5 PM
Venue: Sleek Studio, 64B Anifowose Street off Adeola Odeku Street, Victoria Island, Lagos
___________________________________________________________________________________________________
The Grand Opening of the Grill House Villa & Bravo Lounge
Make it a date this Saturday at the grand opening of the Grill House Villa and Bravo Lounge. A guest artiste is scheduled to perform at the event while you sip on cocktails and munch on finger foods.
Date: Saturday 23rd February 2013
Time: 2 PM
Venue: 32 Admiralty Way, Lekki Phase 1, Lekki, Lagos
Contact: For more info and general inquiries, call 08106145781 | 08106144521 | 08105375101 | e-mail [email protected]
___________________________________________________________________________________________________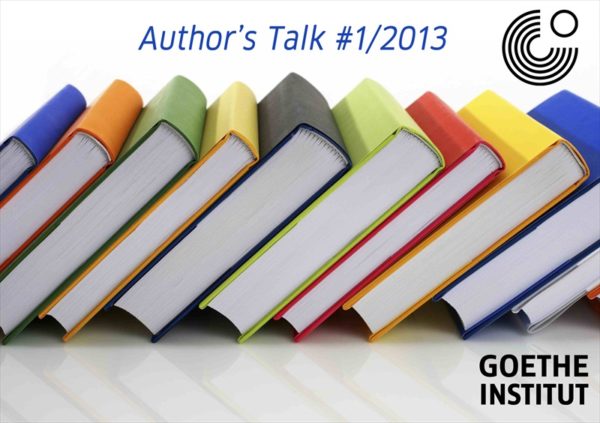 Goethe-Institut Nigeria presents Author's Talk #1
The Author's Talk provides young and emerging writers a platform to present and discuss their works to an audience of publishers, journalists, lovers of the Arts and interested guests. Nigerian authors will have the opportunity to make contacts, and exchange. The reading is aimed at all those who are interested in the world of books and literature. Presenters include Chuma Nwokolo, Onyinye Muomah, Terh Agbedeh, Victor Ehikhamenor and  Chinelo Onwualu. The Moderator is Ugoma Adegoke. Admission is free for all.
Date: Saturday 23rd February 2013
Time: 2 PM
Venue: Goethe-Institut Nigeria, 30, Catholic Mission Street, Lagos Island
_____________________________________________________________________________________________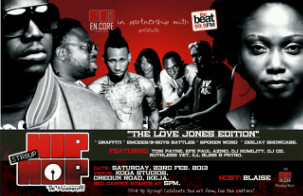 Str8 Up Hip Hop: The Love Jones Edition
Str8 Up, Hip Hop's The Love Jones Edition is scheduled to hold this Saturday at the Koga Studios, Oregun Road, Ikeja. The event will feature magnificent graffiti art display, B-boy and emcee battle sessions, spoken word performances by Efe Paul Azino and Toni Payne with DJs Humility and OZ on the wheels. There will also be special guest performances by Ill Bliss and Phyno. Hosted by Blaise, the event is free for all to attend.
Date: Saturday 23rd February 2013
Time: 5 PM
Venue: Koga Studios, Oregun Road, Ikeja, Lagos
___________________________________________________________________________________________________
LPM February 2013
It's going to be a celebratory edition of LPM this February 2013. LPM will officially be 4. At this month's edition you will get the opportunity to shop from Akpos Okudu, LaBennis, Cam Cam Sweets, Nature's Haven, Estitos and many more top rated vendors. Admission is free for all.
Date: Sunday 24th February 2013
Time: 12 Noon – 7 PM
Venue: Imperial Chinese Cuisine (Club Paper) Plot 274, Ajose Adeogun Street, Victoria Island, Lagos
___________________________________________________________________________________________________
PAWS & Terra Kulture present Wole Oguntokun's Anatomy of a Woman
Wole Oguntokun's Anatomy of a Woman stage play, directed by Kenneth Uphopho will have its final stage appearance for February this Sunday.
Date: Sunday 24th February 2013
Time: 3 PM & 6 PM
Venue: Terra Kulture, Plot 1376 Tiamiyu Savage Street, off Ahmadu Bello Way, Victoria Island, Lagos
Ticket Prices: Regular N 2, 500 | VIP N 5,000
Contact: For more info and general inquiries, call 08037177106 | 08034448812
__________________________________________________________________________________________________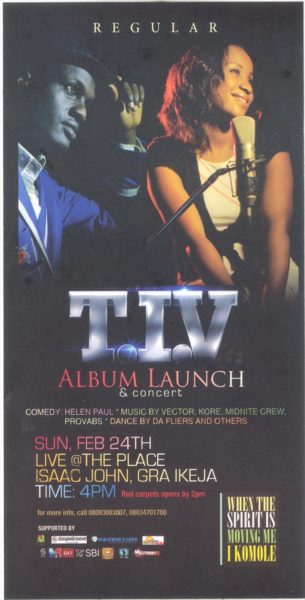 T.I.V Album Launch and Concert
The Inspired Voices, popularly referred to as T.I.V and known for their songs "I Komole", "Beremole" and "Energizer", will launch their debut album this Sunday. The group is made up of prolific video director Akin Alabi and his wife Bunmi Alabi. There will be performances by Midnight Crew, K'ore, Provabs, Helen Paul and Da Fliers.
Date: Sunday 24th February 2013
Time: 4 PM
Venue: The Place, Isaac John, G.R.A, Ikeja, Lagos
Contact: For more info and general inquiries, call 08034701700 | 08093003007
___________________________________________________________________________________________________
BellaNaija.com is not responsible for the organization or further promotion of these events, neither do we have a stake in their sales or popularity. Inclusion in "Events This Weekend" is Free. Contact – adsales (at) bellanaija.com on or before Wednesday every week if you will like your event to be included. Note that BN reserves the right to choose which events are featured. "Pay to attend" parties attract a fee