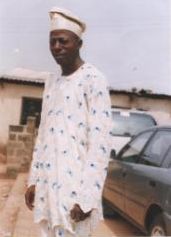 The excitement and burst of energy that comes from watching a football match when one is an avid supporter of a team coupled with poor health, overcrowding, non-availability of electric power supply & urgent medical attention are among other factors that seem to have caused the death of a 40 year-old man in Abeokuta, Ogun State. He collapsed and died at a viewing centre in Abeokuta while watching the match between the Super Eagles of Nigeria and the Elephants of Ivory Coast.
The man, Moshood Ismail, was a father of two and an engineer with the Federal Roads Maintenance Agency.
Punch reports that in the early minutes of the game, he became agitated and later collapsed when an Ivorien defender deflected a goal-bound shot from Victor Moses. Then he started foaming on the mouth and was immediately rushed to Success Medical Clinic where no doctor was available to attend to him. The nurses at the hospital however, gave him some first aid treatment before he was taken to another hospital but he died on the way to the hospital he was referred to.
A source told Punch that while they were on their way to the second hospital, the vehicle gear got damaged and they took a taxi. "When we got to the hospital, the doctor confirmed him dead," he was quoted as saying.
But contrary to that, the Medical Director at Success Medical Clinic, Sulaiman Kolawole told Punch that Ismail was brought into his clinic dead, adding that efforts to revive him proved unsuccessful.
He said the death was due to excessive intake of carbon dioxide which resulted in "anoxia".
"The man was brought in dead. It is supposed to be a heart attack, because he looked weak, like someone who had been sick for a very long time. He looked like someone who was managing his life and was now in the midst of a crowd with shortage of oxygen in that area. We call it anoxia, which is excessive intake of carbon dioxide persistently for a long period of time. But it was late before he was brought here."
The ongoing matches at the African Cup of Nations are not being aired on any local TV station in Nigeria, therefore, most people who don't have access to Cable TV have to go to such crowded viewing centers to watch the matches.
So sad. May his soul Rest in Peace.
Photo Credit: Vanguard | Punch