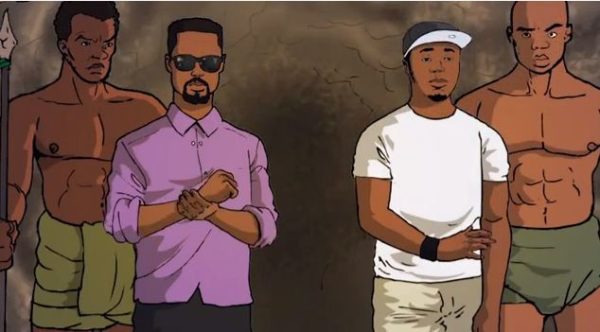 Sarkodie is easily one of the biggest Hip-Hop acts out of Africa with his sweet indigneous flows and his "even if I don't understand, it still sounds sweet" rhymes. As part of TMG (The Mind Game) with regular collaborator, Jayso, Sarkodie is back on our screens with a new animated video for their 3rd official single, "Let'em Know Now".
Also, here's a new track, "Y'all Already Know"  produced by King of Accra where Sarkodie gets buck yet again. Enjoy!
Play Sarkodie – Y'All Already Know
[audio: https://www.bellanaija.com/wp-content/uploads/2013/02/Sarkodie-Yall_already_know_BellaNaija.com_.mp3]
Download
Check on it!
This cartoon animation was produced between August 2012 – February 2013.
Producer: 6miludo Media Ltd.
Video Director: Peter "Poka" Asamoah (Poka Arts)
Story-Line: Peter "Poka" Asamoah (Poka Arts)
Graphics: Peter "Poka" Asamoah (Poka Arts)
Visual Effects: Bertil Svanekiaer (OOTO Studios)
Scoring: Paul "Jayso" Nuamah Donkor (Skillions Records)