To celebrate our anniversary in 2012, BellaNaija embarked on a mission! Our mission was to share OUR Stories and OUR Miracles – BN at 6, Our Stories, Our Miracles. Each and every African at home and in diaspora has a unique story. Many have been through experiences can only be described as miracles. Tragedy and strife converted through faith and perseverance.The response we received has been overwhelmingly positive and BN Our Stories, Our Miracles is now an ongoing feature on BellaNaija in 2013.
We reached out to Segun and Seyi Olusanya after our BN Hot Topic on Adoption and they graciously agreed to share their story. The concept of adoption is one which hasn't really gained ground with a lot of Nigerian couples so when we read the Olusanya's story we were very happy. This is a couple who has walked the talk. The road was arduous and not in anyway smooth, however, they took the plunge and their effort was rewarded with the blessing of their son, Joshua. Since the adoption, Segun and Seyi have had two more kids. Their story is simply beautiful.   BN enjoyed chatting with the Olusanyas and we sincerely hope that you'd find inspiration as you read this.
___________________________________________________________________________________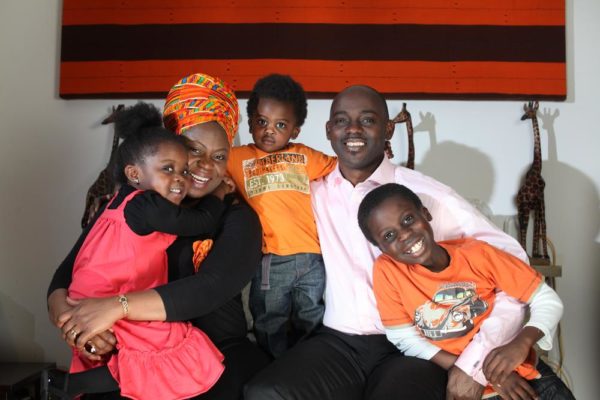 Segun and Seyi
Segun is outgoing and enjoys running and keeping fit. Segun attended the University of Ife where he received his first degree. He went on to qualify as a lawyer in the UK. Today, he is  a successful IT Consultant. Seyi is bubbly, loyal and loves and is passionate about her work, she is the creative director of a successful international events management company – Cedar Events. She attended the Lagos State University and University of London We have 3 kids and are very close to our extended family.
Starting Our Family
We got married on the 19th of December 1992. It was a glorious day. I can still remember the view of the main clock on the wall of the Cathedral Church of Christ, Marina, Lagos as we descended the Eko Bridge into Lagos Island. It read 7:30 AM. I believe we broke the record for the earliest marriage ever celebrated in the Cathedral Church of Christ in Marina, Lagos. Our wedding ceremony started at about 8:30 am. Well, it was not because we wanted to set a record; it was as a result of a mix-up by the Vicar. The church ceremony and the reception went flawlessly. A poignant part of the reception was when the audience was asked to sing the song, 'All to Jesus I Surrender". Little did I know how apt this song would be to our marriage.
Having Children
We have always wanted kids. After a couple of years, we thought the kids would just start coming. When nothing happened, we started to wonder what the problem was. In 1995, we sought medical advice; Seyi was then diagnosed with a medical condition – Polycystic Ovary Syndrome.
As far as the doctors were concerned, due to her condition, we could not conceive without medication. That was the start of our journey towards the 'promise land' of child birth.
By the year 2000, we had done a number of IVF cycles that were not successful and tried various treatments to no avail. It was towards the end of the year that she suggested adoption. Hmmm!!! The 'A' word. Till today, I am not sure where she got the idea from. I have to admit that I didn't want any of it but looking back now I did not have any good reason to reject the idea.
The Long Wait
We waited 16 years. It wasn't easy, it was difficult at times but our faith in God and the support of our close family & friends helped us through.
The Adoption Process
The adoption process was neither easy nor was it straightforward. Although my wife brought up the idea, I was the one who first approached the social services. I called the children's section of our local social services. I was told a social worker will have to meet with us to explain the process. She came to our house and explained that we have to be approved for adoption after that would have to be matched to the right child.
First, we tried to adopt from Nigeria. The process was not as clearly explained to us as it was in the UK. If we adopted abroad we will have to pay about £3,000 for the home study program.
After thinking about it for a long time we decided to proceed with the process. We called the social services and we were provided with our social worker. She came to see us several times –  asking questions about our family background, our faith, how we will take care of the adopted child, who will help us take care of the child, our experience with children e.t.c.
The social services interviewed our friends, our relatives and wrote to our pastor. We also had to provide our family tree showing all our relatives back to our grandparents. This was to have a better understanding of our extended family. They sent us on a course with other prospective adopters. At the course we learnt about the type of children in care and some of the things that may have happened to the child we would be adopting. We were told to complete a form which relates the child we would want to adopt. We had to decide the age range of the child. We started out wanting a baby. Later in the process, we decided to go for a child with age range between 0 and 7 years old.
After our social worker had asked all the questions, she visited us with all the notes she had been taking. She went through it with us to confirm that we were happy that it represented our answers to all the questions. After this, she went to the Adoption Panel with all the information we provided. The adoption panel decided, based on the information provided whether we can be approved for adoption. About 6 months after we started, we were approved for adoption.
We were overjoyed to be approved for adoption of a boy or girl of ages between 0 – 7 years old. The next stage was to look for a child. We had to start at our local social services. The process was that if we could not find a child within 3 months then we could look at other social services anywhere in the UK. We did not find a child in the three months so we started looking in other social services. The first children we found were a sibling group – a brother and sister. This fell through because it was discovered one of the children was autistic. When we completed the forms we did not tick the box for a child with autism.
We continued looking until eventually our social worker brought a photo of our son. Straight away, I could see the resemblance. Things moved very quickly. We completed all the necessary papers for the matching process. Our social worker then went to the matching panel. We were approved to adopt our son. The final stage was the introduction. We needed to get to know him in his environment. The social services arranged for us to meet his foster mother. We learnt his routine… his likes and dislikes.
After a couple of days we were able to take him out. By the end of the week, he came to spend a few hours at our house. We showed him his room and the toys he would be playing with when he finally comes home. At the end of the second week, the social workers (we had ours and he had his) decided he could come home with us. Our son, Joshua, moved to our house on the 22nd of November 2005. It was an amazing day. It just felt so good to have a child at last. He slept well on his first night and he has been a good boy ever since.
Our Son
Our son is an absolute sweetheart. A gentleman in the making, he is a very sensitive child and the kindest child I have ever come across. When he came home he was very quiet but, over the years, he has become more confident and is a well adjusted boy.
More Babies
Our son was about 3 years old when he came home one day and said "Mummy, can you buy me a sister?", I replied and said "I would buy a trolley load if I could but we cant buy a baby". So I told him to pray to God and ask Him for a sister. He did so without failing every night for about 1 year.
Lo and behold, I fell pregnant naturally. I totally did not suspect I was pregnant. I just found out coincidentally.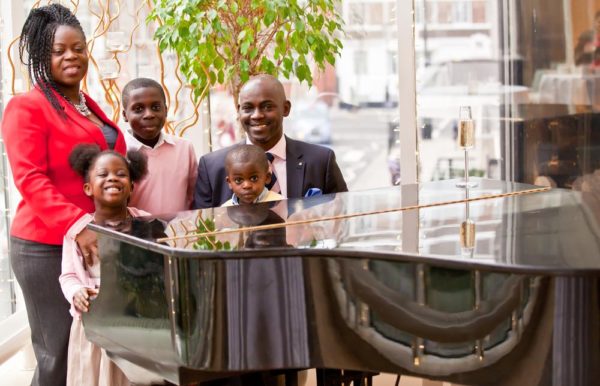 Our Relationship with All Children
Our first son had a long period of bonding with us as the only child in the home for 3 years, we made sure he was involved with the pregnancies and he actually bonded with his sister and brother before they were even born. We celebrate the fact that he was chosen and special however birth parents get what they are given. We have always been upfront about the fact that he is adopted and have instilled in him a sense of pride in the fact that he was chosen. It is so important that the child's life is not shrouded in secrecy!
Family Support
We had the support of our extended family, I think by the time he came along, they were all so happy for us to have a child in the home and because of the way we have dealt with this matter and our openness, it has made it easy for our families to accept.
We feel strongly about the fact that adoption should be celebrated rather than being a secret. Having lived in both cultures we've tried to pick the best of both cultures and we believe it has moulded us into the people we are today.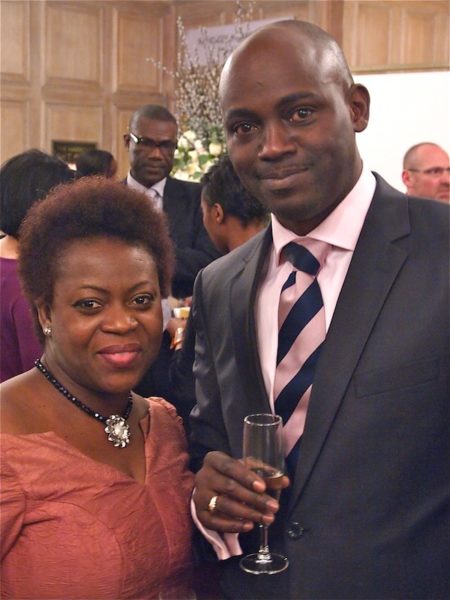 Thinking About Making the Leap? Here's What We Think
If you are thinking of adoption my advice is that you do not waste time. Do your research and search your heart and then decide if it is for you or not. If you decide it is for you, you will have to persevere and be doggedly resolute to the end. When I say to the end, please note that the end is not the adoption. The end is probably when the child or children get to a stage when they can stand on their own, when they are valuable citizens of the society they live in.
In reality, there is no end because we will always be the voice of wisdom throughout the lives of our children. So if you feel this is for you: Welcome to the journey. I personally believe that the joys are too great for anyone to miss out.
As for me, I will continue to shout about this wonderful experience from the mountain top!
______________________________________________________________________________________
Segun Olusanya recently published a book titled "My Adoption Story". It is a book which tells the story of the tests, the trials and all the frustration of trying to conceive. It is an account of the "heart wrenching emotional, spiritual and physical roller coaster he and his wife went through before going down the adoption route." The book explores the internal struggles a black man from an African culture has to deal with while trying to resolve the issue of childlessness and can be found HERE on Amazon.