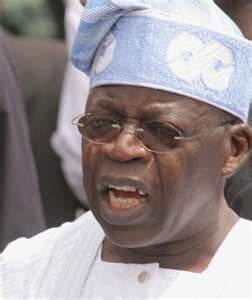 The former Governor of Lagos State, Bola Tinubu, while on a condolence visit to the Emir of Kano and the state governor over the recent bomb attacks in the state made some comments about amnesty for members of Boko Haram.
This has been a dicey topic for weeks now with people taking different sides to the argument.
During the interview with reporters from national newspapers and broadcast outfits, Tinubu responded to a question on whether or not the government should grant amnesty to Boko Haram members, and for a while now, his comment has been trending on social media.
However, in an email sent to BellaNaija this evening the Special Adviser on Media to the former governor, Sunday Dare said he was misquoted. He sent in a statement which he said was the correct one and not what is being published by several media sources.
Here is what is being reported as his statement:
"For the innocent ones among them, there must be amnesty. We cannot fight a war in our own country against minor crimes and minor people. We would only end up multiplying these people by trying to use force against our own citizens. I therefore disagree with the President; they are not ghosts.
Are those people in prison ghosts? If they are, why are prison officials looking after them? Are JTF operatives fighting ghosts, do they possess magic power to see ghosts?"
And here is what his Special Adviser quoted as his actual statement:
"I support the granting of amnesty to the sect but with some conditions, which includes justice for those people with blood in their hands because it will go along way in discouraging such dastardly acts in future. If you call Boko Haram ghosts, what of their members that were arrested and are in various prisons? These people are human beings and through them, their colleagues can be known and talked to."
Although there are some significant differences in both statements, they both reveal that he supports the granting of amnesty to members of the sect but with some conditions.
What are your thoughts on his opinion? Do you support the granting of amnesty to members of Boko Haram?