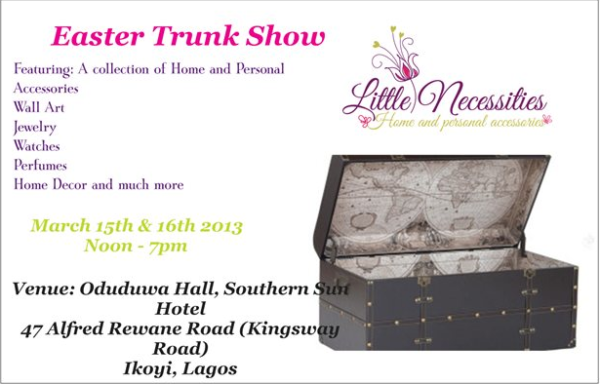 Make it a date with Little Necessities this Easter 2013. The exclusive Abuja boutique will hold an Easter trunk show in Lagos on Friday 15th March 2013 and Saturday 16th March 2013.
The event taking place at the Southern Sun Hotel, Ikoyi, Lagos, will feature on display a collection of personal accessories including wrist watches, authentic perfumes and fragrances and custom designer jewelry as well as designer home accessories including exclusive wall art and home accent pieces.
This is the second edition of the shopping event. It will be another fantastic opportunity to network, mingle and relax while shopping for unique pieces with the wow factor to make your home beautiful.
Admission is free for all.
Little Necessities Easter Trunk Show
Date: Friday 15th March 2013 – Saturday 16th March 2013
Time: 12 Noon – 7 PM Daily
Venue: Oduduwa Hall, Southern Sun Hotel, 47 Alfred Rewane Road (Kingsway Road), Ikoyi, Lagos
_________________________________________________________________________________________
Sponsored Content