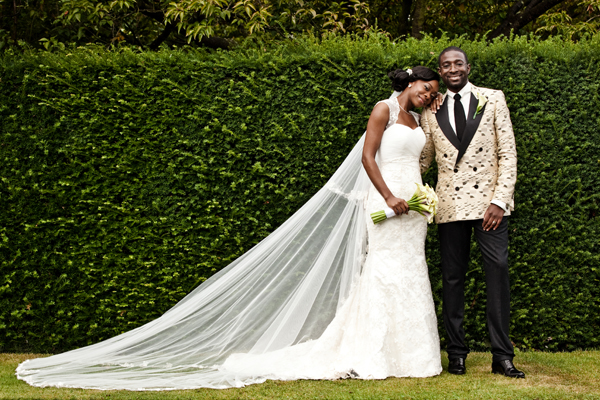 BellaNaija Weddings is super excited to announce our partnership with Munaluchi Bride Magazine! We are joining the prestigious list of Munaluchi partners which includes Ebony Magazine Online.
Munaluchi Bride Magazine is the #1 print, digital, and online publication that caters to women of color. The stylish and chic publication inspires millions of brides-to-be each year through is multi-platform approach and serves as the truest example that love comes in more than one shade.
Jacqueline Nwobu – Co-Founder/Editor-in-Chief of Munaluchi Bride Magazine shares her thoughts on the partnership "We are thrilled to partner with BellaNaija Weddings, by sharing well curated content that will inspire African and multicultural brides worldwide. Our brands share a similar sense of style and aesthetic that will appeal to modern brides of today who are looking for unparalleled wedding style and endless inspiration. This is only the beginning of more amazing things to come." Nkechi Eze – Co-Editor of BellaNaija Weddings adds "We love Munaluchi and we are looking forward to even more opportunities for synergy as we celebrate our beautiful African brides and grooms as well as the very talented vendors who take weddings from ideas to dreamy reality"
****
Here is the First Feature from the BN Weddings – Munaluchi Bride Magazine partnership
Anu & Zebedee's Abuja Traditional Engagement and London White Wedding
Traditional Engagement
Bride: Anu Obaro ~ Bride's tribe – Yoruba, Nigeria
Groom: Zebedee Nartey ~ Groom's tribe – GaDangme, Ghana
Occupations: Bride – Physician | Groom – Economist
Traditional Engagement Date: May 26 2012
Location: Abuja, Nigeria
Photography: Jide Alakija & Adebayo Deru
From the Bride
"Since both Zebedee and I grew up in London, going back to Nigeria for our traditional engagement was a beautiful way for us to experience our culture and also honour our parents and extended families. It was lovely to see both sides of the family celebrating together. The Yoruba Traditional engagement primarily involves the groom and his family, who come and present themselves to the bride's parents and elders. The groom is set various physical challenges and asked some tricksy questions to ensure that he will be able to provide for his new bride. The majority of the ceremony takes place without the bride's presence. I spent most of the evening beautifying myself and hanging out with my ladies and arrived towards the end of the evening, when I was presented to the groom by my female friends and family. I had to pick the most important gift from the dowry – a white bible, to symbolise that our union has its foundation in God."
Visit Munaluchi for even more from this Lovely Traditional Engagement – https://munaluchibridal.com/?p=24399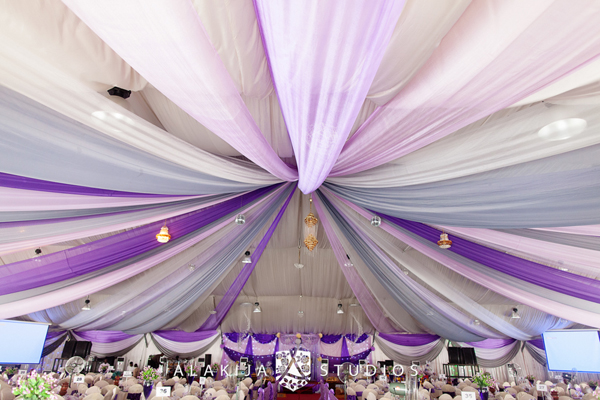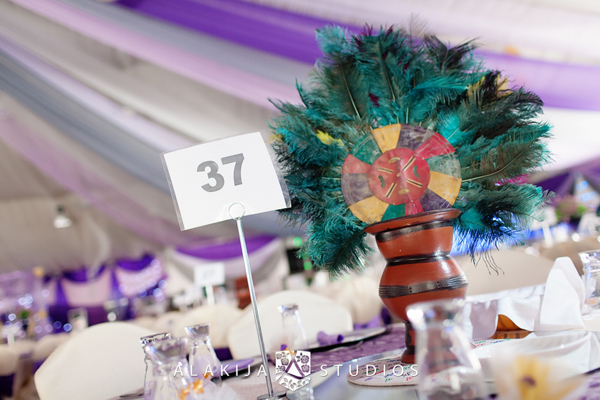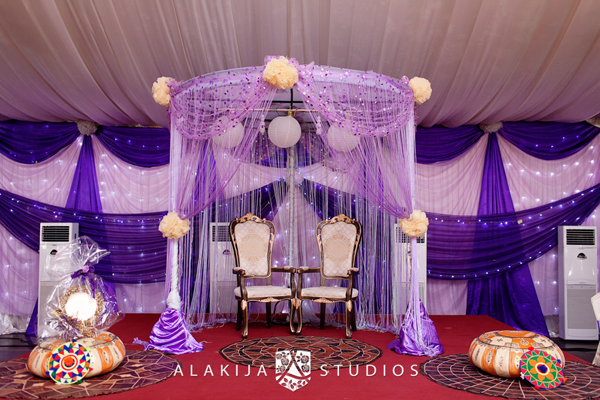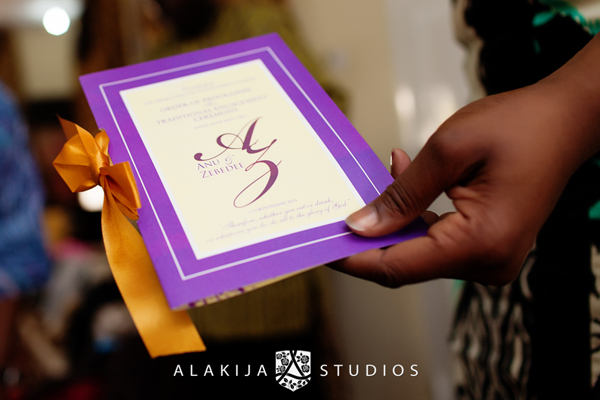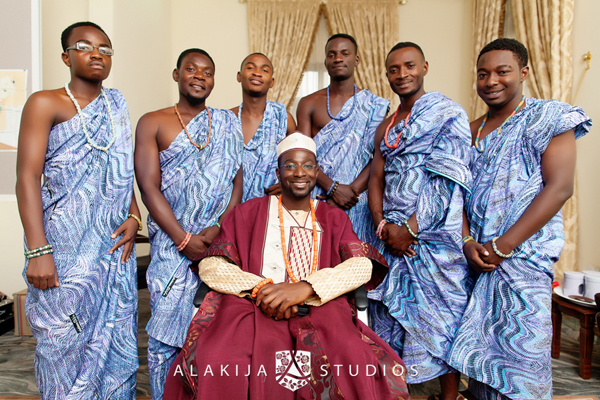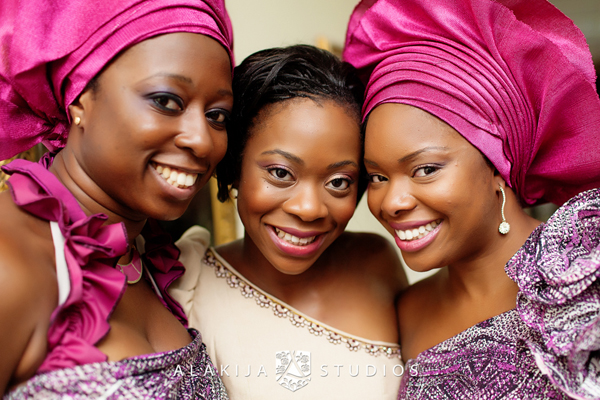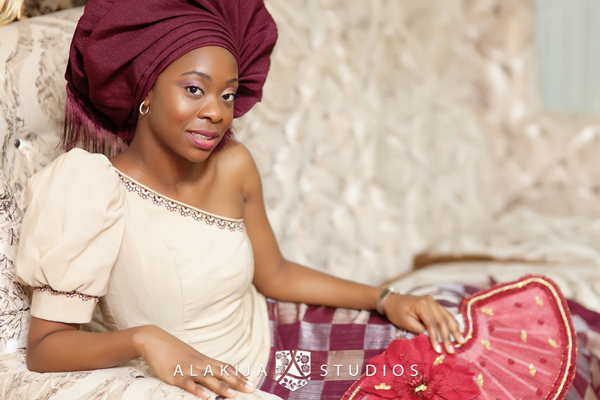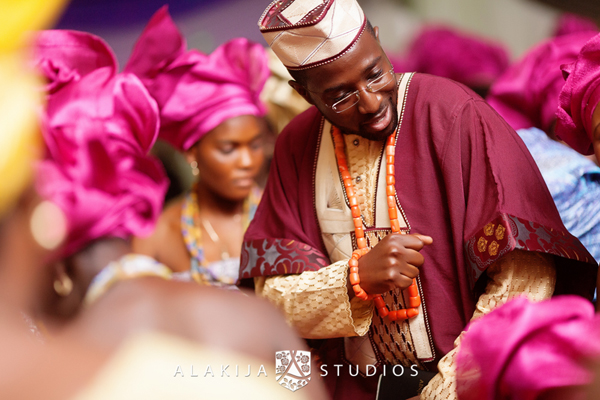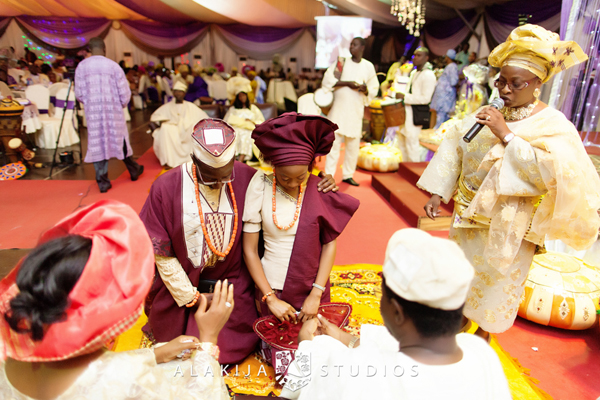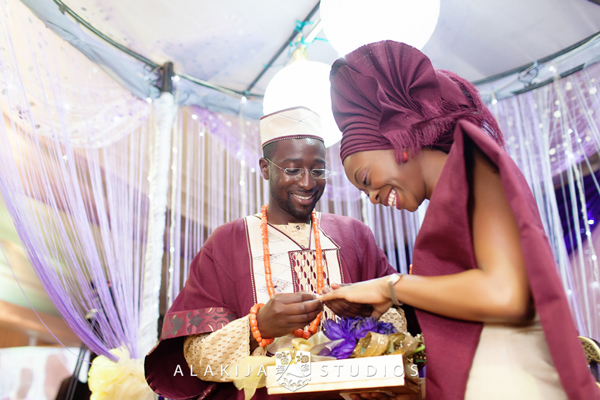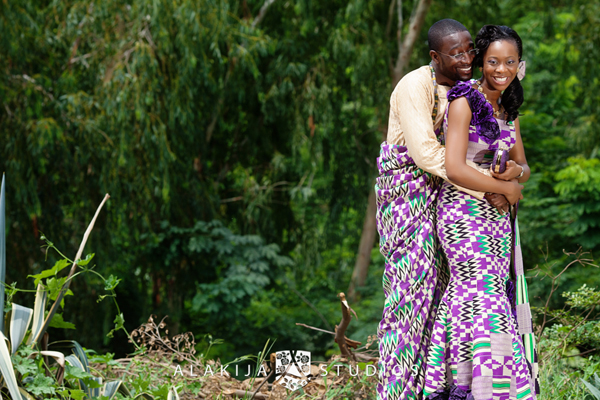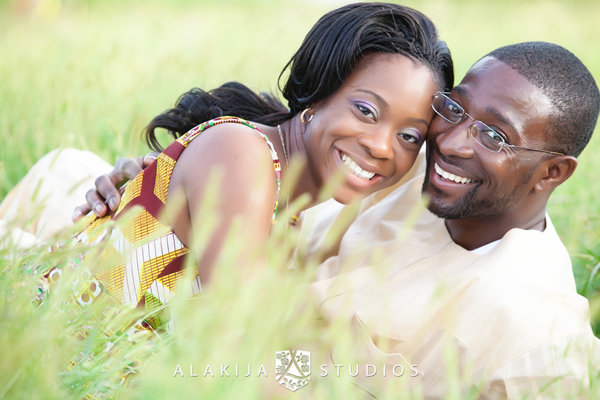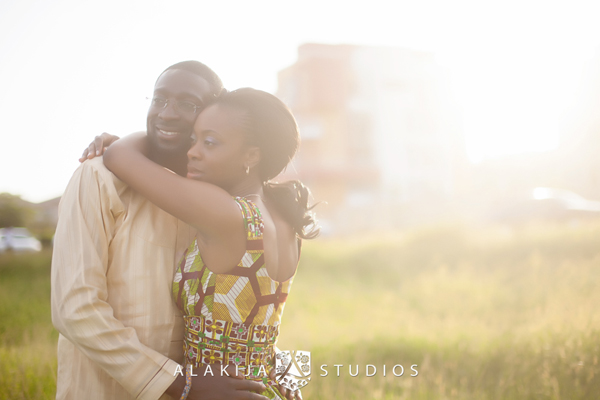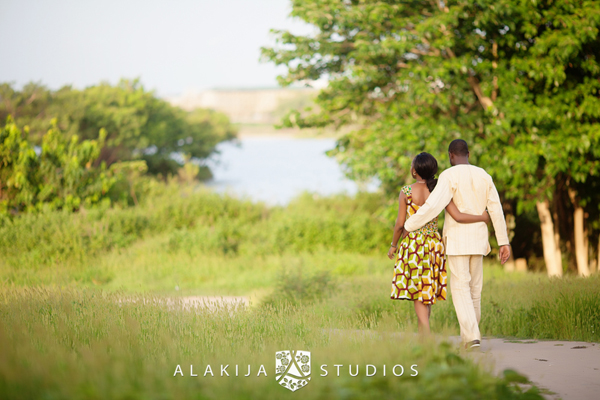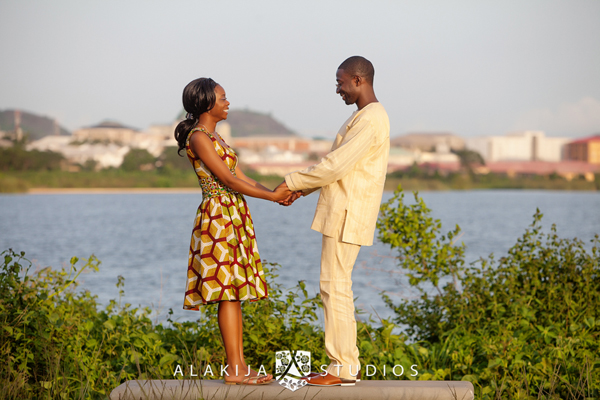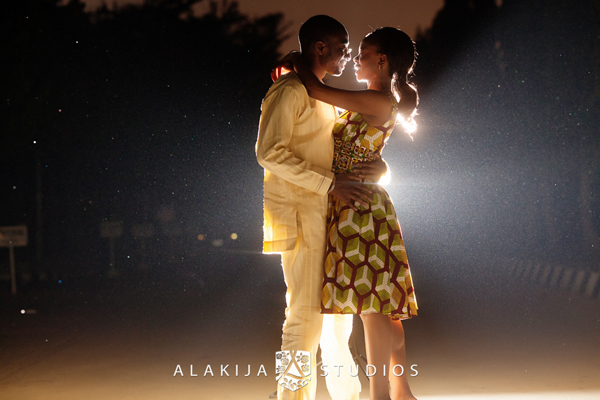 Vendors
Venue, Decor & Food: A-Class Events Centre
Groom's Attire: Mrs Alkali of Six Pearl Couture
Bride's Engagement Attire: Folake Majin of Schon Afrique
Bride's Thanksgiving Kente Outfit: Kehinde Ejiogu of Valerie Davids
Photographers: Jide Alakija for Alakija Studios and Adebayo Deru
Traditional Engagement Invite: IJORERE The Invitation
_______________________________________________________________________________________
Wedding
Wedding Date: August 25 2012
Location: The London Hilton on Park Lane, London, UK
Photography: Ross Oscar Knight | Adebayo Deru
From the Bride
"We met at our church, Calvary Chapel Church South London. Zebedee started a heated debate amongst our friends about modern dating and courtship, which culminated in a discussion night at my house over a vast array of desserts. Zebedee came laden with gifts and flowers for what I thought was a social evening of chatter amongst friends, that was my first hint that he liked me. Shortly thereafter, Zebedee moved to Seville, Spain to work for the European Commission for a two year contract. Our long distance relationship continued through Skype, Facetime, and Ryanair low cost flights. Somehow Zebedee managed to plan a surprise proposal, involving a surprise trip home from Spain with blind folds, a secret location with a rooftop view of the London skyline, and a private dinner. In retrospect I can't believe I didn't realize it. I said yes of course – there was never any doubt. We then started the task of planning a wedding while separated by an ocean."
Culture
"Incorporating our West African culture was imperative and in particular we wanted to fuse our Nigerian and Ghanian heritage with our upbringing in London. We did this by using different celebratory fabrics – specifically Ankara from Nigeria and Kente from Ghana – and using London designers to custom make our outfits. Our wedding invites were handmade by Ijorere from Ankara fabric, which provided us with the purple colour theme that we followed throughout the rest of the day. Zebedee's tuxedo jacket was made from hand woven silk Kente and we specifically picked the thread to match the rest of our color palate but maintained the traditional Ghanaian motif shapes. Our reception outfits were a fusion of Western and African culture – I wore a peach lace gown and gele (head-tie), whilst Zebedee wore a full Ghanaian native."
Visit Munaluchi for even more from this Lovely Wedding – https://munaluchibridal.com/?p=24181
Anu + Zebedee // God from Joseph Young on Vimeo.
Vendors
Photography: Ross Oscar Knight
Additional Photography: Adebayo Deru
Additional Photography: Photography by Abi
Cinematography: Joseph Young
Wedding Dress: Kosibah Couture Bridal & Evening Wear
Cocktail Dress: Gisella Couture
Groom's Bespoke Tuxedo: A. Sauvage
Groom's Custom Shirt: Smyth & Gibson
Groomsmen Waistcoats: The African Waistcoat Company
Bespoke Kente-Oke Fabric: Dachel & Co
Wedding, Engagement, & Save The Date Invitations: IJORERE The Invitation
Wedding Stationary: Makeover Designs
Event Design & Management: Bespoke Events
Floral Design: In Water Flowers
Wedding Cake: Barbara Davies
Bride's Makeup: KemiKings
Bridal Party Hairstylist: Chic Unique Hair Salon
______________________________________________________________________________________
We love weddings as much as you do! Get in touch…
weddings (at) bellanaija.com
www.bellanaija.com/weddings
www.twitter.com/BellaNaijaWed
www.facebook.com/BellaNaijaWeddings
www.instagram.com/BellaNaijaWeddings