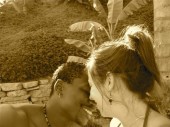 Yinka Olonode got his big break on Cool FM in 2002 while hosting a show called "Get a Grip". The on-air personality also featured as a model in a commercial for telecoms giant MTN during that time.
On the 29th of April 2013, Yinka's journey came to a tragic end when he reportedly committed suicide.
"The Multnomah County Medical's Examiner's Office has identified the man who died after jumping from the rooftop restaurant of a downtown Portland hotel Monday.

Yinka Olonode, 34, of Portland, fell about 6:30 p.m. from the 15th floor of The Nines hotel at 525 S.W. Morrison St., where Departure Restaurant and Lounge is located.

The death temporarily shut down MAX service in the area. A motive has not been identified and no one else was injured."
Based on news reports, Yinka's journey in the US had been rocky up to this point. In 2010, he was arrested after "being accused by his girlfriend of damaging her computer during a fight." According to the report, the accused was an illegal immigrant at that time and was "arrested on a felony vandalism allegation and then determined that he was in the U.S. illegally. ICE was contacted and placed Olonode into custody."
So tragic.
RIP.