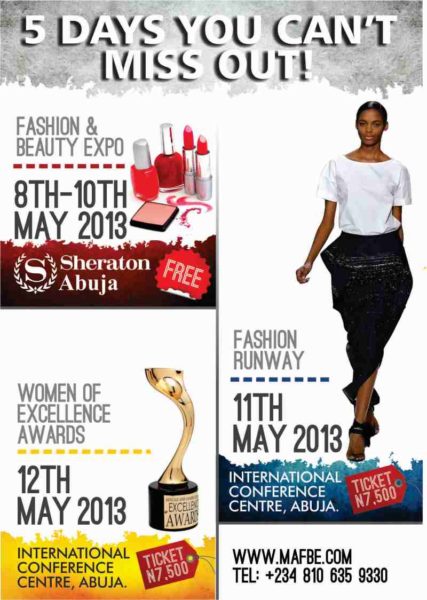 Montage Africa Fashion and Beauty Expo (MAFBE) presents a week long expo for all things beauty & skin, fashion, fitness & nutrition, health & wellness and general lifestyle.
The exhibition will feature exhibitors/vendors from home and abroad that will entertain and educate consumers, giving them guides on unique vendors, beauty makeovers, free health screening, skin therapy sessions, shopping, fashion accessories, fashion shows and model competition.
The event is aimed at introducing the Made in Nigeria products to participants to participants as well as open Nigeria markets to African counterparts. It is also dedicated to the women of Nigeria; empowering and educate them through the workshop. The event will end with an award ceremony honouring the various women who have excelled in their endeavours.
Designers that will be showcasing include:
David Tlale (South Africa)
Talbor bacar (Mozambique)
Mpho Kuaho (Bostwana)
Dax Martin (South Africa)
Zuvva (Zimbabwe)
Enemaya (Nigeria)
Black Trash (Bostwana)
Distictinvie men (South Africa)
Charity Nyirongo (Zambia)
Lisof (South Africa)
Ouch (Nigeria)
Wego fashions
Zarita couture
Grosvenor Debby
African Stiches
MID collections
Remi Lagos
1979
Dehadza fashion stores
Fashion & Beauty Expo: Wednesday 8th – Friday 10th May 2013
Venue: Sheraton, Abuja
Fashion Runway show: Saturday 11th May 2013
Venue: International Conference Centre, Abuja
Award Night: Sunday 12th May 2013
Venue: International Conference Centre, Abuja
Sponsors include Sheraton Hotels Abuja, Moet and Chandon, AIT, Ethnicity Models, HOT FM, African Romance amongst others.
___________________________________________________________________________
Sponsored content