A few days ago, the elder brother to African Music duo P-Square, Jude Okoye, better known as the manager and music video director for the award-winning group gave an exclusive interview to PM News. The interview was conducted by Bayo Adetu who also happens to be P-Square's publicist.
Since he's been in the limelight, many fans of his and P-Square's have had questions about Jude's role in P-Square's success, how they've made it this far and the ever recurring question of why they are not married. Jude answers  them all!
Click HERE to read the complete interview and check out excerpts below.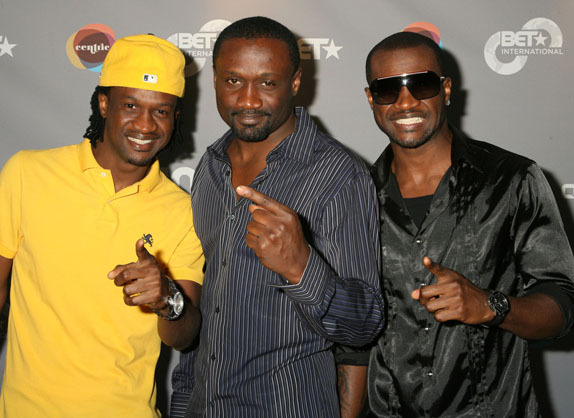 On being a brother to the famous twins
I will say that I am blessed and fortunate because it's an honour to be the person behind them, and doing all the necessary things to keep the brand relevant at all time. At the same time, it's not easy because every arrow and weapon tend to land on me, but I can't complain because it's what I signed and nobody is forcing me. I am blessed and happy that they're my brothers.
His most memorable experience with P-Square
The fact that they're recognised globally. At times, I sit in my room and people across the world would be calling for shows and you start wondering how your music got there despite the fact you don't have a promoter, marketer or even the label's brand office in these places.
I think that's just the most memorable experience. But now, it is much easier with our deals with Konvict Music and Universal.
On P-Square's personal life
Paul is more on the reserved side while Peter is on the social side. Peter is like a socialite, outgoing person more than Paul. Peter has the motivating drive. He loves to ginger us into doing stuff and at the end of the day; you don't have an option than to follow him.
As for Paul, he would not consult anybody if he has any idea before doing it, and after perfecting it, he would now call us into it.
Why he only focuses on P-Square's Careers
If I am just a producer, manager or record label CEO, I will definitely expand by signing more artistes and commercialise myself, but my hands are tied. My hands are full because I do all these works myself. I don't have time and when I have little time to take my work outside, like producing video or audio for someone else, there is always competition, especially when the artiste is not as big as P-Square. The next thing you hear is that Jude doesn't want me to shine more than his brothers. Besides, most up and coming artistes make the mistake of comparing themselves with the big masquerades. That's why I have to limit myself and remain with P-Square. Soonest, I will relinquish some of the work to capable hands, so that I can have enough time to rest and promote other artistes.
On Celebrity life for him
Why are you people always forcing me to come to the public? I don't want to be a celebrity and I am not one of them. I don't sing, dance or act.
I love where I am now (hiding myself) and if I love to do that, how do you expect me to introduce the lady I am dating? Back to your question, I have somebody, yes. That's all.
Like I said, I have somebody but I won't tell you her name.
His ideal woman
The most important thing I look out for in a woman is understanding, aside physical beauty because everybody wants to look at the person beside him and be amazed and happy to have married a beautiful lady, not an ugly girl. Basically, your wife should understand you, especially when both male and female fans are swarming around you, wanting to take photographs with you and the rest. She must understand when you're at work and office. That is my kind of woman.
"Peter and Paul already have kids; and we all know their heartthrobs. Can you tell us the one in your life?"
When I will kick bachelorhood, I will call you and my fans to come and eat and drink. Already, I have purchased the bell, when it's time, I will ring it.
It's taking so long because I am waiting for you people. Basically, why I am not yet married is that I don't want to get married because I have all it takes to marry or because I am ripe. I want to get married and feel married so that I will be committed to my wife.
Although, I am not looking for a perfect person, but she must be a friend, partner, everything and someone that understands what I do.
Photo Credit: fabmagazineonline