Bonjour a toutes! ça va?!
Finally the series comes to a somewhat end on here (I have one or two more to do on ChefFregz.com think)
Before I go on, a BIG shout out to Ogechi Nwachukwu who not only tried the recipe but adapted it to a veggie stir-fry! With pictures et al! Darling, you just got yourself a free meal on Sunday at Chef Fregz Special!
For this post I wanted to show a classic use of Vanilla and real Vanilla for that matter. Also, I'm using a classic recipe of blueberry pancakes but switched up the milk for yogurt instead. This post is short and simple but it is something you want to keep in your recipe binder so you can make that breakfast where you get to impress the "boo" or the boss, or the parents, or the family who or whatever the occasion. These pancakes are classic and would get you whatever scout points you seek.
Vanilla pods though expensive (right after saffron), are pretty good value for money. After the seeds have been scraped out the pods skins can be steeped in vodka to make your own brewed vanilla Vodka. You can also steep in some brandy to make your own extract. For me the best is steeping it inside sugar and allowing it turn into vanilla sugar. Vanilla sugar is amazing in coffee and it give more vanilla flavour in your sweet pastry or whatever recipe that desires vanilla.
Vanilla comes inn four major varieties; there's bourbon vanilla which is the cheapest of the lot and more popular. Then there's Mexican vanilla which is becoming highly sought after these days. There's also Tahitian vanilla. Then my personal favourite – Madagascan Vanilla. Straight from the island, I find this one to have the strongest but most delicate at the same time. It is basically just extremely awesome.
Funny enough vanilla isn't just for desserts and ice-cream. Vanilla with fish and duck could be pretty awesome but that's a recipe for another day.
Blueberry pancakes are as classic as pancakes themselves. However, I have swapped the milk for yogurt. I used natural yogurt that was unsweetened. The yogurt brings a slight sourness to the pancake that works well with the slightly sweet berries and sugar that is added.
What You Need
1 1/4 cup all-purpose flour
2 tablespoons granulated sugar
1 teaspoon baking powder
1/4 teaspoon baking soda
1/4 teaspoon salt
80g unsalted butter
1/2 cup whole or semi skimmed milk
3/4 cup plain yogurt
1 large egg
3/4 cup fresh blueberries washed and dried or frozen with out defrosting.
Vegetable oil or butter for frying.
How To
Start by mixing the wet ingredients. For an extra fluffy batter separate the eggs, mix the yolk, the yogurt, milk and butter in a bowl and in another whisk the whites till they are foamy and almost forming peaks so it can mix in well white the dry ingredients.
In a separate bowl, mix the dry ingredients and make a well in the centre, pour the yolk mixture and white mixture too. Mix through and do not over work even if it has a little lumps. Place half of the berries in and get ready to cook!
Over a hot skillet or crepe pan, place a ladle spoon full of the pancake mix over some blistering butter and have whatever you spread or drizzle over pancake.
I have kept is simple here by using maple syrup, but there were strawberries hanging around that day so I made a small coulis to go along with it. However, it was more of a dippy dippy because of the vessel it was in.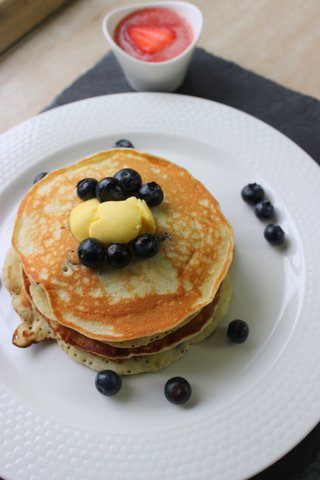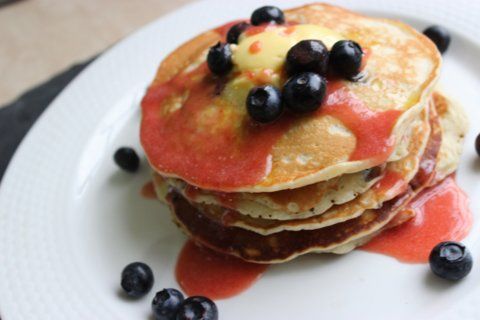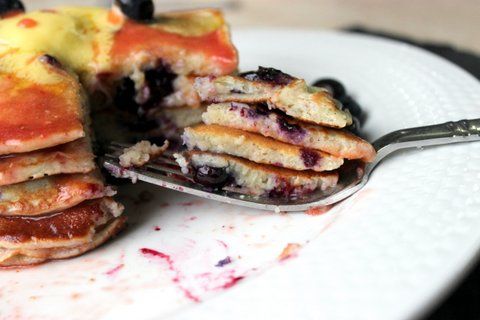 Go ahead and try this recipe for breakfast tomorrow. Most stores have a good selection of berries. I know for a fact Shoprite Ikeja has blueberries – fresh and frozen. So you have NO excuse.
This recipe features on the Chef Fregz Special Menu which is going down live this Sunday! It's at The GET Arena, Oniru here in Lagos! As I type this post I'm still in between perfecting the spice for the lamb and fish so it's looking extra good!
I am giving out a Fregzinator Tee today all you need to do is follow @chef_fregz and @giddimint
on Twitter, Facebook and/or Instagram
Then answer this easy question:
"When something cooks nice and slow for a long period of time in fat – what is the technique called?"
Post your answer on any of the above social media platforms with hashtag

Till next time, remember your kitchen is an ever evolving terrain be unafraid to have an adventure!
Have a flavour filled weeekend!
Ciao!
_____________________________________________________________________________________________
Chef Fregz loves to cook! He is a graduate of Le Cordon Bleu Paris Culinary Arts School in France and hosts monthly "Chef Fregz Specials" where he whips up a yummy menu with a different theme each time then everyone enjoys a taste.He also caters special events and private dinners. To find out more visit www.cheffregz.com.Chef Fregz provides premium private catering services. For bookings and orders email info@cheffregz.com @Chef_Fregz on Instagram and Twitter. You can check out the Chef Fregz Page on Facebook as well.