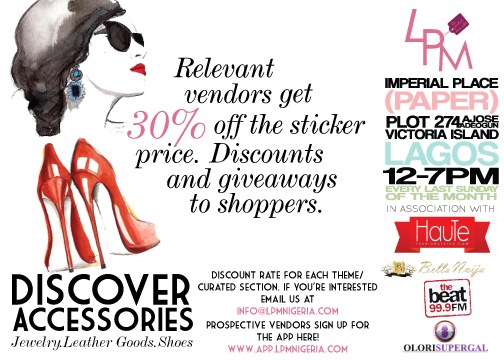 Yay! LPM is here again.
This Sunday, the July edition of the shopping extravaganza tagged Discover Accessories, will take place at the Imperial Place, Victoria Island, Lagos.
All attendees will shop for jewelry, leather goods, shoes and a whole lot more. There will also be discounts available on all items you buy.
Date: Sunday 28th July 2013
Time: 12 Noon – 7 PM
Venue: Imperial Place, Plot 274 Ajose Adeogun, Victoria Island, Lagos
Contact: For more info and general inquiries, send an e-mail to [email protected]
Toseki Vintage – LPM Vendor Spotlight July 2013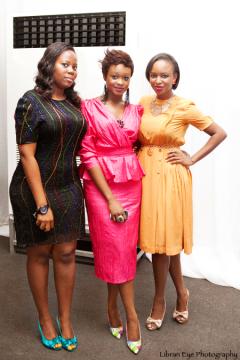 Our brand evolution
It all started during our NYSC year while trying to pass time at camp lectures during passing out week. Three of us knew we wanted to get involved in the Nigerian fashion industry. We had a number of sketches which we had drawn up for our personal use and initially wanted to bring to life a number of our designs, thereby becoming "designers". However, our key agenda was to be creative and bring something different to the Industry.
After brainstorming on our intentions to become a fashion brand it wasn't until the next year we realised that there was a huge market out there for vintage fashion. We individually had our own personal style and
loved vintage clothing and accessories. Being able to turn 'old' to 'new' while expressing individuality in one's fashion sense seemed to excite us collectively. Having all lived in the UK at some point in our lives and having our individual vintage collections, we felt the need to take our vintage-shopping hobby to a commercial level. We also observed that the notion of vintage fashion was gaining ground here in Nigeria also.
The name Toseki Vintage comes from a combination of our first names – Tolu, Seyi and Kike.
Toseki's signature or aesthetic
Toseki's signature is all things vintage – prints, dots and more prints. Our aim is to provide affordable, stylish and one-of-a-kind pieces to the working man/woman (Yes, we have had a number of male customers!)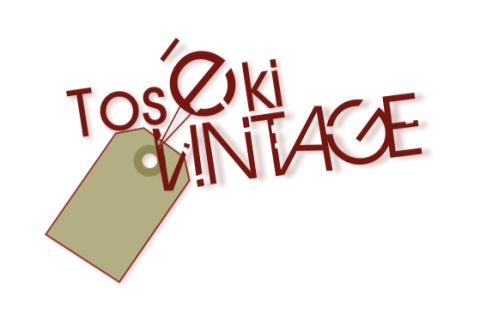 What makes African fashion unique or worth discovering?
African fashion is quite popular now even though the industry has been vibrant for a number of years. A few young and veteran players are becoming more and more creative in their output. Season after season, we
see new designs and ideas being produced around our continent.
Looking at Nigeria in particular, the talent we have is unbelievable. From the most complex to simplest use of fabric to the detailing involved, the African fashion industry has become a force to be reckoned with.
The recent partnership between Selfridges and a number of Nigerian designers exemplifies this. Ankara has evolved from what some might have perceived as belonging to our parents or grand parents' generation,
to something a twenty-something will freely rock to any social gathering. The modern twist on the common iro and buba is another example. We believe that African fashion now has a place on the map.
Next sale and where to purchase
Our next sale will be this Sunday 28th July 2013 at the Le Petit Marche, which is scheduled to hold between 12 Noon and 7 PM at Imperial Place, Plot 274 Ajose Adeogun Street Victoria Island. We occasionally have sales on our blog – www.tosekivintage.blogspot.com . Dates will be announced soon via Twitter and the blog.
Highest point
For us, the highest point so far has been the feedback which we continue to receive from our customers. Knowing that they are wearing and loving our pieces encourages us to go even further.
Vision for Toseki Vintage
By God's grace we hope to start designing a vintage inspired line and custom-made pieces to suit our clients. The plan is that each and every piece will be unique so there will be no 'She stole my look' moment when our pieces are worn.
Exciting news
Yes, we have been apprached by a number of E-commerce sites and we are looking into taking up one of the offers as this will make our pieces readily available to new and existing customers in between blog sales.
We are also about to start offering styling services to our clients through which we advise the client on how to wear vintage i.e. mixing vintage with high end or high street pieces, or wearing vintage from head to toe without looking like you're stuck in the 60s.
We are currently working on a lookbook but to view past lookbooks and sales here is the link to our blog -n www.tosekivintage.blogspot.com