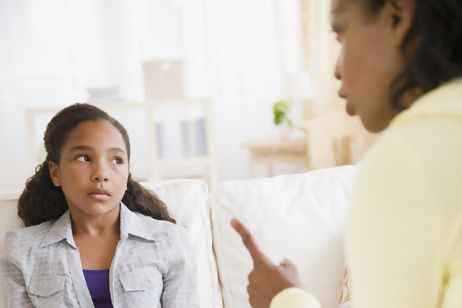 Aunty Bella is our agony aunt column on BellaNaija. We launched this column in the early days of BN and periodically feature issues sent in by BN readers. We hope the BN family can offer insightful advice as well.
I didn't grow up with a silver spoon neither did I live in an environment of love. I lived with my grandma for six years before I started living with my mum at the age of 6. Unhappiness affected me academically. Moving in with my mum made me think my dream of being loved had come true. I was wrong.
The truth is, I'm not close to my mum because of the words of her mouth. She uses whatever I tell her against me. She called me a prostitute at the age of 13. She uses vulgar words on me which has not stopped even at 23. She compares me to other people and makes me feel like I have never done anything good. She believes I'm a pretender(just because I'm quiet). As a result, it has affected my self esteem.
Recently, she has been telling me to move out of her house and I don't know why. She looks for every avenue to find fault in me. She has a problem with my boyfriend and she says he is the one that has influenced me; but the truth is the way that I am being treated by her that makes me keep away from her. My boyfriend is the only one who understands me and all I am going through. We have been together for 4 years but my mum says she wants me to be with someone who is wealthy. According to her I'm dating a "small boy" (I had told her that I'm a year older than him.)
She constantly puts it in my face that my mates are dating 'reasonable' guys,working class and all. My boyfriend is in his finals at the University. She says I should leave him. How can I leave someone that understands me more than she does? He has done a lot for me.
I really want to have a breath of fresh air and be free for once not having someone that believes nothing good can come from me.I know her thought towards me are negative because she says it at times that she doesn't like me. I don't have my privacy. She also says I'm rude because I have started sleeping around and because my boyfriend has started sleeping with me. The truth is I am not happy especially because she derives joy in embarrassing me publicly.
I need my privacy, I need to think straight,my source of joy now is God and my boyfriend. What is the best thing for me to do? I am a 23year old, psychology student from a broken home. My father is not an option because I saw him for the first time at the age of 21 and he acts like I'm forcing him to be my father so I have left him. My boyfriend has suggested we rent an apartment and live together. My mum is frustrating me; she believes I hate her, but the closeness can't be there. I need your advice, please.
Photo Credit: thenational.ae