Salut A Toutes!
First off, a big thank you to everyone that showed up for Chef Fregz Special. It was such a huge success Baba God is awesome and he made you all awesome too!
Today, I have decided to do something for my Fitfam. If you're a close friend or have spent five minutes with me, you would probably know that for most of my life I have been on a diet. It's 2013 and the struggle continues. However, I haven't given up. From my present dietician Bunmi Alaga, Demilade Banwo to Luminus (a.k.a Weight loss Voldermort) to Adeyemi Fatona (a.k.a Panda) and EstaMorenikeji just to name a few. These people have constantly motivated me to at least keep fit or like my friend Mkeds would say "Team Lekpa or Die Trying" that has been my motto.
So, in the last month what I eat has kind of changed to little carbs and more vegetables and too much chicken breast. I am not complaining too much because everyday I am seeing the results and I am closer to my goals. As a chef and a foodie first and foremost, my food has to be sweet! Diet or no diet! So even if it's low fat it has to have high flavour!
This dish I am posting about today was purely made from vegetables that where lying fallow in the fridge and leftover quail from a shoot for two magazines. This turned out to be a beautiful accident and it proves that taste is everywhere in your kitchen and trials could just be the winning ticket to delicious meals from you to your friends and family. You do not have to use quail here – chicken breasts or chicken in general is fine. You could also substitute turkey here if you want to be as lean as possible; but personally I find turkey a bit to bland sometimes
The pasta I used is brown rice pasta. You could use regular whole wheat or quinoa pasta for this. Theres no point using white pasta for this because you kill the idea of "Fitfam"
Here is the recipe
Serves 2-3
Prep time 10mins
Cook time 10mins
Easy cooking
You'll Need
4 pieces of quail breasts
or
1 large chicken breast cut into strips or cubes
1 teaspoon mixed herb seasoning
2 teaspoons crushed garlic
1 teaspoon poultry/chicken seasoning
White or black pepper to taste
Chilli powder for some heat if you like
The Vegetables
1/4 of a large cabbage cut into big chunks
2 medium sized carrots sliced into semi circles
1 Green pepper roughly chopped
1/2 a large onion roughly chopped
1 medium bunch pak choi or Chinese cabbage
1 large zucchini sliced into semi circles
1 tablespoon garlic
2-3 tablespoons harissa pepper
Seasoning cube to taste
Coasrely ground black pepper to taste
Pinch salt
2 tablespoons olive oil for sautéing
1 recommended serving of Whole Wheat or Brown Rice Pasta
Water in a pot to boil
Salt to taste
How to
Place the pasta (I used brown rice spaghetti you could use whatever shape or type of pasta yo find or prefer) in the bowl to cook according to packet instructions
While that's boiling, in a smoky hot non-stick pan add the oil then the quail or chicken and brown on all sides till half way cooked. Add the carrots, garlic, zucchini (also known as marrow) and harissa. Stir fry for about a minute and add the cabbage. The cabbage may look like alot and wont fit but just place it and cover with a lid and allow to cook on a low heat. After 3-5minutes the cabbage should have wilted stir around and add the seasonings stir again.
Add the ready pasta to the stir fry reserving some of its cooking liquid just in case you want to loosen the stir fry. That way you wont need more oil.
Add the pak choi at the end and fold through. It take seconds to wilt down.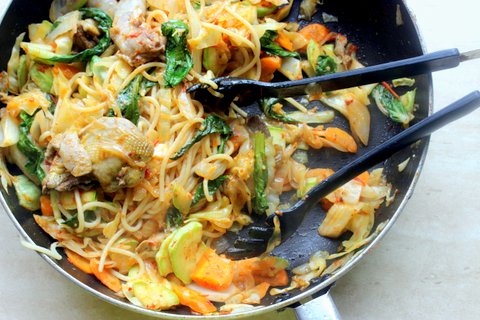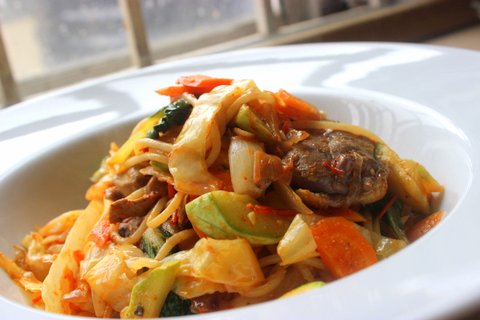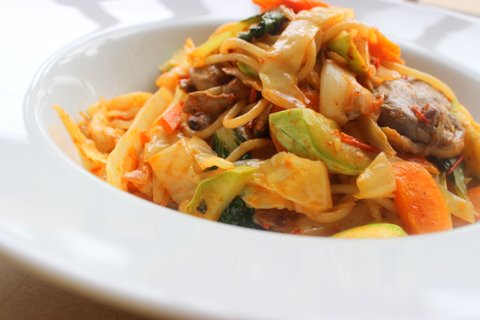 Check for seasoning and garnish with spring onions or whatever herbs you have. Because I said it's healthy doesn't necessarily mean you should gorge. Portion control is important if you're trying to be "FITFAM" and sheer decorum if you do not have fitfam goals. I do not have the accurate calorie details but judging from the packet of the pasta I used this dish is about 560 calories and 3 grams Fat
You can also use fish here if you are not feeling like chicken.
Have a great weekend people!
Ciao!
_________________________________________________________________________________________________________
Chef Fregz loves to cook! He is a graduate of Le Cordon Bleu Paris Culinary Arts School in France and hosts monthly "Chef Fregz Specials" where he whips up a yummy menu with a different theme each time then everyone enjoys a taste.He also caters special events and private dinners. To find out more visit www.cheffregz.com.Chef Fregz provides premium private catering services. For bookings and orders email info@cheffregz.com @Chef_Fregz on Instagram and Twitter. You can check out the Chef Fregz Page on Facebook as well.