Hi BN DIY lovers. It's another fabulous weekend and it's time for another edition of BN Do It Yourself.
Today we are going to be making some fabulous jewellery. Thanks to my newly found addiction to Instagram, I found this super cool DIY from stylist and Frugal Style girl Brandhyze Stanley of Frugal – nomics.com. She is absolutely fabulous and makes amazing stuff with her DIYs.
Today we are going to be looking at how to make one of her cool pieces – this chord and chain bracelet. It's super easy, you can alternate materials used and it comes out looking gorgeous.
Check out some of the items you would need:
1. A metal chain
2. Colourful chird
3. Two pairs of pliers
4. A tape measure
5. Wire cutters
6. Three jump rings
7. Lobster clasp or A hook
8. Two end caps
9. Super glue
10. Scissors
Remember that some of these things can be gotten from old jewellery and things around the house, so you don't have to go out of your way to get them.
 How to Achieve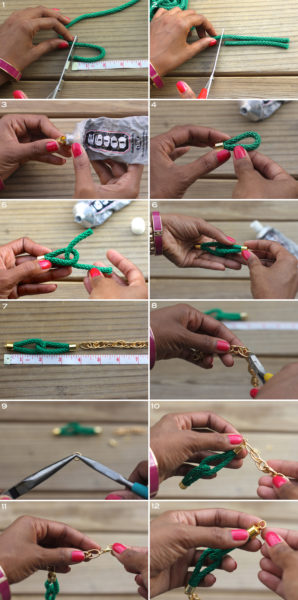 Photo Credit: Frugal-nomics.com