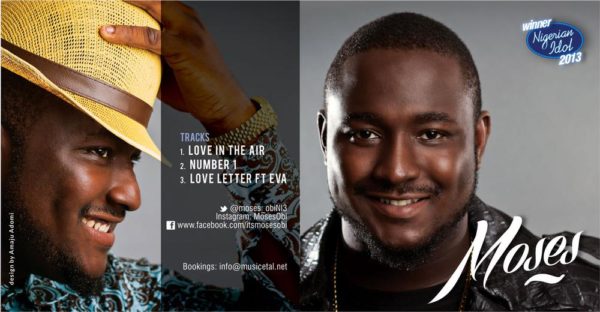 After winning the third edition of Nigerian Idol music competition, 22 year old Moses Obi-Adigwe makes his big music debut with three spanking new singles.
It's all about love for Moses. His songs are "Love in the Air", "Number One" and for his 3rd song "Love Letter" he collaborated with female rap act Eva Alordiah.
Love in the Air was produced by DJ Klem. It is a fresh dance tune that is just right for the Summer time with its mash-up of lush drum patterns and electronic arrangements.
Number One, also produced by DJ Klem sees Moses showcasing his smoother and sultry side over the slow-to-mid-tempo Jazzy Salsa number.
Love Letter is also a must listen track. Produced by Olaitan Dada, Eva Alordiah is featured in the song.
Fans of Moses on the hit show will love the songs with his different and exciting approach.
Play Love in the Air
[audio: https://www.bellanaija.com/wp-content/uploads/2013/08/01_Love_In_The_Air.mp3]
Download
Play Number One
[audio: https://www.bellanaija.com/wp-content/uploads/2013/08/02_Number_One.mp3]
Download
Play Love Letter Feat. Eva Alordiah
[audio: https://www.bellanaija.com/wp-content/uploads/2013/08/03_Love_Letter_ft__Eva.mp3]
Download