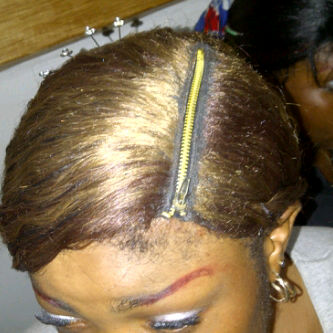 Ah! the sweet smell of innovation. Beauty, just like other things, tends to get a bit out of hand once in a while. Take for example the Rihanna/Shut up and Drive/Umbrella/Ri-Ri hairstyle craze that started out alright but went downhill from there.
Everyday we come across different beauty trends that take the concept to a whole new level, and based on a hairstyle I saw last weekend, it doesn't seem like it's going to stop.
While I was in Ikeja last weekend I came across this innovation in hair styling. A certain lady had on what she called a zip weave, and was going on and on about how in love with the hairstyle she was. Apparently, she had walked into her hair dressers salon and told her to "do something that is unique and no other girl in Lagos has done before". So I guess the hair dresser whipped out her sewing kit and created this hairstyle.
To my knowledge, this trend started off in America and was a big hit in some areas. So I wasn't really surprised when I saw it in Ikeja. Isn't that how fads have always worked? Something starts off far away and before you know it everyone is doing it.
Take soul 2 soul for an example. That hairstyle gave all manners of headaches but we all did it. We packed the huge braids on our heads and walked like we weren't tilting. As uncomfortable as it was, it was a favourite for many ladies.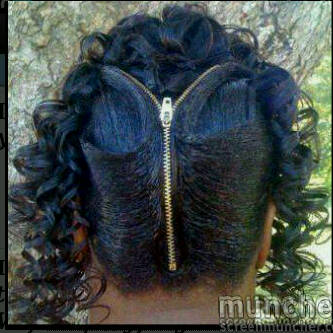 Now, I know some of you may be thinking "what the hell is this?" but just like that lady at Ikeja, a lot of people would actually try this. Plus, let's not overlook the fact that once Rihanna & Cassie shaved one side of their heads there was a significant increase in half-bald ladies everywhere.
If Beyoncé hit the stage of one of her concerts or even made a music video with this hairstyle, would you reconsider rocking it? Do you think it is ghetto or is it just subject to taste? What if everyone was wearing it, would join the wagon? Let's discuss.
Photo Credit: omg.com.ng