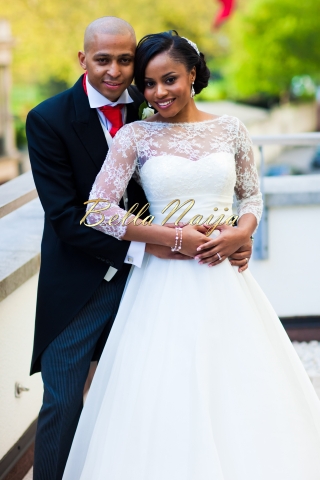 Good Morning BN Weddings Lovers! You deserve a Spectacular start to the week and we have it just for you!
Amaka Araraume and Yomi Benson have such a beautiful love story – including BBM misadventures, Facebook, ending in long loving conversations all night, a magical proposal on the beach as the sun set, and a wedding so enchanting that we're so happy to share!
Enjoy their love story and amazing wedding journey here.
xoxo
***
How They Met
From the bride, Amaka
I had just moved back to Nigeria for my NSYC. On a random workday, I was on my way to submit some files when I walked past the cafeteria. I remember seeing this gorgeous man and thinking I hadn't seen anyone like him at NNPC. I noticed him looking right at me, so I looked away. I turned around for one more look and I caught him staring at me. Needless to say, I walked away quickly, slightly embarrassed. To my surprise, he asked his friend to collect my number; you should have seen my face! Of course I refused to give his friend my number. After talking, turns out his friend knows my sister so we walked outside and Yomi was standing with my sister, Ifeoma. I walked up to them, smiling, expecting Yomi to introduce himself or ask for my number but to my surprise, he shunned me (only to find out much later that he can be quite shy). I however wasn't very happy about it so I left them.
A couple of months later, Apprentice Africa was airing on TV. I was a huge fan of the show so I watched every episode. I remember watching an episode and Yomi came out of nowhere on the advocating panel. He introduced himself…"Yomi Benson" I was like so that's your name! A couple of days later I added him on Facebook, he accepted but again we said nothing to each other.
A year later in 2009, I got a random request from a 'Yomi Benson' on my Blackberry. I knew it was him so I accepted. Can you imagine this Yomi was on my BBM for over 3 months and he didn't say a word to me? No hey, hi, morning – nothing!!! I wrote him off completely and luckily for me my phone got stolen so that was the end of our Blackberry misadventure.
Two months later, I was having a birthday soirée. I invited some friends who asked if they could come with a friend of theirs. During the party I was having a good time when I walked into the kitchen, and to my surprise bumped straight into Yomi. I asked him what he was doing at my party and he said a friend had invited him. Throughout the night I saw him staring while I was dancing. I was with someone else at the time and after a couple of hours, he says now that he couldn't take it anymore so he left.
Finally, November 2009, two years after I met Yomi he decided to ask me for my number. The first time he called, our conversation was so brief and awkward; I decided to ignore any phone calls from him. To be honest, so much time had passed that I wasn't interested in him anymore. He kept calling and leaving voice messages; my friend and I would listen to his messages and laugh so hard, mimicking his accent (I am so sorry baby!) After about 2 weeks of calling I decided to talk to him. We ended up speaking for hours; we talked about everything – hobbies, family, his career, and my career aspirations (I was doing my Masters at the time). We had so many things in common – we are both Chemical Engineers, our love for God and family, we both love to have great time etc. That conversation was the start of something special but I didn't want a relationship and I think he wasn't looking for a relationship either. We kept talking and when we eventually met up we had so much chemistry, it felt like I had known Yomi all my life. After a couple of months of dating, Yomi and I decided to give our relationship a try. Needless to say, it worked out wonderfully…
A few months after dating, I knew I was in love with Yomi and I knew he felt the same way. I flew back to Nigeria for a friend's wedding and during that trip, he asked me to be his girlfriend. Yomi is such an amazing man, he encourages me, inspires me, he is fiercely loyal, he is a kind, generous and gentle soul. He is selfless – the kind of man that puts the needs of others before himself and his love for his family and friends completely won me over. When I am down or sad; he prays with me. I truly have the best time when I am with him – be it at home, when we party, whatever I do isn't the same if I am not doing it with my YB. Plus he lets me be my silly, crazy self – I was completely, head over heels in love with this man…I still am!
The Proposal
Ok back to our story, so we decided to spend Christmas 2011 in London. We were out shopping when coincidentally we walked past a jewellery store. He caught me staring and he asked if I wanted to go in. I didn't want to come across as desperate but we went in anyway. We looked at a couple of rings and I fell in love with 'the ring' but after he saw the price of the ring, Yomi's smile turned into a frown. Later on, he made it very clear that the ring was way too expensive and out of his budget should he choose to get a ring for anyone.  I was taken aback and a little upset because I thought we were just looking. Neither did I insinuate that he should get me the ring – I had no idea it was all part of his grand plan.
My 25th birthday was coming up and Yomi asked how I wanted to celebrate. I knew I didn't want a typical dinner and drinks kind of birthday. We love travelling so we agreed to fly to Barbados.  He asked me to look at dates and he would take care of everything – my baby is such an amazing planner, I knew I was in for a good time. We flew to Barbados immediately after my Masters graduation; best two weeks of my life.
The morning of my birthday, Yomi woke me up – very excited. He walked me to the patio where they set up a champagne breakfast with birthday balloons. After a lovely breakfast, he asked me to pack a bikini, shorts and nothing else. We went to the most luxurious spa, where we spent several hours getting pampered. After our spa date, we took a long drive to this beautifully landscaped orchid garden. We walked around, talked about our plans for the future, laughed and just had a great time. Deep down inside, I already knew Yomi was the man I was going to spend the rest of my life with but it was reassuring to hear him talk to me about our future together.  Anyway, we got back to our hotel at 6.30pm and he asked me to be ready for dinner at 7pm. I kept thinking 'can this day get any better?' little did I know! When we got to the restaurant we walked to seaside bar, where we had drinks. About 20 minutes later, our hostess came in to tell us our table was ready. I walked back into the restaurant thinking our table was inside but Yomi took my hands and asked me to walk with him. We walked to the beach where we had romantic candlelit dinner on the beach, it was now sunset. It was so beautiful and picturesque. I was blown away by all the effort he put into planning my day. During dinner, I noticed Yomi was quite nervous and not eating. I asked if something was wrong but he brushed it off saying he wasn't hungry. After dinner he asked me to close my eyes. I asked "why?" and all he said was he had a surprise cake coming. I think I closed my eyes for too long because when he eventually asked me to open my eyes it took a minute for me to notice the huge ring box opened in front of me. I kept staring at the ring and thinking this is way bigger than the ring I loved. Yomi meanwhile, walked across the table, said the most amazing words to me and asked me to marry him. I didn't hesitate to say yes and we ended our night partying the island way. Did I mention we got all our drinks for free that night… the perks of being a newly engaged couple!
I am so blessed that God brought Yomi into life. We are so excited to be married and so thrilled about our future together. Thankful to God for everything.
_____________________________________________________________________________________________
For their introduction, Amaka and Yomi had an intimate gathering of family and friends at the bride's family home in Abuja. The bride glistened in a gold gele and lace dress, while the groom wore white.
Their traditional wedding was the perfect fusion of Yoruba and Igbo cultures – the groom, wearing a red felt hat, a signature of the Igbo culture, there was a letter reading declaring the groom's intentions and the bride carried and served palm wine to the love of her life, which is an Igbo wedding tradition. The fabulous bride and groom changed into aso-oke – a traditional Yoruba fabric – to signify the bride becoming a part of her new family – and culture.
The finale was a fabulous destination fête in London – a classic wedding where the groom wore a top hat and morning suit, and the bride in a lace long sleeve gown, followed by a fun and fabulous reception where DJ Xclusive kept the party going.
BellaNaija Weddings wishes Amaka and Yomi the most beautiful marriage.
***
~ Photography: Simple Picture Perfect | David Pullum Photography
White Wedding
Formal Introduction of Families
Traditional Wedding
Photography: 
Traditional: Simple Picture Perfect
White Wedding: David Pullum Photography | www.dpphotography.co.uk | info "at" dpphotography.co.uk
Venues
White Wedding Church: Farm Street Church
White Wedding Reception: Four Seasons Hotel London at Park Lane
Flowers: Wildabout Flowers
White Wedding Cake: Rosalind Miller
Wedding Attire
Wedding Dress: Caroline Castigliano
Groom's Suit: Oscar Udeshi
Traditional Makeup: Anna for BM Pro
White Wedding Makeup: Alison Cameron
White Wedding Hair: Hair by Abike
Wedding Planners
Traditional: Gbemisola Adenekan for Omega Events
White Wedding: Penelope Cullen for Tigerlilly Weddings
______________________________________________________________________________________
We love weddings as much as you do – get in touch for inquiries, inspiration & more!