The difference between a pancake and crepe is, in my opinion, completely nullified when you bite into the warm tasty goodness of either. It's been said that the addition of raising agent to pancake batter and the thickness of the finished product distinguishes it from the crepe which tends to thinner and flatter. I say, it matters not as long as you enjoy the meal.
Crepes and pancakes are excellent vehicles for savory and sweet fillings and I have a variety of options I'd like to share. Let's get the basic crepe and pancake making procedure out of the way then we can proceed to the fun part!
What You Need For Crepes
3/4 cup all-purpose flour
1 teaspoon salt
1 cup milk
2 eggs
2 tablespoons sugar
1 tablespoon melted butter [add a little extra for crepes]
How To
Put the flour and salt and in a large mixing bowl and gradually whisk in the milk. Then whisk in the eggs, 1 at a time, and then the sugar, melted butter, and vanilla. Cover and let rest in the refrigerator for about 1 hour. You don't absolutely have to let it rest if you are on a time crunch.
Heat an 8-inch nonstick skillet over medium-high heat. Melt a small piece of butter in the pat and swirl around so that it lightly coats the surface; be careful not to burn the butter.
Add 1/3 cup of the batter and move your wrist in a circular pattern to coat the pan with thin even layer of batter. Cook for about 1 minute or until the first side browns lightly, then flip and cook 45 seconds to 1 minute longer. Remove to a plate and repeat with remaining batter.
What You Need for Pancakes
1 cup all-purpose flour
1 tablespoon white sugar
1 teaspoon baking powder
1/2 teaspoon baking soda
1/4 teaspoon salt
1 cup milk
1 egg
2 tablespoons vegetable oil
How To
Preheat a lightly oiled pan over medium-high heat. Combine flour, sugar, baking powder, baking soda and salt. Make a well in the center. In a separate bowl, beat together egg, milk and oil. Pour milk mixture into flour mixture and beat until you have a smooth consistency.
Pour or scoop the batter onto the hot pan, using approximately 1/4 cup for each pancake. Brown on both sides and serve hot.
Now that we have that out of the way, let's get to making fillings to accompany our treats. For a savory take on a crepe try filling it with barbecue chicken and some veg. Who can beat a tasty healthy combo?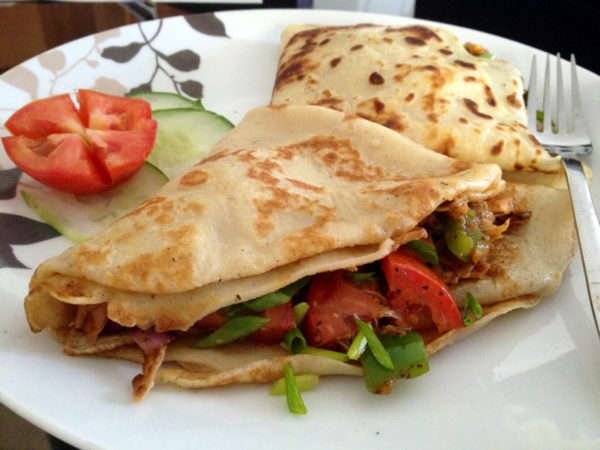 What You Need for Chicken Filling
1 ripe tomato
1/2 green pepper
1 tsp of chives
1 tsp basil
2 tbs oil
1 tbs BBQ sauce
1 cooked chicken thigh (see recipe for herbed chicken on my blog Pasta recipe)
5 tbs of a cooked tomato sauce
1/2 chopped onion
1 chopped spring onion (garnish)
Heat the pan with oil, add onions and turn down the heat. Add the basil and chives then add tomato sauce, keep the heat low. Take the meat off the chicken bone and shred. Add to the pan along with BBQ sauce. Stir for a minute, add the tomatoes and chopped green pepper. Leave the heat on for another minute and turn it off.
Fill crèpes and enjoy!
Or if you hanker for something on the sweet side, a drizzle of butter scotch sauce, some whipped cream and fresh fruit will liven any crepe or pancake.
What You Need for Butterscotch Sauce
4 tablespoons unsalted butter
1/2 cup packed dark or light brown sugar
1/2 cup heavy cream
1/2 teaspoon flaky sea salt or 1/4 teaspoon regular salt, plus more to taste
1 1/2 teaspoons (8 ml) vanilla extract. [Add a little extra for taste]
Melt butter in a medium heavy-bottomed saucepan over medium heat. Add the sugar, cream and salt and whisk until well blended. Bring to a very gentle boil and cook for about five minutes, whisking occasionally.
Remove from heat and add one teaspoon of the vanilla extract, stirring to combine Dip a spoon in the sauce and carefully taste the sauce to see if you want to add additional pinches or salt or splashes of vanilla; please careful as the sauce will be extremely hot. Adjust the taste accordingly.
Serve cold or warm over crepes or pancakes. The sauce will thicken as it cools and it can be refrigerated in an airtight container and reheated in a microwave or small saucepan.
Plate up your crepes or pancakes with a drizzle of the sauce, some fresh fruit, whipped cream and maybe some shavings of dark chocolate and you're good to tuck in.
Again on the sweet side of life your crepes or pancakes will go very well with a fruit compote. I like the berry variety and they are so simple to make.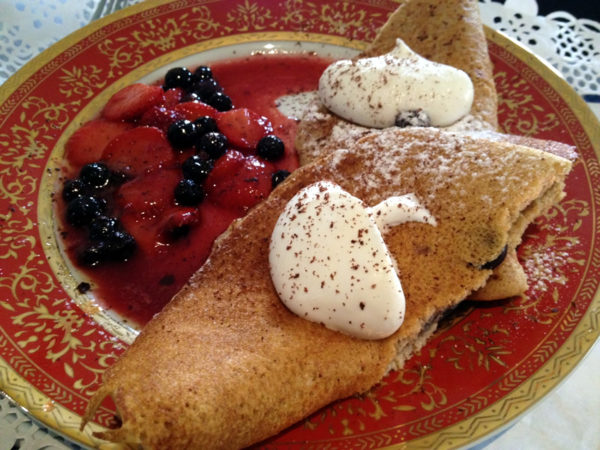 What You Need for a Fruit Compote
1 cup fresh or frozen blueberries (I prefer fresh berries)
1 cup fresh or frozen strawberries (I use fresh)
3 tablespoons water
1/4 cup sugar
2 teaspoons lemon juice
How To
Combine 1 cup of the blueberries and strawberries, water, sugar and lemon juice in a small saucepan. Cook over a medium heat for about 10 minutes. Add the rest of the blueberries and strawberries (This will allow for some of the berries to retain some chunkiness) and cook for 8 minutes more, stirring frequently. Serve warm.
The best part of these recipes is that you can enjoy them at anytime of the day!
______________________________________________________________________________
Nkem Odewunmi is a home cook and food lover who enjoys experimenting in a food lab which she fondly calls "Flab". She believes that that food should be tasty, healthy and beautiful to look at. Working with the natural flavours and textures of food is her goal when she cook so she isn't a big fan of artificial seasonings or additives. When she's not working, she develops recipes, writes about food, styles food and she COOKS till she drops. Find more about here and her FLAB escapades at  FLAB or visit her Facebook Page.