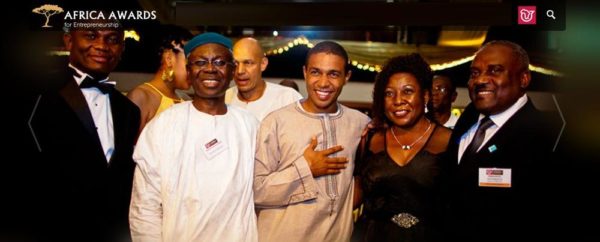 There's is SO much good coming out of Africa right now that we're super happy to showcase it. Amidst the plethora of bad news and discouraging events, there are individuals and organizations working strenuously to ensure that their little corner is brightened. So we are proud to share this news of the 2013 Africa Awards for Entrepreneurship.
The African Leadership Network has announces the list of 12 organizations in the running for the Africa Awards for Entrepreneurship. Entrepreneurs and business ventures from all key sectors of industry from 47 African countries were considered and through a rigorous screening process, 12 finalists emerged representing 8 sectors in 8 different countries.
The winners will be announced at the gala ceremony to be held in Mauritius on 4th October, 2013 during the 4th annual gathering of the African Leadership Network. The prize money of $200,000 will be given to outstanding African businesses which have demonstrated a unique blend of business excellence AND social impact.
According to the organizers, the idea is that "these entrepreneurs are the leaders that will secure Africa's prosperity…also to spotlight and distinguish exceptional entrepreneurs as role models for young entrepreneurs in Africa."
Each of the finalists has demonstrated "determination, courage and impressive accomplishments. Their stories epitomize …search  for success stories of Africa, which are critical to inspiring and enabling the next generation of entrepreneurs on the continent".
By category, the finalists for 2013 are as follows:
Transformational Business Award
Interswitch Limited (Nigeria) is an integrated payment and transaction processing company that provides technology integration, advisory services, transaction-processing and payment infrastructure to government, banks and corporate organizations.
Haggar Holdings Company Limited (Sudan), one of Sudan's largest Fast-Moving Consumer Goods & Information and Communications Technology conglomerates.
Chemi & Cotex Limited (Tanzania), a leading East African fast-moving consumer goods company, and the leading distributor of beauty product in Tanzania.
Outstanding Mature Business Award
MODE (Kenya), one of the most innovative technology company that provides mobile value-added services to mobile network operators in 12 African countries
QuantumNet (Gambia), Gambia's first and largest Internet Service Provider (ISP), leading distributor of global technology brands and luxury vehicles, with business operations in Gambia and Sierra Leone.
Pygma Communications (Democratic Republic of Congo), an integrated communication services company offering advertising, Sims audio/visual production, public relations, event management, and media strategy services in the DRC.
Outstanding Small and Growing Business Award
Guanomad (Madagascar), a company that produces and supplies natural fertilizers and organic manures from bat droppings in Madagascar's caves for use in organic agriculture
VIA Aviation (Tanzania), the first of a kind private jet logistics firm in Tanzania that provides clearance permits and ground handling services for companies and individuals that own and operate private jets –
Koko King Limited (Ghana), a business that provides traditional breakfast meals that has grown exponentially from providing 20 meals from a taxi in 2007, to having over 200 employees, and 100 outlets in Ghana and 200 employees –
Outstanding Social Entrepreneur Award
Golden Baobab (Ghana), an awards programme that recognises and awards the most talented writers and illustrators on the African continent with a cash prizes to encourage the creation of captivating books to inspire the imagination of African children.
Akili Dada (Kenya), a leadership incubator investing in high-achieving young African women from underprivileged backgrounds who are passionate about social change.
Sustainable Development For All (Kenya), a company that aims to improve livelihoods and education in areas without electricity, by providing households with solar energy.
The winners will be determined by a panel of judges which include 5 eminent business leaders from across Africa.  We're rooting for ALL the finalists.
Keep refreshing BellaNaija for more information on this great initiative.