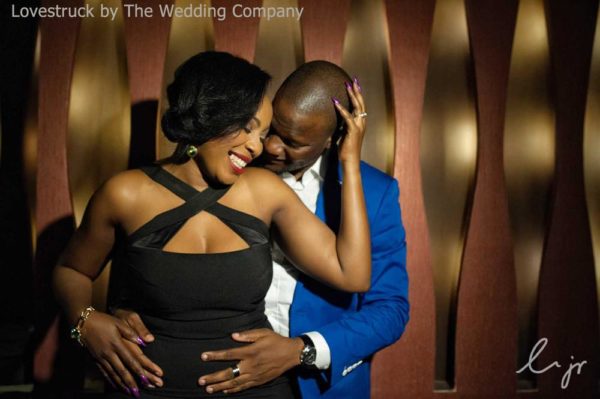 Lovely and so romantic!
We are loving and swooning over the Wedding Company Nigeria's latest installment from their innovative and inspiring LoveStruck series. This one is themed "The Big Proposal". Yes, it's a real couple – Chidi and Dipo photographed by talented photographer Olujr as they re-imagine their romantic proposal at the uber-trendy new Lagos hotspot Spice Route for the LoveStruck team. Find out all the scoop and savour all the photos below.
Fellas, hope you can see how it's done!
***
From the LoveStruck team
Hello dear readers,
Many of you will agree that while there are many wedding elements that are a delight to experience: That fabulous dress, the dream wedding cake, or a loving marriage itself; there's nothing quite like the day he pops the big question! While some of us daydream about the kind of proposal that involves clanging bells, hot air balloons and rings hidden in elaborate dishes, others just want a surprise glamourous evening out with their beau, followed by a perfectly timed and heartfelt proposal.

For this month's LoveStruck, we worked with engaged couple Chidi (bride to be) and Dipo (groom to be). Since both of them are lovers of style and sophistication, we wanted to create a photoshoot that depicted their personalities, whilst staging a gorgeous proposal to remember. We at the Wedding Company are planning the wedding of this hot young couple and wish them every happiness as they venture into their married life together!
For more images from this shoot, visit – http://theweddingcompanyng.com/wedding/the-big-proposal-photoshoot/
Vendors Credits
Director: The Wedding Company
url: theweddingcompanyng.com
twitter: TheweddingcomNG
Facebook: facebook.com/Theweddingcompanynigeria
Google +: +The Wedding Company
Photography: Olujr
Website: www.olujr.com
Assistants: Busayo Fawole and Bolaji Azeez
email: info (@) olujr.com or Busayo (@) olujr.com
Styling: Ezinne Chinkata for Zinkata Styling Services
Styling Assistance: Uju Iloabachie
Chidi/ Bride-to-be-'s Clothes: Zinkata's Services
Dipo/Groom-to-be-'s Clothes: First Outfit – Zinkata's Services | Second Outfit – Blue Blazer, White Shirt and Black Pants from Enzo, The Palms Shopping Mall, Lekki
Location: Spice Route, 36, Adeola Odeku Street, Victoria Island
Phone numbers: 017615555, 019037777, 08080208080
Make-up Artist: Bimpe Onakoya
website: www.bimpeonakoya.com
Twitter: @bimpeonas
Facebook: Bimpe Onakoya
Hair Stylist: Toyin Meriben
Facebook: EToyin 60
Twitter: @etoyin60