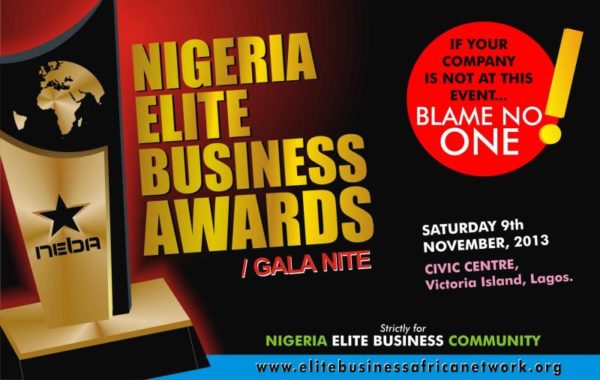 It's almost time for the Nigeria Elite Business Awards (NEBA) 2013.
The awards, hosted by Elite Business Africa Network (EBAN) will have the Vice President of Nigeria Arch Nnamdi Sambo as a special guest of honour and Prof. Pat Utomi as the keynote speaker.
EBAN has described the core of this awards as their aim to provide a neutral, unifying, classy and convivial platform for Elite Businesses/Business Managers in Nigeria to fraternize, compete but more importantly celebrate one another.
Attendees of the NEBA are C-Level executives, top management teams and high-end clients of elite businesses; top business related government functionaries, as well as the diplomatic community.
To view the Nominees & Categories for the 2013 NEBA's please visit HERE.
Date: Saturday 9th November 2013
Venue: The Civic Centre, Victoria island, Lagos
For more information please visit www.elitebusinessafricanetwork.org
______________________________________________________________________________________
Sponsored Content