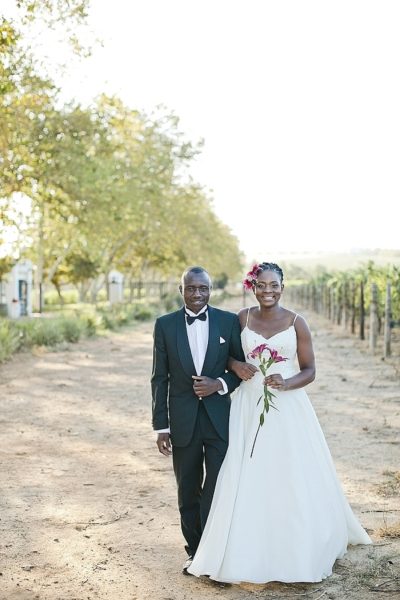 Yay! It's time for our weekly feature with our lovely partners Munaluchi Bridal Magazine. We are touching down near the "mother city" Cape Town, for a styled wedding shoot by Kibogo Photography with real couple Abraham and Audrey. We are loving the bride's natural hair and the couple's cool chemistry.
Enjoy!
***
From Kibogo Photography:
For me it was a dream to be able to do a small styled shoot in Stellenbosch – South Africa. It wasn't easy to decide where to do the photos since Stellenbosch has soooo many amazing spots, but we went for Blaauwklippen vineyard. It's a beautiful wine farm with beautiful mountains in the background. Whenever you are down there in Stellenbosch or Cape Town area you should definitely pass by that farm. Through Facebook I found Tanya Becker the owner of the Stellenbosch Bridal Boutique. I contacted her and we met to discuss how to do the photo-shoot. She is one amazing and beautiful lady who helped me a lot in organising everything!  Her friend Adele from Makeover Mayhem did an amazing job with the make up on the bride. Mostly I wanna say Thank you so so much to the Couple Abraham and Audrey for your time and doing the best modeling job in the world 😉 It was so much fun working with you and getting to know you!
See more amazing photos of the beautiful scenery and couple on Munaluchi: https://munaluchibridal.com/?p=35498
Photography: Kibogo Photography – www.kibogophotography.com
Vendors
Wedding dress: Stellenbosch Bridal Boutique
Headpiece: Stellenbosch Bridal Boutique
Suit: Tuxedo Junction
Make up: Makeover Mayhem
Venue: Blaauwklippen Vineyard
______________________________________________________________________________________
We love weddings as much as you do – get in touch for inquiries, inspiration & more!