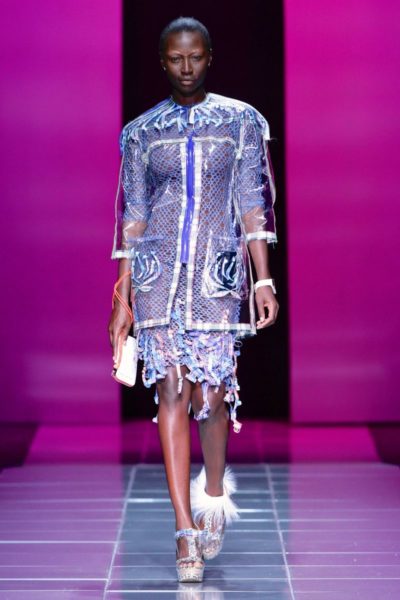 It is now time for the official opening of the highly anticipated fashion show brought to you by Africa Fashion International and Samsung – the Mercedes-Benz Fashion Week Africa 2013 #AmazeAfrica fashion showcase and yes, BN Style as very much on the scene to get all the scoop hot off the runway.
Set in the beautiful & vast grounds of the Pretoria City Hall, Tshwane, South Africa, the collections were presented before an audience of over 500 guests that consisted of yours truly, other fashion designers who were not showcasing, bloggers, fashion buyers and members of the media.
With a delayed time of 10 minutes, the lights went dim and the amazing show began. 14 fashion & accessory designers collaborations were paired into 7 partnerships and created small collections inspired by the natural genera found at Pretoria's Ditsong Museum of Natural History – and the results were spectacular.
It was amazing to see how each collection paid attention to detail; incorporating their various genera into their distinct fashion ethos bringing each piece to life with breathtaking designs and stunning showcases.
Marianne Fassler + Quamta
First off was South African fashion designer Marrianne Fassler & accessory designer Quamta. The duo looked at the dual nature of the pincushion; the hard and soft structural elements and the emotional evocation of resistance presented by the indigenous African flower.
Using the 'chinabag' motif as an appliqué and weave, Marianne intimated the permanence of the flower. Pieter Jansen van Rensburg, Quamta designer, picked this up as a motif for Samsung Note 3 covers and pouches, weaving in his own signature exotic leathers.
Here is what the designers had to say about their collections
Marianne Fassler commented "I like the hard and soft dimensions of the pincushion: this duality of fragility and hardiness is quite emotive. Being an indigenous flower it is also evocative of Africa. They are virtually indestructible, but you wouldn't know that as they have this softness about them, a joy that comes from their colours."
Her co-designer, Pieter Jansen van Rensburg said "I was inspired by the textures of the pincushion and the weaves of Marianne's garments. The fronds of the flowers come through the prints on the cover. There is also the feeling of the pincushion. We padded the pieces so the interpretation is not just visual, but also tactile: there is a softness to the touch that is representative of the flower. We wove together the different materials to convey the idea of different seasons, and the journey of seed to flower. By adding the tassels and lanyards it reinforces the idea of the plants flowering and this explosion of colour. "
My Verdict
I thought the collection was quite artistic and played with a lot of fabrics which was interesting. I enjoyed how abstract the designs looked the distinct look of the hand-woven coat.
Mercedes-Benz Fashion Week Africa – #AmazeAfrica: Marianne Fassler & Quamta
Genera: Pincushions (genus – Leucospermum)
Photo Credits: Simon Deiner/SDR Photography