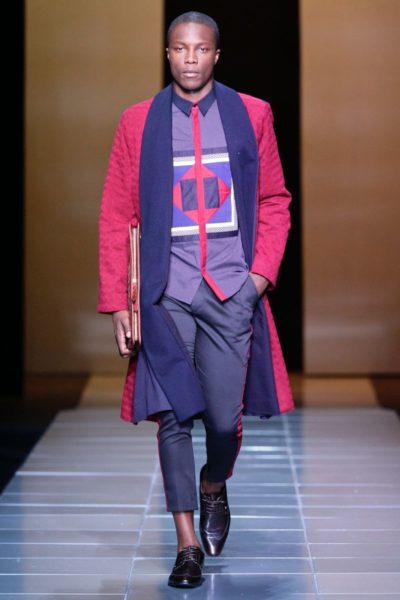 Next for the Mercedes-Benz Fashion Week Africa 2013 #AmazeAfrica show was the fabulous combination of Ivorian menswear design label LaurenceAirline by Laurence Chauvin-Buthaud and South African luxury accessory label Missibaba.
Their collection featured amazing tailoring in bright colours typical of the genera with which they themed their collection – Snakes & Chelonians. Patterned after the many coloursl serpentine creatures come in, the duo created an electrifying showcase that had a lot of people chattering about their combination for more projects.
Here is what the duo had to say about their collaboration and showcase
Laurence Chauvin-Buthaud – "I was inspired by the graphic patterns of snakes. My work is very minimal and the shapes of the reptiles comes through in the drape of the collar and the vent of the coat. There is also a languid sensuality that is conveyed in the deep, rich colours."
Missibaba – "I was inspired by the tortoise carapace: the geometric shapes, and the almost primal, boggy colours. I hoped the weave would create a 3-dimensional feeling, and like the carapace, the cover is sheath, protecting the precious inner… There's also a hint of poison snakes in the colours: the neon shots, turquoise on black, and the yellow."
My Verdict
I think the collection was a great collaboration. I liked the fact that there were separates and I'm a big fan of over sized totes…what do you guys think.
Mercedes-Benz Fashion Week Africa 2013 – #AmazeAfrica: LaurenceAirline and Missibaba
Genera: Snakes & Chelonians
Photo Credits: Simon Breiner/SDR Photography