Deborah Oluwaseyi Joshua better known to each and everyone of us as the inimitable Seyi Shay has had her fair share of music industries in her lifetime. Rocking the stages at the biggest Nigerian shows, Seyi Shay has been able to include herself as one of the creme de la creme of the Nigerian music industry.
Once a member of the Matthew Knowles' (Beyonce's father) managed UK Girl group, From Above, Seyi Shay found her way into the limelight. But, when things got a little bit rocky with the group, the talented songbird decided to sojourn back home to Nigeria to 'start from scratch'.
It's been a rough few years but Seyi Shay is finally getting the recognition she deserves, for her music and exhilarating stage craft. Having signed on a whole new creative team to back up her brand, Seyi Shay left the Silverbird-affiliated Flytime Music to sojourn on her own, with her new team at J Management.
So, BN decided to have a chat with the "Irawo", Seyi Shay to discuss everything from her new image, competition in the industry, how she's handled relationships since she's been back home and much more.
You recently signed a new deal with J Management. Why did you leave Flytime?
Me and Flytime broke up amicably. We hit the roof basically and couldn't go any further together. I needed a close-knit team. I needed an engine. I needed my brand to be built the way we are building it now i.e. the logos, the website, the image, the make-up, the hair and so on. I just needed what I had when I was with Matthew Knowles, you know, and I wasn't getting that from Flytime. Because Flytime is so big and they deal with so many other things, they obviously clearly didn't know how to do what it is we are doing now. So, I spoke to them and told them, "Hey, this is what I need. So, I'm going to build my own team. Hope you're cool with that" and they said, 'Yes, that's fine. We will still help promote you' and we went our separate ways.
While you say it was an amicable decision, an incomplete song of yours, "Killing Me Softly" featuring Timaya, got leaked online by this same Flytime management. What's the story behind that?
I don't know how it happened. Well, I now know how it happened but I don't know why because that really wasn't supposed to be. It was supposed to be my last single with Flytime but it wasn't mixed or mastered. So, I guess they just decided to go ahead and do that obviously knowing that the relationship was over. Maybe they felt that I wasn't ever going to release it and they liked the song so much that they felt it would be a waste if not. At least people are hearing it now and they like it. So, in a way, they did a good thing because it trended for about three and a half days on Twitter.
You've spoken about how much you like Timaya in some of your previous interviews on other platforms. What's your relationship like with him now?
I am besotted with Timaya. I admire the act. I finally got to meet with him and work with him on a track but before then, for me, he's my favourite artiste in Africa. It's like he's the only one who really knows how to make me dance. I've got three favourite actually – D'Banj, Wizkid and Timaya. I just think any of them would have been a fantastic collabo. I'm glad that it was Timaya. I also have a song on Wizkid's forthcoming album so it's like two of my dreams came true. Maybe the third one will come true too.
Speaking of developing a new image, you've been criticized in the past for not really having a distinct style to go with your image. It's like one moment you're afrocentric and the next you're something else.
I've never been afrocentric. I've only ever worn a headtie. It was a gele made from a piece of net material. We just improvised that day. It was actually a shoot for a specific campaign and that's what they wanted. I've also worn Ankara on a stage show just because the setting was purely Nigerian and I wanted to be identified that way. I don't feel that I should ever be blocked into any particular category.
Like I said, that was another reason why I had to get my own team because when I was with Flytime, I never had an image consultant; I never had a team of people I could sit down and say, "Okay, this is what I want to like and this is how I want to be portrayed". All the while people were thinking I'm confused, maybe I was because I never had a team. Now that I'm with J management, I've told them what I want and they have gone out and sourced the necessary people down who work strictly for us. So, that's it now. I don't know if you've realized but in the past few months, my look has been consistent so you can see very clearly at the point in which I changed teams.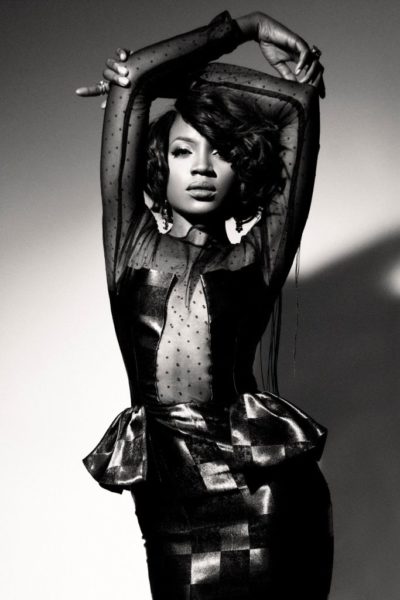 In that case, what defines Seyi Shay's personal style?
I wear a lot of Grey and Clan and lately Re Bahia too. I wear Re Bahia because they make really comfortable loose-fitting clothes. If you check my Instagram, you'll see me in a lot of pyjama-looking outfits coupled with heels, that's me; I love it. So the main words there are classic and comfortable.
On the red carpet, I like to wear a lot of Clan because they are fitted but still earthy; again, quite classic. And, Grey, I wear mostly on a corporate event, tour or something because they are young and fresh but still classic. So, the operative word here is 'Classic' and that's my style. Short Hair is my preference because I like that whole Marilyn Monroe look.
You're a very talented singer but based on some comments on BellaNaija regarding your newest singles, "Chairman" & "Ragga Ragga", some people think you should lay off the commercial/mainstream club bangers.
I think "Ragga Ragga" and "Chairman" showcase some of my skills. "Chairman" and "Killing Me Softly" are two songs that show my vocal ability more than any song I've ever put out in Nigeria. "Ragga Ragga" shows my technicality because that whole song was recorded off of pure freestyle. So, that's the technical side of me whereas "Chairman" was written and composed. All I can say to that is I hope they can get used to this new me. It's not even a 'new me', it's the person that has always been inside and been dying to come out. Flytime did the right thing by giving me the tools that I needed but since they didn't brand me, they didn't let the person that I really am show through.
So, who is the person that you really are? What are your favourite pastimes?
I love going to the beach with my friends, at night, preferably. We get crazy and 'turnt up'. You know, that's me. I'm high-spirited. I like cooking for my friends. I always cook. When I'm not so busy, I love scuba diving. I love active sports. I'm also a Sagittarius and you know, we're free-spirited and we don't have one personality. I'm not saying I'm crazy, but I will say that the names Seyi and Shay have so many different reasons. There's a reason why we put Seyi and Shay together, not just because of the pronunciation factor but also because Seyi is one person – the Yoruba, traditional girl; and the Shay is the westernized live-a-little wildcard. Some people even said that "Ragga Ragga" was me, exploring my wild side. Maybe I am but the video will show you the truth.
What should we expect from your next few music videos, now that your brand has more direction?
The next music video is for "Ragga Ragga". My team did some research and we found out that "Ragga Ragga" appeals to my generation and younger. And, the reason for that I suppose is because it's kind of edgy, I'm kind of boasting and at the same time, it works in the clubs. Musically, it's not so common.
On the other hand, "Chairman" is more traditional. It's the one all the Alaba guys want to collect from our hands and put on mixtapes. It's the one that had 300,000 downloads from one site in three days and it's the one that's just jolly.
So, in the video for "Ragga Ragga", you should definitely expect my wildcard to come out. It's going to be a lot of dancehall and bashment. There's going to be a very big surprise. My lead guy is an uber star. I don't know how we made it happen. We're shooting next week and Clarence Peters is putting that together for us. There's a lot of thought that goes on before we make every single move and that's why we put these two singles out together, to cover up the different demographics that I appeal to.
What are some of the most outrageous things you have heard about yourself that are absolutely untrue?
That I take drugs before I go on stage which is what makes me perform so energetically. That's completely not true.
You were in the UK music industry for quite a while and then, you moved back home to somewhat start from scratch. How have the years told on you?
I don't know about you but I think when I get on stage, I feel like I'm at home. That can only come from years of being on stage and preparing for this moment, that 3 to 5 to 10 minutes when everybody is watching you and depending on you to entertain them. That can only come from the ten years that I've been performing on stage. I know endless amounts of stars who had been in the music industry for 10 to 20 years before they actually became big. One of my favourites, Tina Turner had been singing for many many years. Do you know when her first #1 hit was? When she was 33 years old and she started at the age of, I think, 15 or 16. So, it just goes to show that it's better to be a seasoned artiste than someone who just comes and jumps on stage and starts miming. I like to put on a show and that is something that was instilled in me by Matthew Knowles.
At the end of the day, I want my performance to be something that people know me for because 'starting from scratch' over here. Man, people don't know what I've been through, from record label to record label; from management to management, to managersss. I've been around and I've never made as much money in music as I have in Nigeria. So, am I really starting from the scratch? No. If you go to the UK, an a-list artist doesn't make as much as an A-list artiste in Nigeria for one show. This is my time now. All those years have just been rehearsal. It is real now.
Musically, in Nigeria, who would you say is your to competition?
You are going to hate me for saying this but nobody. That doesn't come from an arrogant or boastful place; it comes from a place of 'I can't see anyone else'.
You've been on quite a tour this year, with 2Face, out in South Africa and now, the Hennessy Club Tour.
This Hennessy tour has been the maddest. The response in Abuja was mad. I got girls on stage to sing my songs from top to bottom and I didn't even have to sing, that's how mad it was.
It's not farfetched to assume that all artistes have groupies. But, there's an industry myth that some men do sleep with these female fans on tour. Since you've been on tour, do you have groupies come up to your hotel room and what not?
The thing is I have a very good road manager. Most of the time, if they ask for my number, she'll give them her number. If they ask for my room, she'll give them her room number. There are tactics to block them. So, there are loads of guys but I get mainly female groupies. As for the guys, maybe they are scared of me or something. I love them though because they are so supportive.
Are you in a relationship?
No.
Why not? You are in a relationship with your work?
That would have been a cliché answer, right? It's true though. I'm actually in a very fantastic love affair with my work. It's beautiful. I go to sleep and wake up with it.
Does this mean that you don't get hit on by men in and out of the industry?
I do. Of course I do. I'm a girl; like every girl in Nigeria gets hit on.
How do you handle it, especially since you and your work are so in love?
If it's a guy that I really like outside of the industry, we might talk on the phone or maybe text because I'm not really a phone person or might be busy. I haven't been on a date in a long time and if I do, Didi, my road manager, will be my chaperone because obviously, you don't know who is who in this world so…
If I'm to be completely honest with you, I do want to be in a relationship now. I think I'm ready.
Since you are not in a relationship right now, when was the last time you were in one and how come it didn't work out?
The last time I was in a relationship… it ended in 2011. I had been in that relationship for a very long time. He was my very boyfriend and I had been in that relationship since my early teens. Actually, we were best friends throughout my teenage years. We did music together. He taught me how to drive. He even used to like, take out my weaves and wash my hair and stuff. Trust me, not gay, no homo, we were very close. He actually taught me a lot of technique vocally, singing-wise. He is a producer, very well-known in America now.
We were everything and then it ended in 2011. I decided to come back to Nigeria. I didn't want to go to America again, because I had just come out of that whole Matthew Knowles/Sony/Columbia deal and I just felt that he should focus on him and I would focus on me. And, ever since then, it's been work, work, work to numb the pain and forget about everything; even my mum's death, I just dived into work.
As far as comparisons go, you and Tiwa Savage are usually put head-to-head.
I think that's died a natural death actually. People have realized that we are very different and people like Zaina garner more of those comparisons.
But, your ex-boyfriend who taught you a lot in singing has a very vital part to play in Tiwa Savage's career as well.
I mean, what can I say? I don't really know but I think people compared me and Tiwa Savage because of where we're from, vocally maybe or that we looked alike at some point. I think when we started getting really close in the public eye, the difference was very clear. I'm more out there and she's more mature. She's older than me. She's been through more, in the sense of the Nigerian music industry. She's settling down so…
So, there's no pressure on you to settle down as well?
There is pressure on me to get with somebody, of course, because I would like for every Tom, Dick and Harry to be like, "Hey, I'm going to marry you one day". But, it's part of what I do. I expect people to really appreciate what I do; guys to appreciate the fact that I'm a woman. It's natural. I would never ever say I don't want that but I feel somehow that it can get quite lonely. Like when I finish from the studio, you know, you come home to your girl and she's just like, "ah! I'm so lonely" and you say the same thing as well and then, you both cry, "I need a boyfriend" (laughs). But, you know, it's fine. Didi is my everything and you know, Jimi and Bayo (J Management) keep me very busy. It's like I've never been this busy in a long time… but, any takers?
It was an absolute pleasure chatting with Seyi Shay and from BellaNaija, we wish her all the best in her future endeavours.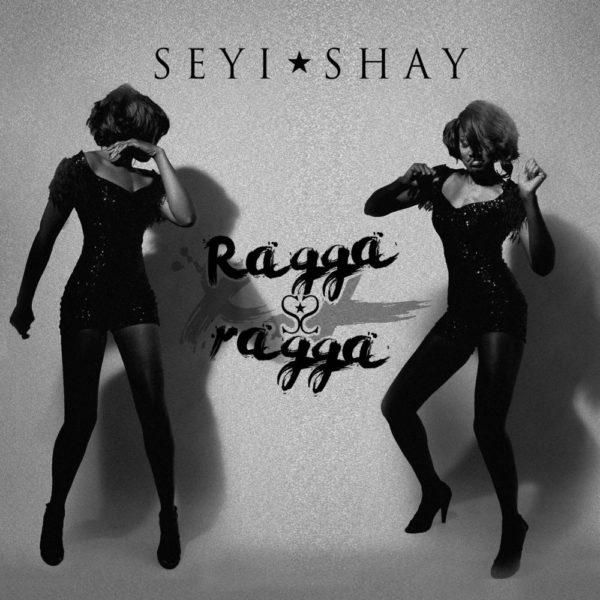 Listen to Seyi Shay – Ragga Ragga

Download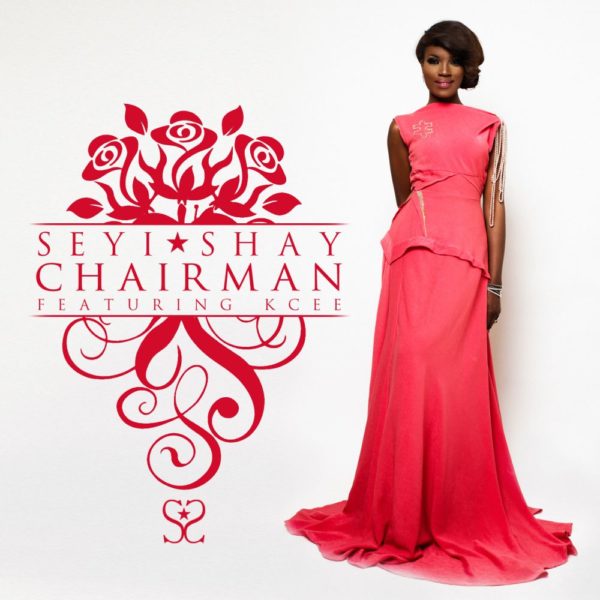 Listen to Seyi Shay Feat. K-Cee – Chairman

Download
Irawo
For more on Seyi Shay: You can follow her on Twitter – @IamSeyiShay | Instagram – IamSeyiShay or check her website – iamseyishay.com
Photo Credit: BellaNaija | J-Management