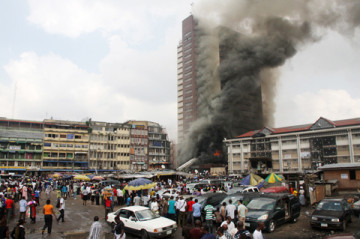 The scene in Lagos Island is quite moody today. Early this morning, the Great Nigeria Insurance House which is reported to have property worth billions of Naira, caught fire.
GNI houses various business organizations including banks. Reports are claiming that no known source has been detected as the cause of the fire outbreak.
According to Punch, more than 12 trucks containing water had arrived at the scene to stop the fire, but all to no avail. One person is feared dead and two have sustained varying degrees of injuries.
Our hearts go out to anyone affected by the situation.