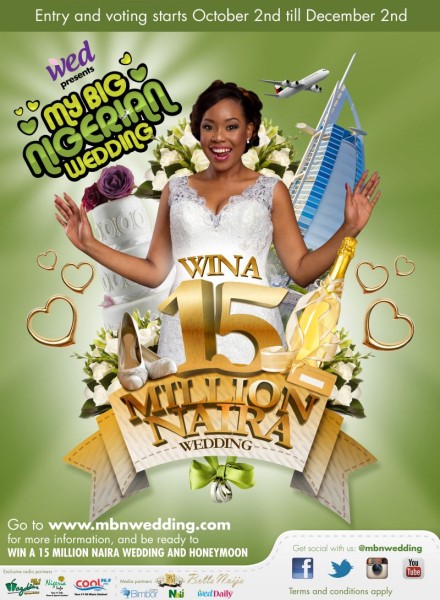 WED Magazine, organizers of the 'My Big Nigerian Wedding' contest is calling on talented and interested vendors to be a part of the production team for the Reality TV Series of the show.
Next year, a 13-episode series of the My Big Nigerian Wedding contest will air on major channels across Africa and on online channels where the fun and exciting journey of the shortlisted couples would be shown to millions of viewers across the world.
Specifically, this call is for Stylists, Makeup Artists, TV Presenters and members of the Production Team who want to use this as an opportunity to hone in on their skills and grow their career. They will benefit from the publicity this show provides and can leverage on the international platform to showcase their skills to a large audience.
Criteria
Interested participants must reside in Lagos and should have a portfolio of their work that can be seen by the MBNWedding Team.
Stylists & Makeup Artists
For the stylists and makeup artists, pictures of their works would be submitted.
TV Presenters
TV Presenters would need to upload video clips of their hosting gigs on YouTube. They should have a fun and vivacious personality.
Production Team
The Production team requires people who are interested in training on various aspects of video production such as camera use, light and editing. They should have a basic knowledge of video production and be eager to learn more.
To Apply
If you are interested in being a part of this, send your name, email and phone number along with pictures or a YouTube Link to [email protected]. Also send a short cover letter stating why you want to be a part of the team and how you can contribute your skills to the success of the Reality TV Show.
If you are really good at what you do and love weddings, this is your chance to be a part of something fun while you develop your skills!
Voting still continues on MBNWedding Social Media Platforms on Facebook, Twitter and Instagram and on MBNWedding.com.
The grand finale of the competition will take place at WED Expo Lagos in March 2014 where the winner will be chosen. Lots of wedding vendors have already taken advantage of this unique opportunity to reach a large number of couples. If you are a wedding vendor doing business in Lagos and you haven't booked your booth yet, the time to do that so is now.
Registration is FREE and still ongoing till Monday 2nd December 2013 for couples who wish to participate.
For more information, please visit & like their Facebook page: www.facebook.com/mbnwedding | Instagram www.instagram.com/mbnwedding | Twitter www.twitter.com/mbnwedding | Use the official Hashtag #mbnwedding.
Exclusive radio partners of My Big Nigerian Wedding contest are Cool FM, Wazobia FM and Nigeria Info.
Are you interested in Exhibiting at WED Expo Lagos 2014, Nigeria's Largest Wedding Exhibition – venue of the finale of My Big Nigerian Wedding? Call 07001111933, 08147217096, 08023188820, 08187357215 | Add BB Pin 7c6b6761 | Email: [email protected]
Corporate Sponsors please email [email protected] or Call 08147217096.
______________________________________________________________________________________
BellaNaija is a media partner with My Big Nigerian Wedding 2013.