The 10th annual Channel O Africa Music Video Awards is set to go down in Johannesburg, South Africa on Saturday 30th November 2013. With Nigerian rap star Naeto C and South African act AKA as hosts, you know it's going to be a fun event.
Just before the event, BellaNaija Music is bringing exclusively to you some fun facts about the nominees.
We are kicking off with Mr Capable, Banky W.
Check it out!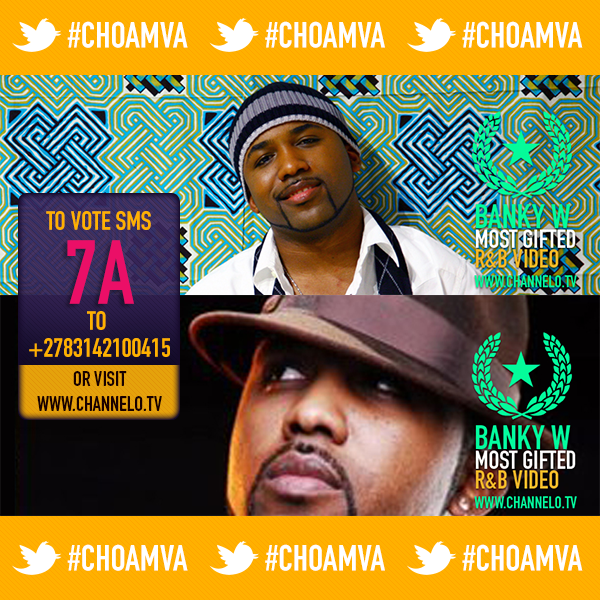 Gig on Stage: My first real performance was when I was less than 10 years old in the choir in my church. We were singing this song at a huge conference at the National Stadium in Nigeria, and the girl who was supposed to sing lead totally froze right when the band kicked in. They tried restarting the song but she just stood there. A lot of the kids in the choir knew I could sing and that I knew the song, so they kept nudging me to go forward to do it, which I did. And we ended up having a great performance.
Ritual before going on stage: Saying a Prayer with my team. If my voice is a little stressed, I drink tea with lemon and honey.
Most Embarrassing Moment on stage: Once, I actually forgot the words to the song I was singing. I kinda made up words for the parts I forgot, which would have been fine, except it was an R.Kelly song that a lot of people knew, so they knew I messed up.
Shoe Size: 11 or 11 ½, U.S.
Height: 5 feet 11 and ½ inches. Once I wear shoes though, I'm over 6ft tall. Haha.
Allergies: Septrin (it's a type of medicine that tastes absolutely nasty, so I'm glad I'm allergic to it)
Phobia: Snakes. I'm deathly scared of snakes.
Favorite Color/Number: Black. 5.
Role Model: My Mom, Barack Obama, Nelson Mandela, Jay Z, Will Smith.
If Not Music, what: An Engineer, or an Artist (drawing/painting), or a Lawyer, or a Teacher, but definitely a Business Man/Entrepreneur regardless.
Favorite Show Performance of all Time: Wow… I'm not sure actually. I've had too many that I'm grateful for to pick one.
Favorite Musician of all Time: Jay Z.
Hobby: Reading Novels, writing (articles, poetry, short stories etc), traveling, cooking, watching movies, playing or watching sports
#Team Biggy or #Team Tupac: #Team Biggy for the flow, delivery and word play. #Team Tupac for what he stood for as far as an icon for young black men standing up for themselves.
Number of music features or collaborations: Too many to count
Name of the first studio ever recorded in: Galuminum Foil Studios in New York.
Music Industry Crush: Nicki Minaj, Nicole Scherzinger, Rihanna.
Position in the family: Middle Kid of 5.
So fun getting to know these facts about Banky W, right?
Keep refreshing BellaNaija.com for more fun facts on the nominees.