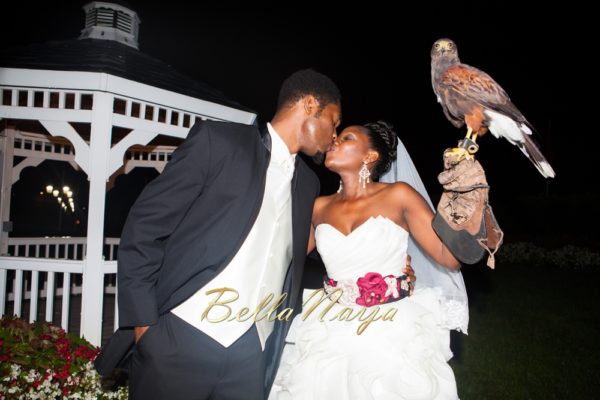 We previously shared you Naomi & Dayo's pre-wedding video: Click here for the Feature! Now here's their super creative wedding video by LynksDrivers Productions –  "Dude where's my ring?" An eagle brought in the couple's rings. Amazing!
We also have their traditional wedding video – it's so colourful and heartfelt – mixing their Bamenda and Yoruba cultures – from Cameroon and Nigeria.
Their Love Story
by Dayo
You know, it's funny — our first date was in 2006, but we only got into a relationship five years later. For a long time, Naomi was like a blinking light: "on" one moment, "off" the next. I couldn't for the life of me figure out why she was popping in and out of my life – why she didn't want to take the next step, why it seemed like something was holding her back. One day, out of the blue, Naomi sent me a message pleading for me to call her, and she finally revealed why she had been hesitant with me — because I'm not Cameroonian! But I had to ask myself, Why did I tolerate this back-and-forth thing with her when I had never done so with anyone else?
Simple: I realized I was truly in love with Naomi. And this time, this light was going to burn steadier and brighter than ever before.
Video by LynksDrivers 

Traditional Wedding: The first fabric they're wearing is Atoghu, particular to the North Westerners of Cameroon, before they changed into aso-oke, from the groom's Yoruba  culture.
Traditional Wedding Video by LynksDrivers – The groom's speech is so sweet!

Wedding Vendors
Videographer: Olu Adewunmi | lynksdrivers.com
Wedding Planner: Eurykah at Asheris Events
White Wedding – Decorator/Florist: Emilia at Emis Designs
Traditional Wedding – Decorator: Bola at Garden of Eden
Traditional Wedding – Photographer: Ernesto Rivera
White Wedding – Photographer: Andre at Drevizion Photography
DJs (Church): DJ Sam I Am , DJ Chick, DJ Selmo
White Wedding – Make-up: Michelle A. Clark at Exousia Image
Traditional Wedding – Make-up & HeadTie: Isoken Asemota at Puksies Wardrobe
Hair: Theresa at Wenja Hair
______________________________________________________________________________________
We love weddings as much as you do – get in touch for inquiries, inspiration & more!