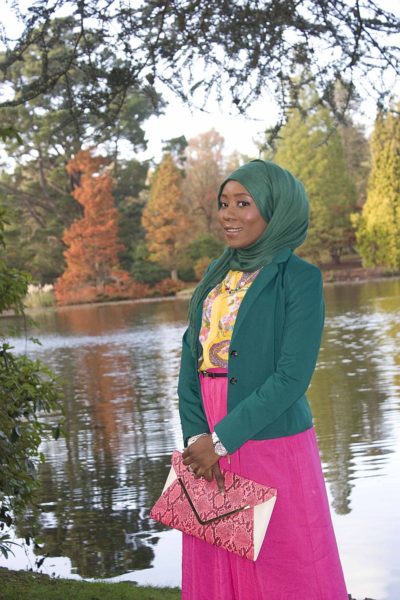 "Let your personal style represent who you are and not what you see people wearing" – Teslimat Yusuf
My Style is one of our favourite features on the BN Style page, and judging from the responses it gathers, I can safely say, it has our readers interested.
A few days ago I received an email from one of our BellaNaija readers Teslimat Yusuf, and I immediately knew this would be one My Style feature that you would absloutly love, especially our fabulous Muslim stylistas.
Teslimat who is fondly called "Hajiya Belle" (a match made in heaven right?) by friends and family is a wife and mother to 2 beautiful girls. She was born and raised in Lagos, but later moved to the United Kingdom to study for her Bachelors degree in Accounting & Finance and an MBA in Financial Services.
After receiving her degrees, she took some time off to pursue her true passion, makeup and personal styling. She now works as a professional freelance makeup artist, personal stylist and personal shopper with her makeover and personal styling brand, Ma Bellé.
Today, we are going to be diving into the fabulous world of the Hajiyah Belle to find out how she styles her hijab, her favourite clothing stores and whose style she would love to have.
My Style Is…
Modest & Beautiful. 
As a Nigerian Muslim sister, I didn't grow up using a hijab, although I knew it was a key part of my religion. I only started using the hijab recently and because of my fashion-conscious mind I was inclined to dress stylishly while dressing modestly as a hijabi (a covered Muslim sister).
I love my style because it expresses me modestly & beautifully in various aspects of my life. Firstly as a Muslim sister, a fashionista, wife & then a mother. I try to balance all these various aspects of my life through my love for fashion although I'm still evolving daily & discovering more about myself in Islamic-fashion terms.
Where Style Meets Personality
I'm such an introvert & a very shy person but I recently discovered that as a newbie hijabi, I get this huge confidence when I'm dressed in my hijab.
I get a lot of compliments from my husband, friends, family & even strangers who just see me on the road and tell me how beautiful yet modest I look. I admit it gives me so much joy, confidence and encouragement to continue to be who I am and hopefully encourage other non-hijabi Muslim sisters. My style fuels my confidence.
Where I Shop Till I Drop
I shop everywhere and anywhere. I do a lot of online shopping though because I find in-store shopping very time consuming and tiring.
I buy a lot of high street cloths like H&M, ASOS, MANGO, New Look, Next, Dorothy Perkins, River Island, etc. I occasionally shop from markets when I see something unusual and I'm also a huge bargain hunter!
I'm a self-confessed shopaholic. Whenever I see something I like, I grab & buy it immediately for the fear of not finding something like it ever again. The only good thing is that when I eventually get it delivered to me and I see it in reality and don't like it as much, I return it back freely.
Hijab Glam
My hijab is my hair and I love to style it in different ways, each one to go for a particular outfit/outing. Either going to work, visiting friends & family or on special occasion.
My Makeup Look
As a makeup artist, most people think I will love to have a fully made-up face everyday but the reverse is the case. I'm such a minimalist when wearing makeup.
As much as I love to go all out playing with colours on my beautiful clients, my everyday makeup usually consists of well-groomed brows, winged eye liner, a bit of natural blush & a nude or coloured lipstick (depending on the occasion).
How I Accessorize
I call my accessories "Le Blings" because they complete my outfits. I love statement & colourful jewelry, mid heels and big bags.
Feet & Shoes
On a Regular Day
I like to wear simple yet vibrant looking outfits during the day. I wear a lot of flat pumps and wedges, floral/patterned scarves and long necklaces too.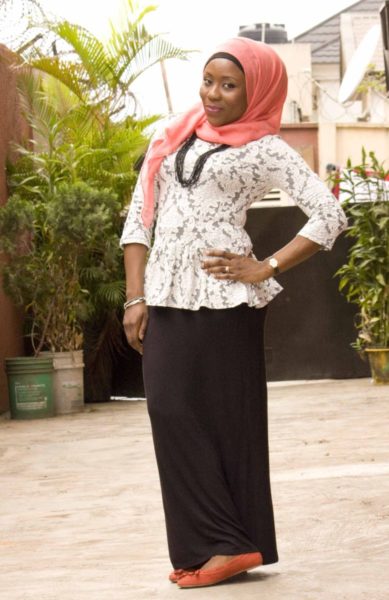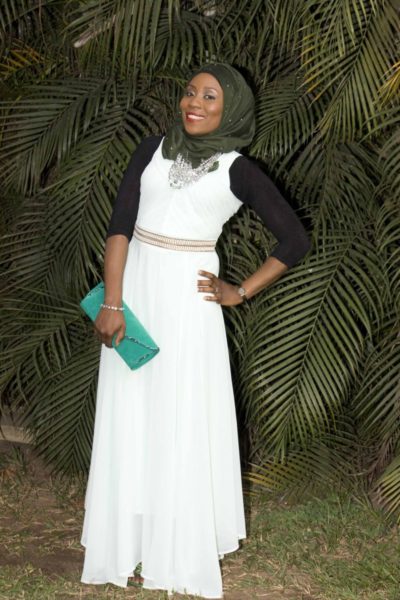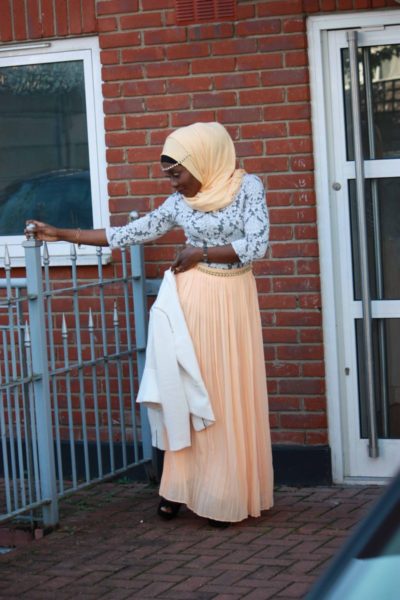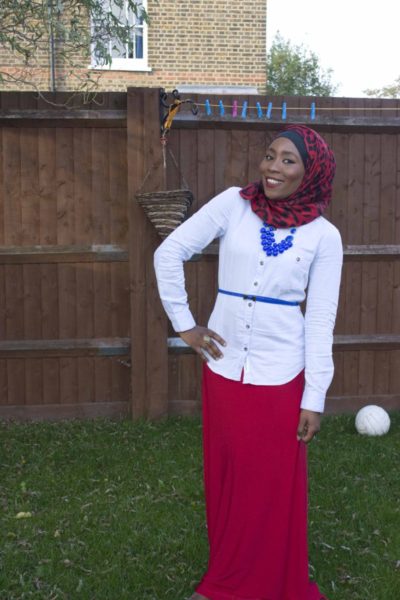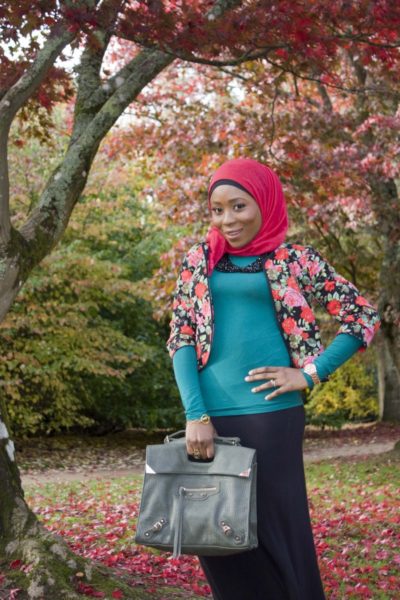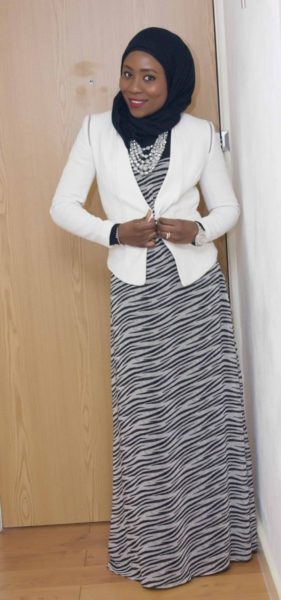 Bag Life
Getting My 'Working Class Girl' On
I love dark colours for my work looks with mid-high heel shoes & simple yet stylish jewelry.
I Own the Night
This is when I like to go all out and dress to impress. I play with a lot of strong colours, plain coloured scarves finished with statement jewelry & high heels.
I Think Every Girl Should Have
I can't live without my hijab. I have over fifty of them, one for every style. I've got them in plain colours, animal prints, patterned & flowery ones, silk & cotton ones too. I think every girl should have a hijab or at least a scarf.
Black maxi skirts are my other must haves. These can be styled in different ways with any style & colour of tops & scarves. One more thing, I love blazers. They always give my outfits an edgy yet stylish finish.
My Advice for Other Stylistas
Let your personal style represent who you are and not what you see people wearing.
I'll advice my Muslim sisters not to get discouraged about being modest while wearing western cloths (as we all know there's a few of these modest clothes out there), you just have to look for some modest clothing to add on to the immodest ones. Invest in a few black long sleeve tops and some other plain coloured ones to help achieve that modest yet stylish look.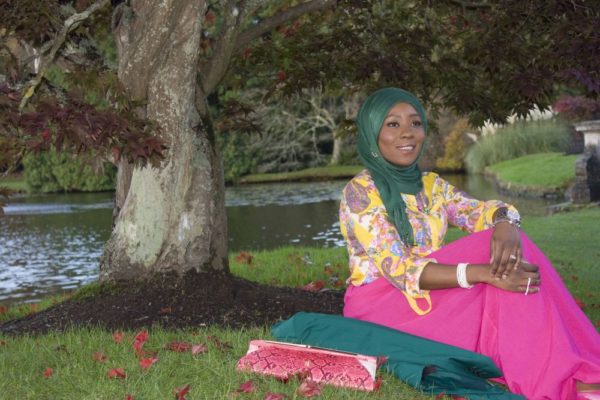 If I Could Steal a Celebrity's Wardrobe
I've just recently discovered the wife of former Emir of Qatar; Sheikha Mozah. She's so glamorous and yet modest. I'll love to take over her wardrobe if given the opportunity.
Which Celebrity Stole My Look
I'll say the one Nigerian non-Muslim celebrity whose style I love the most is Genevieve Nnaji and when chanced, I tweak aspects of her style a bit to incorporate my modest Muslim side to it.
My Style Philosophy
You don't have to break the bank to look and feel good. I always say to myself, "respect your money while expressing your inner fashion style".
A huge thank you to Teslimat for sharing her style with us. To find out more on Teslimat and her fabulous style, check her out on Instagram @hajia_belle and @tesly4ever | Facebook.com/mabellemakeover
______________________________________________________________________________________
If you are interested in appearing on My Style, simply send two pictures of yourself or that of a friend depicting a typical day and night look with a short summary of your style to style(at)bellanaija(dot)com. When your entry is approved, you will be required to send in more pictures and personal commentaries on your style or that of your friend as the case may be