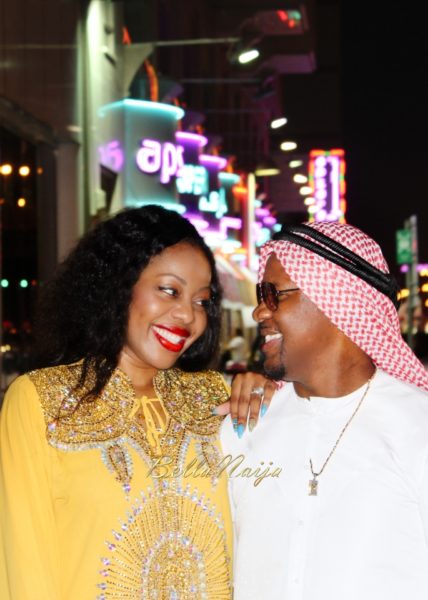 Say hello to Queen Luchy & King Gabby! We love when couples step out of the box for their pre wedding videos and photos. It represents their personalities & signature style as a couple, plus it's such a sweet memento when looking back at this precious time.
Oluchi & Gabriel's wedding teaser is like a movie trailer! It shows the grandeur of Dubai and their love – this doctor and engineer are one FUN couple!
They exchanged numbers after a conference and have been inseparable since that day. They began speaking to their immediate families about each other soon after and everyone loved them as a couple so the relationship blossomed in the months that followed – Gabriel proposed to his Queen Luchy 6 months after they met.
Enjoy!
***
Bride to be: Oluchi
Groom to be: Gabriel
How We Met
from Oluchi
We met at a fundraiser organized by pharmacy students in Houston, TX. Gabriel walked up to me at the end of the night when I had traded in her heels for more comfortable flats and told her –"Even without your heels, you are still the most beautiful woman in this room". I thanked him for the compliment but didn't think much of it. Even though I had noticed him previously on the dance floor cos he was pretty much dancing his pants off with other guests, I simply assumed he was one of the student organizers.
At the end of the night, another male attendee was chatting with me and walking me to my car. I stopped briefly to say hello to a friend and he intercepted us, asking to speak to Oluchi. The other guy was watching from a distance seething with anger. LOL! Gabriel told me he loved my outfit and would love to get to know me better. I told him I had a boyfriend just to throw him off. But he persisted and asked if the dude waiting for her angrily on the side was her boyfriend? I laughed and said no. We exchanged numbers and then 6 months later, he proposed!
The Proposal
I had wanted to go to Dubai for my birthday but had to cancel the trip unexpectedly. Little did I know that the actual trip happened, it would be the one that would change my life forever. I had a hint that Gabriel was going to pop the question but wasn't sure about how he intended to spring the surprise. When his friends started arriving from Africa, Europe, Canada and Asia, I was like aha! I knew it was definitely going down on this trip. LOL. He took everyone to dinner one night…. Right before dessert was served; he got up and made a little speech about how much having everyone in the same room meant to him. Then he got down on one knee and said "When I met you, I had no idea you would become the queen of my heart…… I've realized that I can't imagine a future without you…..Will you marry me?" Of course I said YES and the rest is history!
Wedding Teaser 

Vendors
Photography: Funke O Photography | http://www.funkeophotography.com/
Videography: Galuyor Productions | http://www.youtube.com/user/galuyor/videos
______________________________________________________________________________________
We love weddings as much as you do – get in touch for inquiries, inspiration & more!