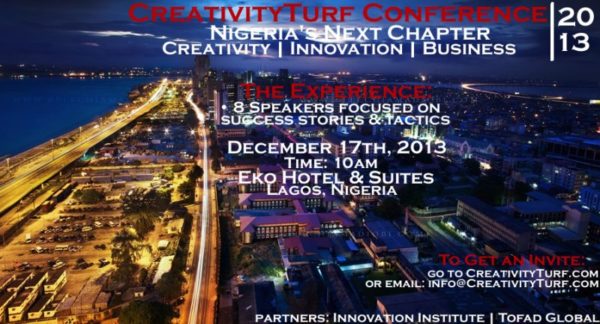 Do you operate in creativity? Then you need to be at this conference.
The Creativity Turf 2013 is all about bringing together leading thinkers and doers for a conference where ideas are shared, networks are created and intellectual conversations essential to stir the mind and lead to innovative action pioneered by youths are had.
The conference will create an experience featuring 8 speakers with different pitches, overflowing interactions and networking opportunities.
The Creativity Turf 2013 will also comprise of 300 start-up founders, entrepreneurs, creative minds, social- entrepreneurs, fund managers, strategist, incubators, educators, policy experts, brand experts, intellectuals, innovators, motivators and professionals. The expected results of this variety of people are unexpected connections, extraordinary insights and powerful inspiration to start or continue action towards change.
Watch the Creativity Turf 2013 promotional video tagged "Innovation & You".

Attendance at the conference is free but by application and invitation so get applying.
Date: Tuesday 17th December 2013
Time: 9AM
Venue: The Eko Hotel & Suites, the America, Asia & Africa room, Victoria Island, Lagos.
For further information on the event, or to get an invitation, please email [email protected] or [email protected]rf.com | Visit their website www.CreativityTurf.com | Like their page on Facebook: Facebook.com/CreativityTurf | Follow them on Twitter @CreativityTurf.
______________________________________________________________________________________
Sponsored Content