**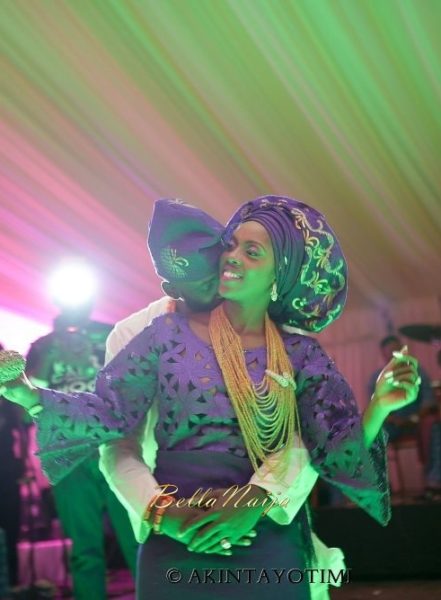 Hello Lovebirds! – there are soooo many sweet moments that will leave you smiling today! This past Saturday stunning music superstar Tiwa Savage wed her manager and best friend, Tunji Balogun. BellaNaija Weddings was so blessed to attend the fun celebration! Our recap will make you feel like you were there…except no yummy cupcakes, jollof rice and champagne for you! 
The traditional engagement and reception held at The Ark in Lekki on Saturday 23rd November 2013, where rainy skies ushered the couple into their newlywed status with showers of joy and blessings. The celebrity engagement was planned by The Wedding Company which has coordinated a long list of epic Nigerian weddings, with stunning decor by Newton & David – using sweet handcrafted swans as a motif.
Tiwa made a spectacular choice for the aso ebi – ladies looked so pretty in their pink and gold gele and lace while the gentlemen wore pink fila.
The natural beauty wore a unique embroidered white and silver lace iro with embellished gele, ipele and buba for their traditional Yoruba engagement rites. She was adorned with a diamond necklace & drop earrings. TJ wore white agbada paired with a traditional fila with a coral neckpiece when he kissed his new bride for the first time.
For their second outfit, the couple looked absolutely regal in their purple attire. Tiwa's waist length neckpiece swayed with her every move, catching the glistening accent lights in the marquee.
For their third and final look, Tiwa let her hair down and looked ravishing in a dazzling silver and navy blue number, while TJ kept it traditional in his silver fila. They rocked to every performance by their celeb friends, and jammed to old school hits all night long!
________________________________________________________________________
BellaNaija Weddings wishes Tiwa & TJ a happy married life and beautiful children (that could be on the way sometime soon!! – hmm, Tiwa hinted something at the wedding – read more below!) 😉
***
~ Photography: AkinTayoTimi | Damell Photography | SC George | Obi Somto
As always BN Weddings was there LIVE and will take you on a journey to Tiwa & Tee Billz' Traditional Engagement. Immediately we entered, we felt transported to a fairytale wonderland. The first thing that caught our eye was the beautiful podium for the couple. It had a white bridge leading to the tent for the couple.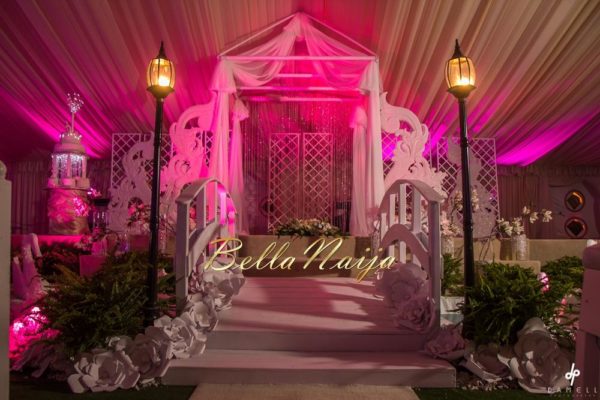 The sides of the bridge were decorated with street lights on both sides, white plastic swans, small ponds, grasses and flowers.  Another showstopping element was the romantic feel and ambience created by the pink light accents and the masterfully created cake by Cakes by Tosan was placed beside the podium.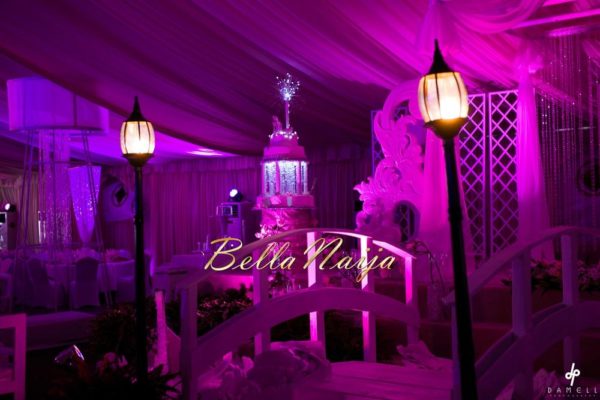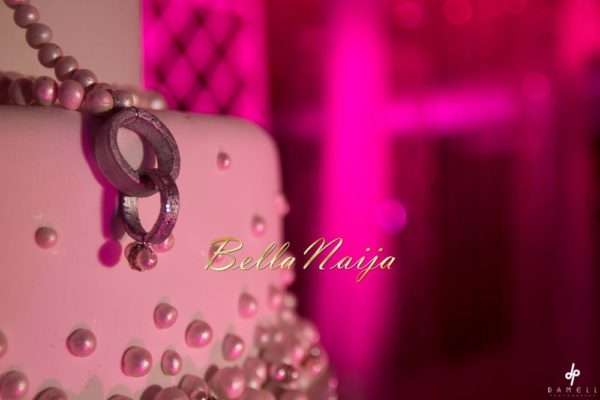 On the left on entry is the stage for performances. On the left of the podium for the couple was the spot for the groom's friends while the right had the spot for the bride's friends. The ceiling had crystal chandeliers.
All tables had their unique designs. Our table had a huge white flower placed on a silver metal that had branches. Scented candles were carefully placed on the branches. Glasses, a gold tray, the menu were placed on the round table for guests.
Eru Iyawo Corner – traditional elegance at its finest!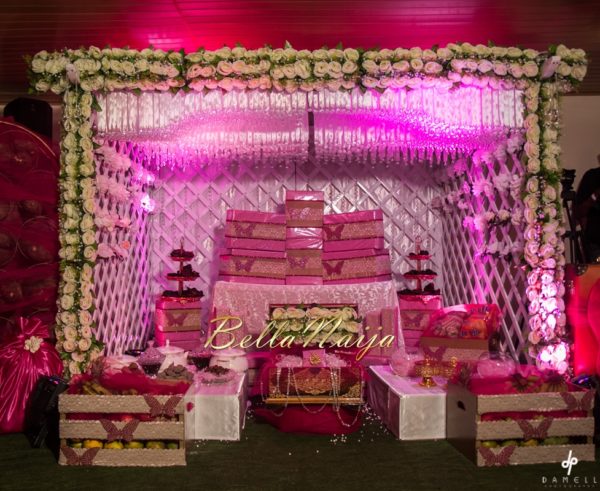 The Bible that Tiwa lovingly chose as the most important gift, out of all she was presented.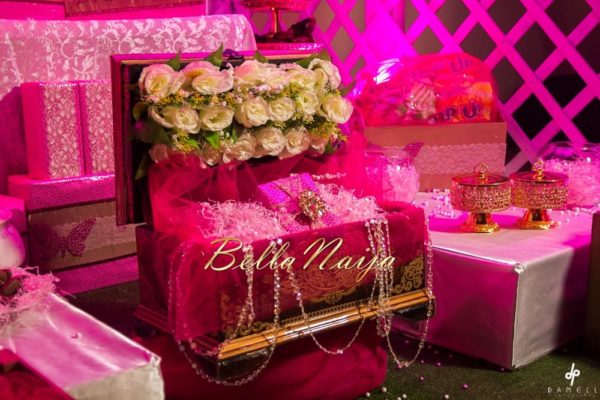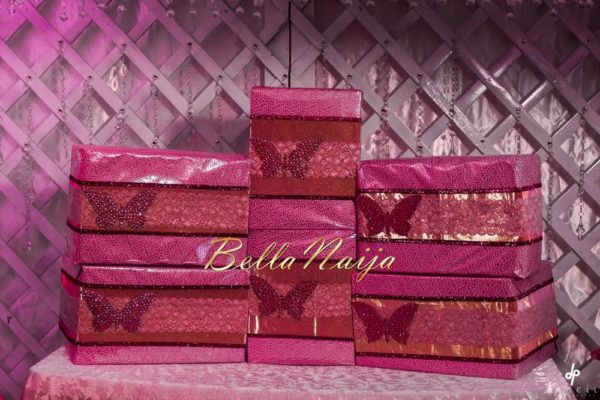 The engagement started bright and early in the morning. The drummers played passionately as TJ's family presented their proposal letter to their future in-laws while Tiwa's family responded with a regal acceptance.
The groom! Giving us kabiyesi swag.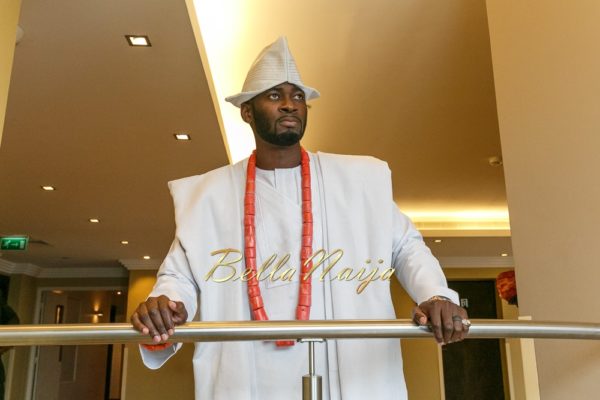 The best man Banky W!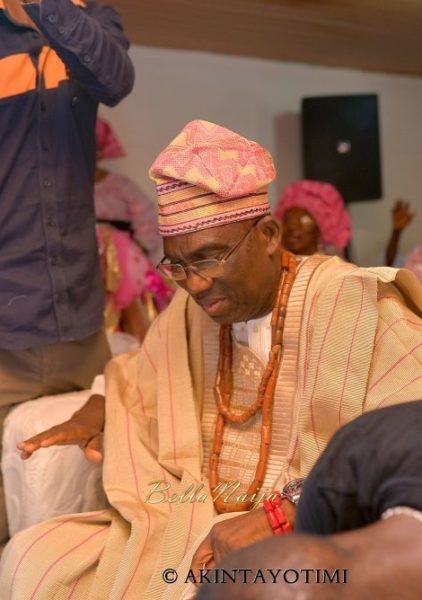 Tiwa & TJ's traditional engagement was rich in culture, colour and romance! The joy was contagious.
Time to Party!
The reception kicked off at 2. Just before the it began, the heavens sent down some showers of blessings. It lasted for about 20 minutes. Before the couple was called on stage by the MC Seyi Law, music legend King Sunny Ade performed.
On getting to the stage to dance, Seyi Law joked, "someone said I should ask Tiwa – how did you get Tee Billz?" it was Karen Igho he later confessed. Then he called Karen on stage and said, "let me do free advert for you, maybe you will meet your future hubby" she playfully hit him as she protested, "please abeg o stop".
The couple came in dancing to the rhythms of Sunny Ade.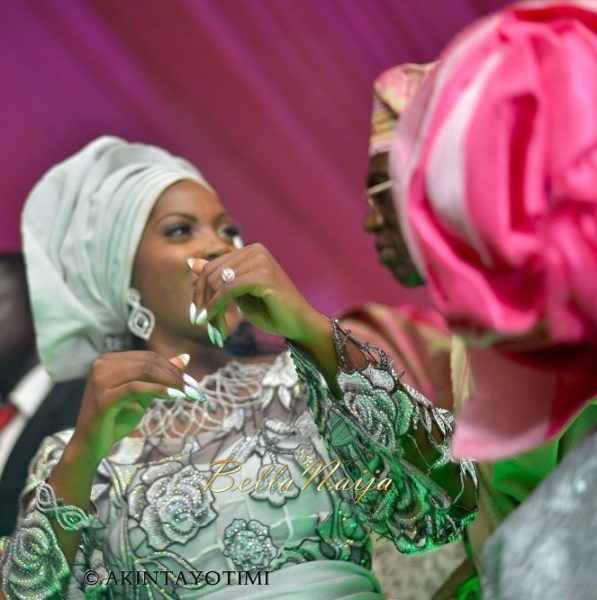 Don Jazzy sprayed the couple Naira notes and Pounds while Dr Sid and Banky W  sprayed crisp fresh Naira notes as well.
Then Seyi Law said Tee Billz was dancing better than Tiwa! He asked her what she thought about it…Yes, his rhythm is much better, she shared. Then Seyi joked that "don't worry, he will show you that his rhythm is truly better when the wedding is over!"
Sasha hugged Tiwa on stage and said "you look beautiful".
A short documentary on the couple titled "Becoming One: Tiwa and TJ's Story" was shown on the LED screen. The video was "dedicated to everyone who believes in the power of love".
The doc had personal recordings of the couple, her parents, her brothers, his father, his sister, his brother, his cousins, Tiwa's friend of over 15 years – Elohor Aisien, her longtime designer friend & costumier Toju Foyeh, Banky W, Debola Falana and her makeup artist Joyce Jacobs, giving advice.
In the clip, Banky W joked that when Tee Billz is happy, he will start dancing to non existent music, The Music is in his head. A video of Tee Billz dancing randomly was shown side by side as Banky was talking. It was really funny!
When Tiwa was speaking on Tee Billz, she said "My soul mate, my brother, my business partner, my baby DADDY (Is she telling us something?! ;), my lover". She also said when you see him, you think he is this tough guy who always means business, but he has a sweet heart and is very playful.
While this was showing, the couple changed into their 3rd look while guests mingled and posed for our cameras!
The Second Outfit!
After they changed to their second outfit, they danced in to Flavour's Ada Ada. On getting to the stage, the MC made them dance the Indian way, Tee Billz sang "Tiwa Baby, Tiwa Baby", then she put her finger on her head and swayed to his sweet words.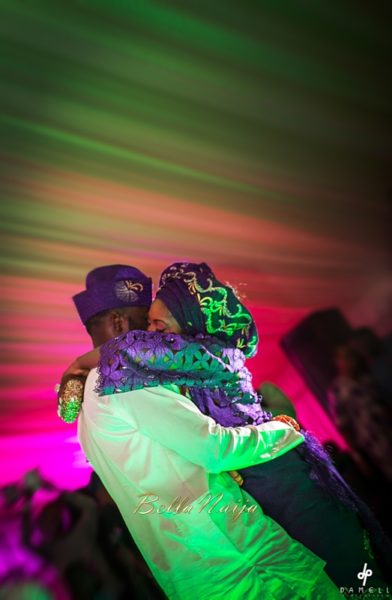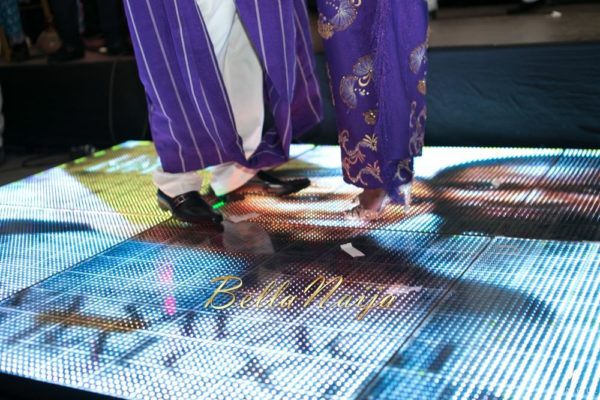 Then Seyi Law said he will count from 1 to 60 and they have to kiss all through. When they began lip locking sparks instantly flew. It was quite electrifying! The person seating next to us said "Their tongues  swayed to their own rhythm with electrifying passion." LOL 
Soon after, they danced to "Let's Get Married" by Jagged Edge. Which Tee Billz turned to a very steamy scene with his dance moves. He had removed his agbada, so he was ready to rock! "Step in the Name of Love" by R. Kelly was the next song, then Drake's hit "Hold On, We're Going Home".
When the song stopped, Seyi asked all the friends of the bride and groom to come to the dance floor.
Seyi joked that he had a prophecy – "there's a lady here. You are not older than 27 years. Your husband is here, He is wearing a white trad outfit and pink cap (which most of the men were) … and he is holding the mic." He was referring to himself. Lol! See were.
All the friends at the stage danced to Davido's Skelewu.
Everyone danced around the bride and groom as well as a hot stepper young guest. Things went up a notch when pink and gold confetti was released on the dance floor.
For their third and final look of the night, Tiwa dazzled in a navy blue and silver bling dress while her knight in shining armour was decked in silver fila and a white agbada.
Then it was time for the superstars to perform. Don Jazzy and Dr Sid were the first ones to hit the stage. They performed Surulere.
Banky W, the groom's best man, performed Yes/No…they kept saying Yes omitting the No when he performed. Basically YES was the only option 🙂
Baddo Lee Olamide had everyone on their feet!
Iyanya performed Somebody featuring Tiwa. She briefly performed her part, then enjoyed listening to Iyanya perform.
He also performed "Ur Waist"!

Lynxxx – Fine Lady. Davido – Gobe, then Skelewu – At this point, everyone – young, old were on their feet. At this point, it was celeb overload with D'banj and many others all around.

The artistes gave their all – Chuddy K  sang Gaga Crazy. Seyi Shay – Irawo. Waje also performed and Sexy Steel –  Bebedi Alhaja.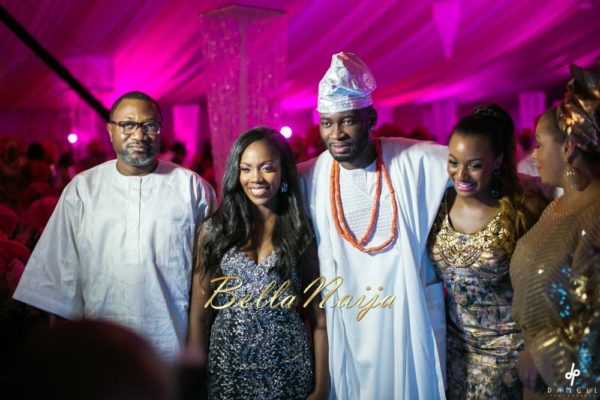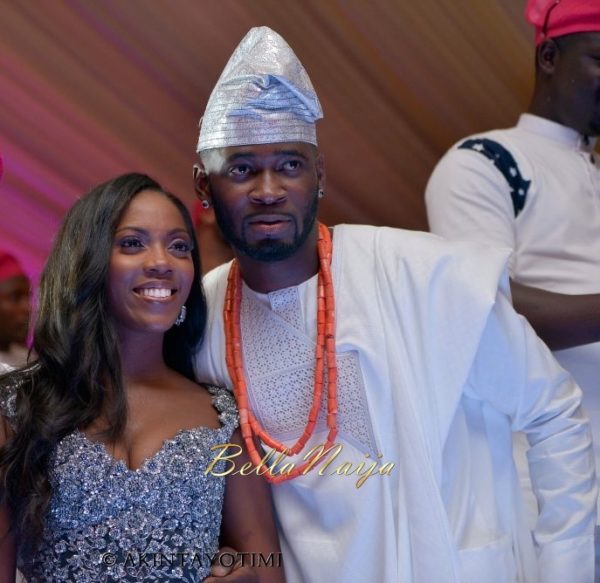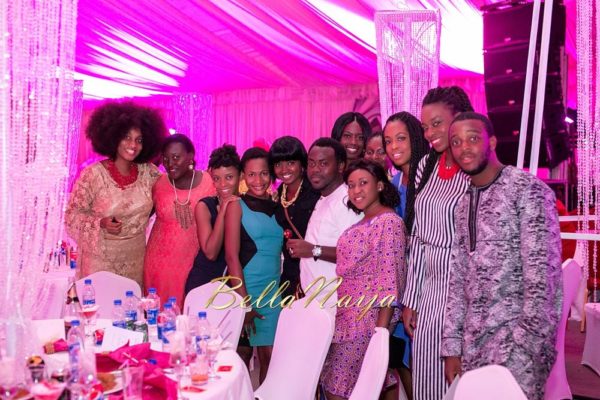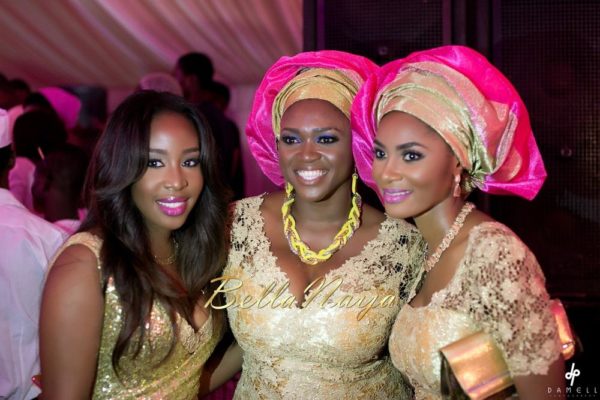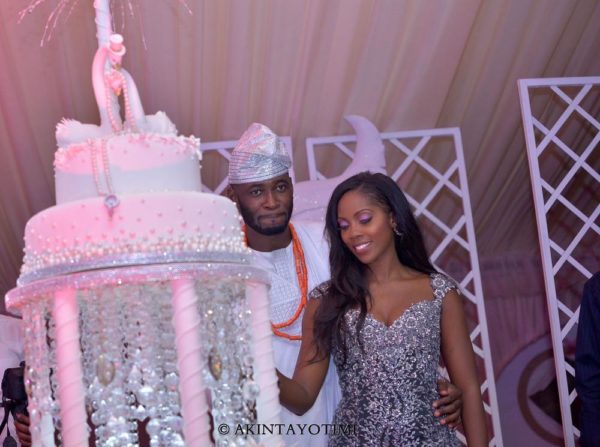 After cutting the cake, they fed themselves and kissed. This is one couple that can't get their hands off each other!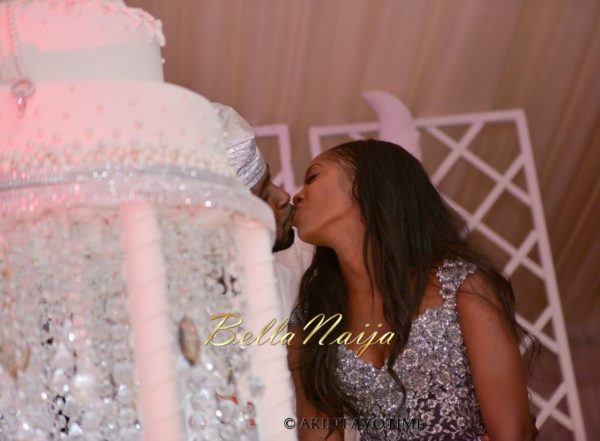 BellaNaija Weddings will like to thank the couple for being so fabulous!, the top notch event planners and longtime BN collaborators The Wedding Company, all the wonderful photographers for their hard work and last but definitely not least, our BN fam (YOU).
Photography Credits
Photos belong to the couple & photographers – Please do not republish or copy.
AkinTayoTimi – Blog | Facebook | Twitter| Instagram | Email – tayo_dapo "at" yahoo.com
Damell Photography – facebook.com/damellphotography | info "at" damellphoto.com
Couple's Official Photographer: Seyi Charles-George for SCG Photography – instagram.com/scgeorge1 | info "at" hautemanevents.com
Additional Photography: Obi Somto – blog.obisomto.net | info "at" obisomto.net
Wedding Details
Traditional Engagement Date: Saturday November 23, 2013
Venue: The Ark, Lekki – https://www.facebook.com/TheArkEventCentre
Vendors
Wedding Planners/Event Coordinators: The Wedding Company Nigeria – www.theweddingcompanyng.com
Decor: Newton & David – www.instagram.com/newtonanddavid
Bride's Makeup: Bimpe Onakoya – www.instagram.com/bimpeonakoya
Wedding Cake: Cakes by Tosan – www.cakesbytosan.net
MC: Seyi Law
DJ: DJ Xclusive | DJ Meksy | DJ Spinall
Food: Kemabom Catering
Eru Iyawo: Eru Iyawo Concepts – www.instagram.com/eruiyawo
Drinks: Prive Luxury Brands – www.instagram.com/priveluxuryevents
Aso Ebi: Foradora Fabrics
Bride & Groom's Fabrics: Foradora Fabrics – www.instagram.com/yinkafowora
Bride's 3rd Outfit Fabric: Prive Luxury Events
Bride's 3rd Outfit: Frank Osodi
Bride's Aso Oke: Bisbod
Catering: Kemabom | Malas | Classic Golden Pot
Small Chops: Demo Small Chops | Oshinson | Cinnamon Chicken
Bar: Green Ice
Desserts: Cookie Jar | Nikita Waffles
Cocktails: Eventi Cocktails | Ginger Catering & Events
Lighting: Lightspeed Imaging
Sound & Dance Floor: G&A Productions
Photobooth: Mubarak
Invitation & Access Cards: Michael Lawanson
Venue: The Ark
Videography: HipTV | Asurf Films
______________________________________________________________________________________
We love weddings as much as you do – get in touch for inquiries, inspiration & more!