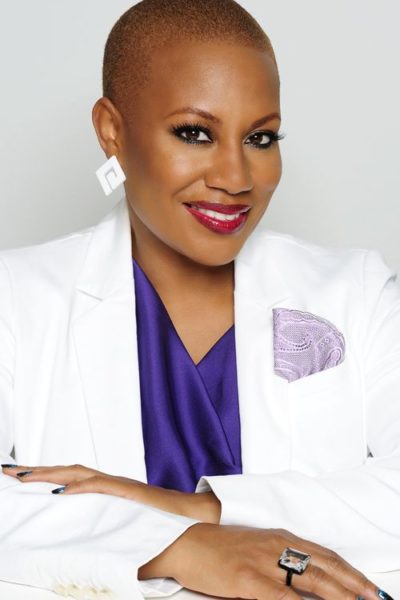 For our beautiful natural hair enthusiasts, the name Felicia Leatherwood must ring a bell. It's either from her achievements in taking natural hair care solutions to new heights or her beautiful works of art that have crowned the heads of many celebrities like Jill Scott, Angela Davies, Nicole Ari Parker, Teyonah Paris, Snoop Dogg (aka Snoop Lion) Cedric the Entertainer and a host of others. Felicia is one of the most renowned names when it comes to hair care, especially natural hair care.
Having discovered her talent at the tender age of 9, Felicia started out small – from making hair in her neighborhood to being that go-to hairstylist at a salon in Beverly Hills. It wasn't until 3 years after a visit to Cape Town, South Africa, that she realized she wanted to focus on natural hair having seen that majority of African women wear weaves. From starting out with a crowd of 20 women (mainly family and friends) to touring various destinations spreading the gospel of natural hair care with her hair care workshop – Loving Your Hair with Natural Care; Felicia has been letting the world know that loving your hair is as important as loving yourself.
During her visit to Nigeria where she collaborated with Nigerian natural hair product retailer Kinky Apothecary, the collaboration held their first ever Natural Hair Care Workshop in Nigeria to provide women with the right information they need to not only begin their natural hair journey but love, accept and appreciate their hair.
BN Beauty caught up with the celebrity hair stylist and the CEO of Kinky Apothecary Nibi Lawson, to chat about everything hair. From what the natural hair care journey means to what the hair care workshop's aim is; We have all the scoop on natural hair care for our amazing #TeamNatural women.
When did natural hair care start for you?
When I was little my mom was never really good at making my hair. My hair was always lopsided and my dad would always do my hair and then take me to school. Then when I was about 8 or 9, I started to do my own hair and working with those big Barbie doll's hair. But basically what really happened for me was I started doing hair in my neighborhood. I started braiding at a young age so growing up as a child I didn't have that kid moment, I was always working making other people's hair. So I had a job at the mall then I would come back and then braid hair. So that was basically what started natural hair care for me.
Tell me about your "Loving your Hair with Natural Care" Workshops.
One of the things that started it was when I went to Capetown in 2002. When I got there I noticed that the African women were wearing weaves but the weaves didn't blend with their natural hair. It was like they just put it on because they wanted straight hair. So it really touched my heart and I decided I was going to come back and train women on how to do hair. I didn't know I was going to be doing African hair or holding hair workshops. In my mind I thought I would travel and teach them to do better weaves.
Then about 3 or 4 years ago I just decided to teach about natural hair. I didn't even know the natural hair movement had exploded in the United States so the timing was amazing. When I worked with Jill Scott, it was that time she was quiet on the music scene for a little while, so when she came back on the scene I did her new hair. A lot of people liked the hair and started asking who was doing Jill's hair, and one of my clients wrote to Afrobella (a popular natural hair website) and told her it was me.
When I met her and she asked me what was next for me I told her I teach natural hair workshops and she said she wanted to learn more. So I literally went into my own bank account and invested into traveling and making it a pivotal point to teach women about their hair.
Mostly what I want them to understand about their hair is to love themselves; and that is why my website is called "Loving Your Hair With Natural Care" – because it strictly teaches you about loving you and your hair with the natural care that you are giving it. That is the point if the workshop.
How did you become a celebrity hair stylist?
Well I can't say it was one specific thing, but I can tell you that I worked in a salon. My boyfriend at the time's mother suggested me for a job opening at a salon in Beverly Hills. So when they hired me I didn't know that everyone that came there for their hair were celebrities. They had Eddie Murphy, Will Smith, Cedric the Entertainer, Hill Harper, basketball players, Gabrielle Union, Sana Lathan, Aaliyah etc. So when they saw that I did braids they would come to me and I would make their hair so I started getting all these different clients. Because they didn't have any natural hair stylist in LA. So that was my thing and basically how I started.
A lot of times women expect their natural hair to grow out a certain way. What advice do you have for these women.
That it's not realistic. If you don't have that texture of hair your hair will not grow like that. Solange and Jill Scott have soft curly hair. The mistake these women make is that they look at women of colour and think everybody has the same type of kink (natural hair texture) and they do not. And this has nothing to do with the shade of skin. I have seen women that are black and have long straight hair like Indians.
If they're not sure of the texture they're going to have then they will know when the hair is wet. When your hair is wet that's when you know if it will look like solange or Jill Scott's hair. So just get some hair in the back of your head and cut it, use the products that they can find at Kinky Apothecary and then test it. If the hair curls up then they know this is the curl pattern they will have when they cut it.
What would you recommend; The big chop (BC) or transitioning?
I suggest transitioning because you have to give people room to grow and take baby steps.
I suggest you get the hair that is curly/kinky and use that and leave the edges out so you can learn how to twist and curl your hair and to see yourself with kinky curly hair.
You used to have locs, why did you decide to go for the big chop?
I became what I call hair obsessed, so sometimes (8 out of 10 ) women come to me and they want to change their hair and their hair is beautiful and they want to do something completely dramatic or drastic. I know that when that happens it is something that is not outside but inside of them that they don't want to look at so they start fooling with everything on the outside to deal with what is happening on the inside. And that happened to me, so when that happened I noticed it and went to my brother who is a barber and he cut my hair. So I realized what the problem was and I knew what to do. It boosted my confidence because now I don't have hair so all I have is my confidence. So I have to love myself and that just changed my life.
What would you say Nigerian women or women in Africa can do to maintain their natural hair when in harsh weather conditions?
Well, apart from coming to the workshop, you can follow Kinky Apothecary. They have the necessary products that help out with getting the right moisture and knowing how to maintain your curls and handle all of its issues. Also you can go to askfelicia.com and send me an email to ask anything and I will personally answer the questions. Most times I would need to see you and know your type of curl and feel your hair because everyone requires something different, and a lot of it is dictated by the diet, by genetic stance and how you treat the hair now.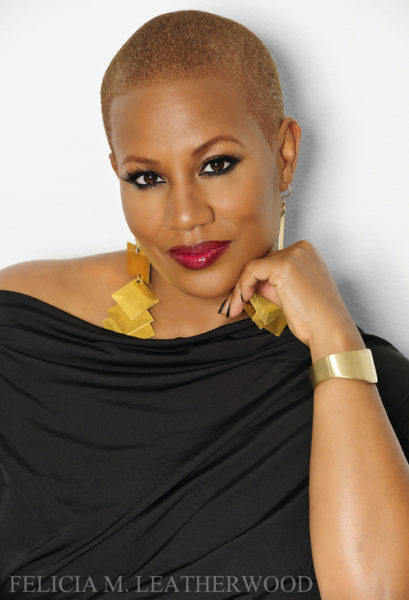 What is the craziest natural hair care myth your have heard?
The craziest one I've heard and I think is really interesting is when girls use yeast infection medicine to grow the edges of their hair. Supposedly it works, but I will not try that on anybody.
Another I've heard is that if you use beer on straight hair it will revert it back to natural. But I just think it will just make you smell like an alcoholic.
How do we find the best hair care products for our hair? Especially if I am just starting out?
One thing I can recommend is if you don't have a great hairstylist to help out with your hair then you can double strand twist the hair in flat twist or corn rows etc, the pack it down and order or get yourself an Afro ponytail. This way you can style it around to make it extend so you only have to really do your hair once a month. Then finds a great hair care specialist to help out with your hair and visit the Kinky Apothecary store to help out as well with your hair needs and where to get your hair done.
YouTube is also helpful but if your hair texture is different from whoever's you're watching and you try to apply it, it's going to be difficult. What sets me apart is that I work with thousands of different types of hair. I can look at your skin and tell what is going on with your hair because the skin tells me what your diet is like. For example if you have a dandruff condition and your skin has break outs then I know you have too much sugar in your system and that is going to affect the scalp.
What is your take on human hair extensions?
I think it's fine but the only thing is if you are wearing the hair and you start making it become a part of your personality, that's when you have lost yourself. But if you understand the hair is just an accessory of your beauty it's doesn't mean anything, you're okay; just make it look good.
I think you should always be beautiful and be confident and compliment other women. Just support each other and uplift each other and be an inspiration.
Do you think natural hair has a lot to do with religion?
I wouldn't say religion, but definitely spirituality. I feel, and this is just my personal feeling, that when it comes to our bodies, that there is a spiritual connection to the Most High. I think we are connected and chosen people and out hair and skin has a different intelligence that no one else that is not of colour can understand.
The issue with it is that we have been taken away from that power. We keep trying to remove ourselves by changing the hair and the skin so it takes us farther away from the connection with God. So when you know yourself and you love yourself you build that spiritual feeling. If you keep covering yourself from everything then you're removing yourself from source and you have to have that connection in order to feel alive and feel good each day.
Do you think your mental state of mind has a lot to do with the state of our hair?
Yes. That is the main thing.
A lot of women cover up their hair because of bald spots. What would you recommend for them?
The thing I want people to know is that there are many reason for bald spots. It could be stress related, medication and health reasons, there traction alopecia from weaves and braids being pulled.
If it is stress, it is a different situation – you need water, sleep, breathing exercises and yoga for that. If it is medication then you need to tell your doctor your hair is falling out so that he/she can help out. If it is traction alopecia sometimes the hair won't grow back, but I always tell every woman that comes to the shop to try black Jamaican Castor oil, Organic Root Stimulator and Temple Balm to grow the edges back, hair vitamins like Hair-Finity and there are a lot out there. All these things you can find at Kinky Apothecary so you can find these products in Nigeria.
Be sure to get a regimen. You don't want to stick to everything forever but give yourself at least 6 months to a year to stick to one product. It takes 3months for the body to know that you're doing something different so you have to hang there to get results. There is no overnight anything.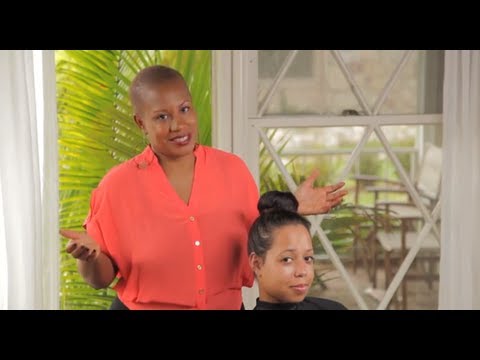 Tell me one thing you wish you knew in the past
I wish I knew I didn't have to waste my time taking crap from all those jobs I had. One thing I can tell you is, every time you have someone responsible for how you feel it is going to cause regret and you don't want to have regrets in your life. So you find out that you have allowed someone control your emotional state from day to day and you have to remove yourself from that situation and gain your own independence and power. It doesn't have to be mean but if you find how to love yourself, it's the most important thing.
If you had to convince someone to go natural, what would you tell them?
I don't tell people to go natural. Part of the work I do is inspirational speaking. The difference beetween an inspirational speaker and a motivational speaker is the motivational speaker kicks you into gear. Inspirational speaking is that you show up, and people hear some things about you that inspire them to become more of that. I would rather show up and fell good about myself and then others get inspired by it.
I have seen some women that I think would look way better natural, and celebs have played around with afros and wigs, but they always go back to the straight. I personally think Amarosa Manigault would look better with natural hair. Sheryl Underwood would also look nice. Some women's features stand out so much that the hair is taking away from their face so for some it is better to go natural.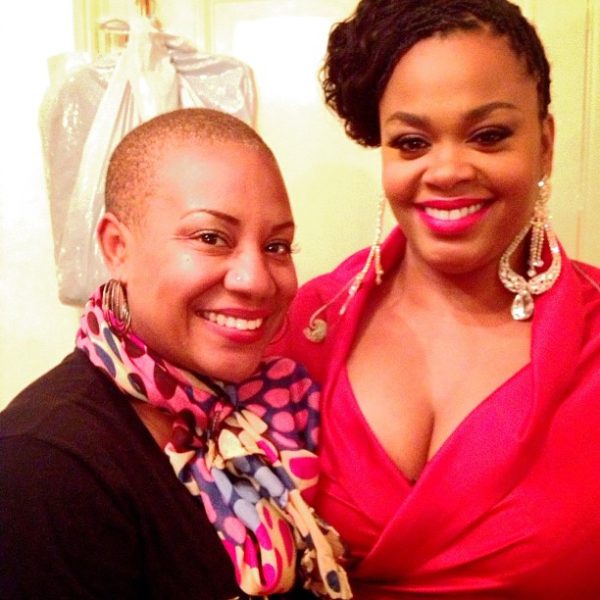 Just for Fun
If you could be a Superhero, which one would you be?
One person that I would love to be, because there aren't a lot of black super heroes is Storm. I think it's because she has beautiful skin, and her hair was this beautiful silver shade and she would put her hand on her hip so I liked that. I even stand like her in pictures sometimes. And I like the way she spoke, I think she had an Egyptian accent so she wouldn't speak a complete sentence but she had a lot of depth to what she said.
Whose natural hair would you love to work with that you aren't already?
Esperanza Spalding. I just want to put a little leave in conditioner in it and just style it.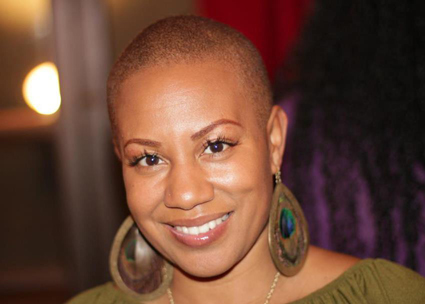 What is your impression of Nigeria and the culture?
It's not what I expected. Before coming here people tried to scare me. I sometimes get offended when that happens because it's like they're trying to put their fear on me. Nigeria is beautiful and just amazing. I'm really surprised that there all these amazing buildings and then the street lights aren't working. But even in the States we have places like that so I guess it's everywhere. And I love the dresses. The dresses that you wear everyday would be so fancy for us in the States.
Have you listened to Nigerian music?
I've heard a little of it, but I know one thing; your men are fine. You have got some fine Nigerian men.
After my amazing interview with Felicia, I got the opportunity to talk to Nibi Lawson, founder of Natural Hair Care store Kinky Apothecary. We talked about her brand and  more on natural hair care.
What was the aim behind the collaboration between Kinky Apothecary and Loving Your Hair with Natural Care?
The major aim is to get the message out there. It's not a political statement. People think, especially in Nigeria that natural hair puts you in a role. First of all it's not even just about natural hair, it's just about hair.
I find it strange that we live in one of the most populous countries in the world but most of our women cover up their hair, and don't know what their real hair looks like. So I just thought of this as a way for people to get to know their hair and be more aware about it.
Tell me about Kinky Apothecary as a brand
The brand started because I was just researching natural hair for myself. When I moved to Nigeria, I had to do a lot of research to find products so I started bringing in products for myself and for friends, the people would ask me about my hair and then I realized there was a real demand for the products here.
As a brand we are just trying to help people interested in natural hair find the necessary products and tools.
Can women and men in Nigeria get consultations etc?
That is why we have the workshops. We brought in Felicia because she is an expert and we wanted Nigerian women and men to be able to tap into her expertise and ask her questions one on one. So all you have to do is watch out for the next workshop and come over for great advice from great hair care specialists. You can also visit the Kinky Apothecary store or email us at [email protected] for extra information.
A huge thank you to Felicia and Nibi for the awesome interview and we wish them the very best. Check out some videos of Felicia speaking on her life, job and more.
Watch the Felicia Leatherwood interview with WeAreOnyxTv

Photo Credit: Gistexpress.com | Keepitkinky.net | Flycoast2coast | Afrobella.com | Lovingyourhair.com