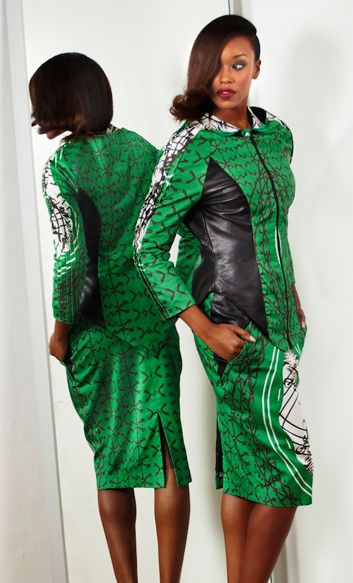 Do you remember Congolese fashion designer Kahindo Mateene? The last time we heard about her she had made the cut for season 12 of popular American Reality TV show Project Runway. Now, we get to see yet another collection from the fashion designer.
Giving us major Congolese vibes with her fashion label Modahnik, the designer has created a Fall/Winter 2013 collection of dresses using prints that the she created. The pieces have bold prints that almost look Moroccan with a hint of Damask in green, black, yellow, white and purple hues and leather and chiffon detailing.
According to the designer "The inspiration for this collection came from henna tattoo I received at my brother's wedding in Mali, West Africa. I wanted to create a vibrant collection that was not only unique but also very bold. This is clearly seen in each look throughout the collection".
Check out the collection.
Watch the Fall/Winter 2013 promo video featuring Kahindo Mateene.

To learn more about Modahnik, visit www.modahnik.com.