On the 4th fabulous day to 2014, BellaNaija gave to me – tasty treats from Cookie Jar!
We announced a fortnight of fab giveaways, and this is our 4th one- fresh from BN Cuisine! To learn more about BN's 14 Fabulous Days to 2014, click HERE! To see other giveaways, click HERE.
The Cookie Jar Bakery offers a full range of rich gourmet cookies and Parisian desserts including premium standard cookies, signature cookie dough cupcakes, cup cookies,cookie pops, cookie cakes (gateaux) , muffins, pies and tarts, macaroons , meringue cakes, parisian cookies and just about anything the executive Chef Eros designs to make special.
See some of their tasty treats below!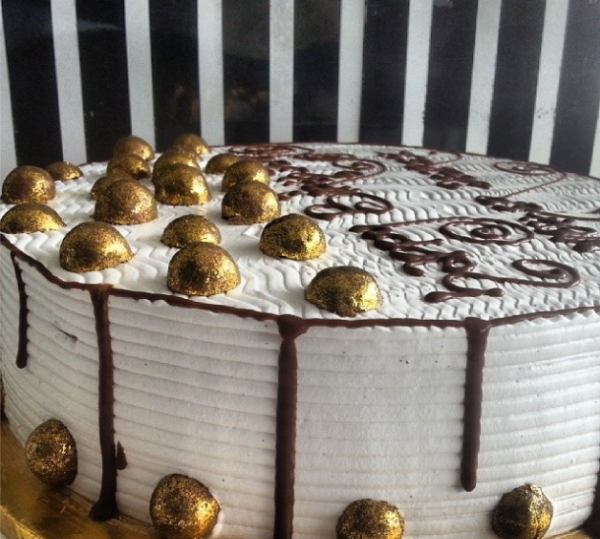 The Prizes
1st Position: 10 inch white forest cake
– 20% discount on all goodies ordered in the 1st quarter of the year
2nd Position: A box of 12 mixed cupcakes
– 15% discount on all goods ordered in the 1st quarter of the year
3rd Position: A Box of 6 mixed cupcakes
– 10% discount on all goodies ordered in the 1st quarter of the year
4th-10th Position: Box of 5 Mixed premium standard cookies
– 5% discount on all goodies ordered in the 1st quarter of the year
The winners will be chosen using an internet randomizer!
To Win:
There are 2 easy steps!
1. Follow @iamcookiejar on Twitter OR Instagram. Winners will be asked to provide their social media names.

2. In the comments section of this post, name 3 of Cookie Jar's "World Famous Cakes" (hint: you may have to dig around their website and social media pages 😉
Conditions:
You or a representative must be able to pick up the goodies from Cookie Jar.
You must be willing to take a photo for publication on @iamcookiejar and/or BellaNaija.com as proof of receipt.
Make sure you have your real e-mail in the comments.
Deadline: Monday 30th December 2013 at 9am !
____________________________________________________________________________
Website: Cookie Jar
Twitter: @iamcookiejar
Mail: biteme (at) iamcookiejar.com
HQ: +234 1 4652077
Hotline: +234 8095566770
Website: www.iamcookiejar.com
Web Gallery: www.iamcookiejar.tumblr.com
Follow: @iamcookiejar on Twitter, Facebook, Instagram & Pinterest!
Head Office
1004 Estate
Block D5, Suite 70
Victoria Island,
Lagos, Nigeria.