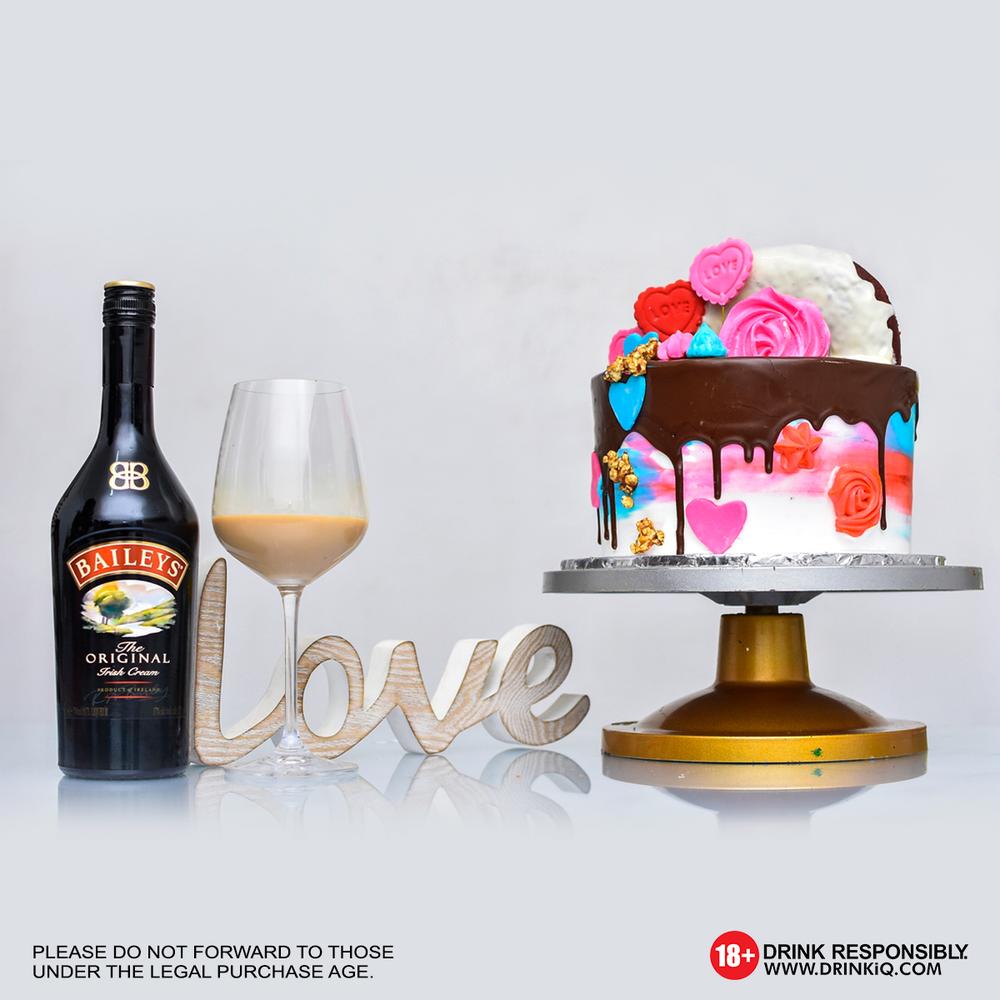 It is finally here, our favourite time of the year, where love is shared and affection is celebrated. In this season of Valentine, we at Baileys Nigeria together with Cookie Jar have decided to share our favourite valentine recipes that you can gift your loved one or even recreate.
For this special season, we have infused a few of our favourite treats with Baileys to create the Baileys Cookie Jar Valentine's Special which include delightful treats such as The Jar Heart Shaped Cookies, The Triple Decker Love Cake and the Dipped in Baileys Donut.
This is literarily love in its purest form.
There is an old saying that goes – people who give you treats give you their hearts and in creating these items, we are sharing our hearts with every one of you. So let's get baking!
THE HEART SHAPED COOKIES
INGREDIENTS:
Butter
Brown and white sugar
Eggs
Vanilla extracts
Flour
Baking powder
Salt
Baking soda
Cocoa powder
Cinnamon
Baileys
Vinegar
White chocolate
Heart shaped pan
HOW TO:
For the heart shaped cookies, mix butter with brown and white sugar, and beat until it is an aerated and pale colour. Add eggs one at a time followed by the Vanilla extracts.
Set the mixture aside. For the dry mixture, mix the flour, baking powder, salt, baking soda, a hint of cocoa powder and a dash of cinnamon for that aphrodisiac.
Just because it's Valentines.
In the wet mix, add a hint of Baileys, a little vinegar to give that sour and velvety texture and red colouring for colour. Incorporate the dry mix into the wet bowl on at a time until fully incorporated then add the perfect amount of white chocolate.
Mix properly and set into the fridge to rest.
Once this is done, get the dough out of the fridge and spread in a heart shaped pan. Smooth the dough to create the perfect heart sharp.
Pre heat the oven at 20 degrees and pop in the dough in for 15 minutes.
THE DIPPED IN BAILEYS DONUT
INGREDIENTS:
Your favourite plain donut
Baileys
Whipped cream
Finely crushed maltesers
Rainbow toppings
HOW TO:
Take your favourite plain donut, poke with a skewer stick and dab with a hint of Baileys. For your cream, mix whipped cream with Baileys and finely crushed maltesers. Mix properly.
Dip donut into the cream mixture, top with crushed maltesers and rainbow toppings.
The most exciting part about all this is; these treats are available at all Cookie Jar outlets. In addition, if you get a bottle of Baileys from any of these outlets, you can get N2000 off the purchase of each treat.
So share with your loved ones to have a wonderful Baileys Valentines this season because that is what Love is…
THE TRIPLE DECKER LOVE CAKE
INGREDIENTS:
3 Layers of your favourite Cake
Half a cup of Baileys
Cream
Maltesers
Grilled cheese
Whipped cream
Chocolate ganache
Meringue
Golden popcorn
White chocolate
Red velvet donut
HOW TO:
Take 3 layers of your favourite cakes in the same size; in this case we used one layer of red velvet, a layer of caramel chocolate and one layer of dulce de leche.
In a jug, measure half a cup of Baileys. Using your skewer stick, poke a hole in each the cake and with a pastry brush, dab the cake with Baileys. Set in the freezer for 15 minutes after which you layer each cake with your choice of cream.
For the dressing, layer the triple Decker cake with cream made with maltesers, and grilled cheese, finished with whipped cream and drilled in chocolate ganache, topped with meringue, golden popcorn and a red velvet donut dipped in white chocolate to finish.
Photo Credit: Dare Kareem for Crystal Studios
__________________________________________________________________
Sponsored Content