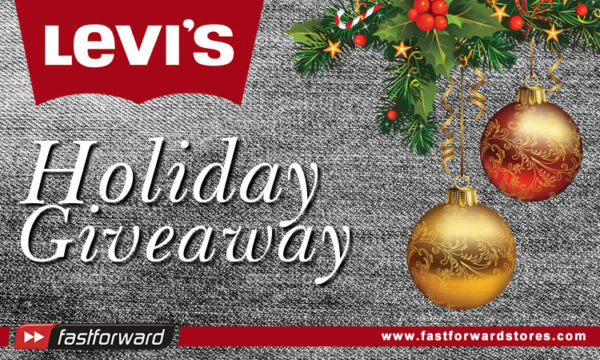 On the 6th fabulous day to 2014, BellaNaija gave to me – 4 goodies from Levi's!
We announced a fortnight of fab giveaways, and this is our 6th one! To learn more, click HERE! To see other giveaways, click HERE.
***
The Prizes!
There will be two (2) winners – 1 will win female apparel, and 1 will win male apparel!
1. 2 items of male apparel (could be denim shirts, t-shirts or jeans) for 1 reader (any size – you will provide your size when we contact you – the winners – via e-mail, and tell you what apparel is available)

2. 2 items of female apparel for 1 reader (any size – you will provide your size when we contact you via e-mail)
Conditions:
1. You or a representative must be able to pick up the shoes from a Lagos office.
2. You or your representative must be willing to take a photo for proof of receipt and a possible feature on the BellaNaija.com website, or social media.
To Win:
There are 2 easy steps!
1. Follow @bellanaijastyle on Instagram OR @bellanaijastyle on Twitter – choose one!

2. Answer this question in the comment section of this post –

Name 2 other brands that Fast Forward Stores (www.fastforwardstores.com) sell, apart from Levi's. (hint: you may have to poke around their website)

When you answer the question, also write "male" or "female" – you can't enter for both!
We will contact the winners via the email you provide in the comments! The winners will be chosen using an internet randomizer. The competition ends tomorrow – Tuesday 31st December 2013 at midnight Nigerian time.
Good luck!
____________________________________________________________________________
You can find the Levi's store at The Palms, Lekki, ICM, Adeniran Ogunsanya Mall and MM2!
To order Levi's online and for delivery to a destination in Nigeria, go to www.fastforwardstores.com, Nigeria's number 1 retail store!
· You can order easily, secure and fast online at www.fastforwardstores.com and pay online or on delivery.
· Orders are dispatched daily from our distribution centre in Lagos
· 24 hours delivery in Lagos
· Call toll free for enquiries 0800 1000 000