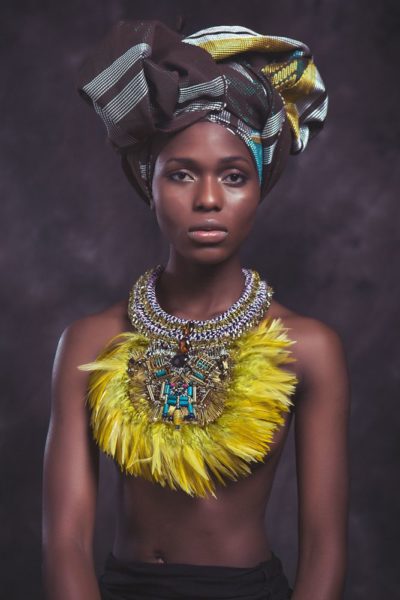 Words can't describe how outrageously gorgeous the Spring/Summer 2014 collection from London-based accessories design label Anita Quansah is. Tagged "Silhouette of Power", the collection features a limited-edition series of big, elaborate and bold statement neck pieces that have 'African', 'Art', 'Beauty' and 'Bold' written all over it.
According to the designer, Anita Horsfall,  "I had so much fun creating these handmade pieces. The jewelries are all designed with the articulated armor like look in mind, harnessed with power, dominance, and with finished looks filled with elegance and grace with an illusion of ease and comfort with lavishly trimmed frills, flounces and feathers with that of intricate, decorative hand beading."
Her SS14 collection features beautiful fabrics, semi-precious stones, faceted crystals, shells, chains, feathers, beads of various sizes and much more sourced from Africa and India.
Anita also said, "I hope to continue to celebrate my rich African heritage. This SS 14 collection of handmade jewelleries explores the rich African artistry and craftsmanship and that of rich, powerful, aristocratic glamour and pageantry of the 17th century characterized by high ruffled collars and bejeweled fabrics worn by Queen Elizabeth I of England."
We can't wait to find out what you think of the collection.
Check it out modeled by Nigerian model, Ayoola Bakare.
For more information on the Anita Quansah brand please visit www.anitaquansahlondon.com | Follow them on Twitter: @anitaquansahlon | Like them on Facebook: Facebook.com/anitaquansahlondon