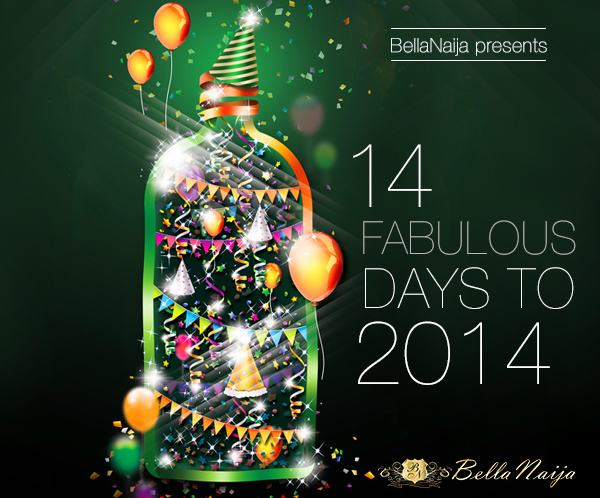 We announced 14 Fabulous Days to 2014 this Christmas and the last of the competitions ended on Wednesday.
ALL winners have been contacted to arrange pickup of prizes.
If your name is below and you haven't heard from us, kindly check your e-mail, especially your spam folder. If you do not respond by Monday 20th January 2014, your prize will be given to another reader/contestant for that competition, chosen by a randomizer.
Thank you!
***
Find the list of Winners below:
Day 1: Facetalk
Bride: Wemimo Sogeke
Non-brides: Cynthia & Larex
Day 2: Century Home Appliances
Winner: Chiamaka Daisy
Day 3: T. M. Lewin
Female Winners: Nancy Ekanem & Tochi Akam
Male: Effiong Victor & Ope Adewale
Day 4: Cookie Jar
Winners
1. Funmi
2. Biola
3. Adesola Momoh
4. Juliet
5. Dolapo
6. Amakazee
7. Oduola Taoreed
8. Lin
9. Austino da Whizchap
10. Charles obi
Day 5: Nike 
Female Winners:Demmy & Yejide
Male: Henry & Kabu Otega
Day 6: Levi's
Female: Omolola
Male: Austine Da Whizchap
Day 7: Kemi Kings
Winner: @eezedaii on Instagram
Day 8: MOOFA
Winner: Stacy Livinus
Day 9: My Asho
Winner: Tundy
Day 10: AD by Agbani Darego
Winner: Uche Nwabunike
Day 11: House of Versatile Styles
Winner: Nkechi Sophie Ukpaka
Day 12: Cette
Winner: Didi
Day 13: House of Linen PH
Winner: Scarletxianne
Day 14: The Nail Bar
Winners: @cute_ruthie, @adukejay, @rabbie_m and @matildashegs on Instagram
***
If you won, CONGRATULATIONS!
If you didn't, keep clicking on BellaNaija.com, you just might get lucky 😉
xoxo
BellaNaija Team