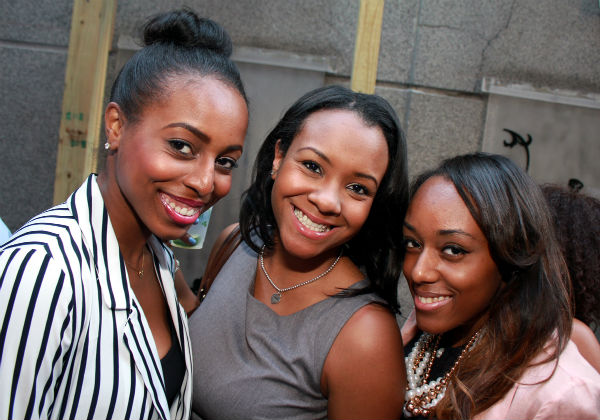 Though we've exchanged soggy holiday messages; some nicked off the net, or just forwarded on from someone who sent us longish, appropriately emotional ones; said prayers and confessed positive things in advance of the New Year, what most of us really care about this season are PARTIES and not so much the reason for the season. This of course, shouldn't be the case but I'd thought I'd just get that out of the way.
Yes, it's Christmas. Soirees to attend, things to see, people to do…the works. How do you navigate the sometime murky waters of networking, socializing, this season, at the gigs where all the cool kids will be at? How do you score that Christmas fling? How do you join the in crowd? Despair no further. Here's how:
Master and Use that Anglo-American Hybrid Accent
And do it shamelessly too. It should not be too difficult. And the rewards can be immense. Look at the kinds of doors it has opened for that lady who's always on with bridal make-up and impeccably tousled hair? The one with the VLOG and looks transparent under lots of light? Yes, that one! See where she is now! Watch her VLOG even, you may get some pointers. With that accent mastered you can converse ever so proper, make friends faster and who knows, even do business. However, know when and where to go royal and when to do a Yankee. Listen in carefully on the group you're with at the time, know the accent and twang in use, then pitch in with classic slang or anecdote as appropriate.
Have Travel Stories
Every event this season is swimming with the IJGBs (I-Just-Got-backs) and you can trust they all have fairly hilarious stories about something distinctly weird that happened on the Tube, that fetch party in Williamsburg or while trying to find their first class seats enroute home to Nigeria. While you may not be an IJGB, surely you must have some story made up or otherwise up your sleeve about some naked beach episode or something of the sorts during the summer, spring break in Los Angeles or even Miami. Such a story could be your passport to the cool kids table.
Have An Interesting Job, Preferably One in The Creative Industry
Never before has there been a time when being a creative was SO fascinating and well, cool. Of course, it is well-known that you probably aren't buying Cartier wristwatches off your pay check, not yet anyway, but you're doing something interesting. You're making 'new school music', designing Africana chic clothes, photographing naked subjects, baking cakes laced with Baileys, using a lot of silver décor and calling yourself a luxury event planner, working the runway at shows everyone forgets after curtain call; something that makes for animated conversation and we-should-work-together-sometime statements.
Quirk Your Way To Attention
This is non-negotiable. No, you cannot look just well put together. Quirky is cool today and you have to have something about you that makes people take a second glance. It may be a curiously located tattoo, the length of your dreadlocks, the boldness of your print, it could even be as simple as your face and if it looks as though it's been primed and basted by an overpriced facial. No, I do not mean peeling off layers off your skin (that are there for a reason) by chemicals as is the norm these days. That is just tacky and won't win you any new friends. Well, it might but not the type that make for sophisticated company.
Be Social Media Fabulous
Be one step ahead of trends. Twitter is apparently old news. The new school cool is Instagram. Everyone is getting their lives and riding high on waves of vanity on there. Do not turn up your nose at their ostentatiousness. Join in! When you're at a bar, angle that phone right (iPhone, of course) and take a damn good picture of that Bloody Mary! Share It! You went above your budget and splurged on a Bottega Veneta bag? Let the world know! (Do not dally with the populars like Louis Vuitton and Celine. Everyone who's wearing them is so 2012) Take flawless selfies. Master Instagram's filters, download different photo-editing apps for good measure. After having struck conversations, before the seal of new friendship is sealed, you will be researched. With your social media presence dripping swagu, you're in!
Photo Credit: thefabempire.com
__________________________________________________________________________________
Ayodeji Rotinwa is a writer. He has strong opinions. He will not suffer fools. He believes sarcasm should be the palm oil in which words are eaten. He hopes, on here, you will not choke. You can find him and others running word riots on www.theurbanemix.com, a viciously satirical online magazine on Nigerian culture, social commentary and literary works.