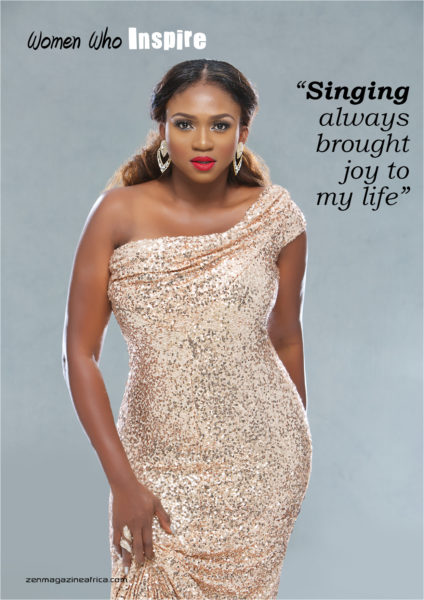 Oh Waje.
The beautiful Nigerian songstress is all shades of stunning in her editorial spread for Zen Magazine. If you missed the feature on the cover, click here.
When BN debuted the cover, you all couldn't stop talking about it. Little did we know that an equally good spread accompanied it.
The "Music Diva on the Verge of World Domination" rocks some fun pieces including a sequined dress and a strapless leather corset with multi-coloured chiffon print skirt.
Excerpts from the Interview;
On her fondest musical moments: "My fondest moments would be every time I hit the stage and do my thing and the love comes pouring back. The give and take is ecstatic and a natural high for me"
On how she balances her music career with other obligations – being a mother and brand ambassador to brands: "I just try to give the best every time because there's a lot at stake and there are people looking up to me. I think it's just a matter of making a choice and doing your very best.
As for motherhood, it has been a blessing and I get to realize more of this everyday. It's not as easy as your kid gets bigger and wants to know more and more! But the most important thing is making your child your best friend , so you're the first port to call when anything comes up in their life."
On some of her favourite designers: "Roland Mouret is definitely my favourite. His dresses work very well with curvy women and that's very important to me. I also love Chanel and Vivienne Westwood"
On her personal style: "I shift between urban, chic and some African inspired looks. Most of the time, you'll see me out with some urban inspired outfits. On some other days, I may just want to relax so I could put on print shorts, and a jazzy T-shirt"
On celeb crushes: "It used to be Idris Elba. I'm so over him now (Laughs)."
On famous musicians she admires: "There are so many great musicians I love but I totally admire Beyoncé, Mary J Blige and Whitney Houston."
Credits
Photography: Kelechi Amadi Obi
Make-up: Joyce Jacobs Beauty
Styling: Nancy
Hair Stylist: Elijah Hair Salon