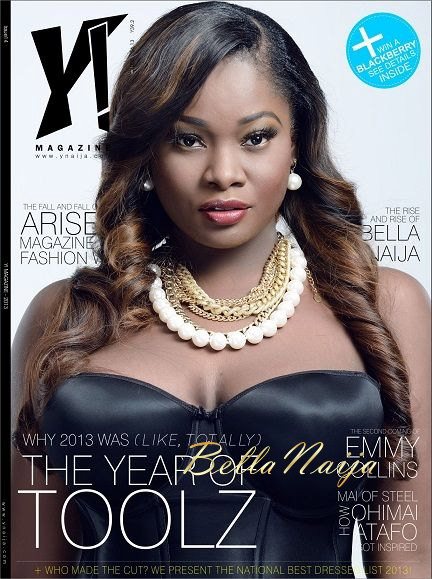 Looking Hot Toolz and suave Ohimai!
Y! Magazine is ending 2013 with a banging new cover featuring Nigerian media personality Toolz and fashion designer Ohimai Atafo of Mai Atafo Inspired.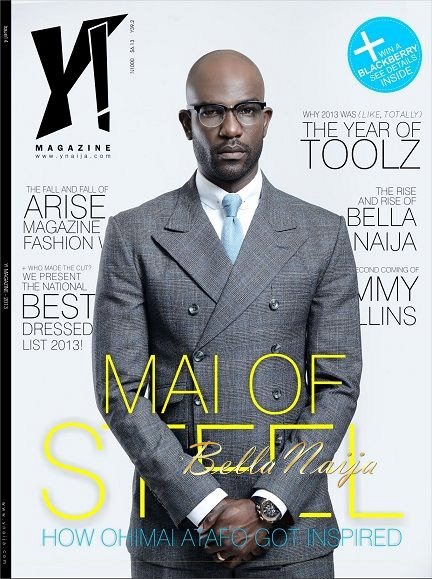 Toolz proves she is the curviest of them all; posing in a strapless silk corset, pearl earrings and statement neck piece and wavy brown locks. While the always dapper designer Ohimai Atafo is all serious in a grey double button suit, a sleek blue tie and white shirt.
Read the press release;
It's been an incredible year for Y! Magazine ­with Wizkid kicking off the covers, all through Omowunmi Akinnifesi, Timi Dakolo and Tara-Fela Durotoye. This edition continues the new Y! tradition of double covers. Both covers were photographed by Moussa Moussa, styled and directed by Ifan Ifeanyi Michael, with profiles by Lekan Olarenwaju and Wilfred Okiche.

15 pages of each edition already dedicated to fashion (p. Fashion Shoot) we asked ourselves: why do we do this Style Issue, anyways? The answer as always is simple: "because we love to!" says managing editor, Adebola Williams. "Because beneath those studied looks of nonchalance, work­schedules hostile to stilettos, and our inevitable frown at sexism, the one gender sometimes wants to blossom like a flower and the other to shine like a thousand stars."

The magazine as usual includes incisive op-eds – a potpourri of ideas and issues; a telling interview of four tailors', and an interviewer's delight session with the sitting Governor of Rivers, Rotimi Amaechi.

Features from its culture and fashion buffet include a piece on "The rise and rise of BellaNaija.com", a piece on "The second coming of Emmy Collins" and another on "The fall and fall of Arise Magazine Fashion Week". There are also interviews with the rising singer Victoria Kimani as well as Afro pop artiste Baby Rhymszs and stylist/designer, Adebayo Oke-Lawal."

Y! is available in stores and from vendors across the country. It is also available at all House of Tara Stores in Lagos, Abuja, Ilorin, Port-Harcourt, Benin, Kano, Ibadan and Kaduna and Y! campus representatives in 19 states.

You can also pay for the magazine with your mobile phone and have it delivered to you at no extra charge ­ or online at exodusestore.com http://exodusestore.com/ and have it delivered to any part of the country (click on magazine, click on the Y! Magazine logo and place your order).

Details and more information are available on www.ynaija.com/magazine or via Twitter on @YNaijaMagazine. For enquiries, subscription, advertising and back issues follow @YNaijaMagazine on Twitter, email [email protected]; or call: 08173000001