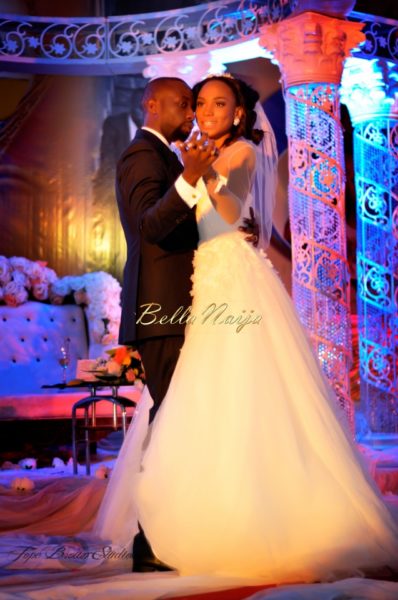 Oby and Obi are soo cute together! Obiageli "Oby" Anunobi & Obinna "Obi" Ohakim met 3 years ago and soon became best of friends before falling in love. After she said yes (twice), the lovebirds tied the knot this year.
How Oby & Obi Met
Oby & Obi met at a friends house party in Abuja in 2010, they became best friends and started dating shortly afterwards.
The Proposal – she said Yes – Twice!
From the bride – Oby
We have 2 proposal stories lol
After seeking for my father's permission, he proposed on his birthday in his house in Abuja, without a ring, and I said "Yes!"
The second proposal was a day before the traditional marriage rites in my hometown, he took me to my bedroom, got on one knee, took a few seconds to tell me how perfect we were for each other, and asked if he could "put a ring on it" haha! I knelt down as well and I just kept screaming cos my ring was almost as amazing as my husband!
The Dress!
Oby wore a Pronovias ball gown – Dogma, customized with delicate sleeves by Plush Couture. After an exhaustive search – 5 bridal appointments in 3 countries, she knew it was the one the moment she tried it on. Her second dress, a gold lace number with a scalloped neckline from Teri Jon was chosen online with her sister-friend Segilola.
Special Moments
Walking down the aisle, the bride was escorted by her father and serenaded by Yemi Sax!  She says, "it was amazing, to say the least and very emotional!" … "When I got to the top of the aisle, both mums were waiting to hug and kiss me."
Advice for Intending Couples –
Have fun as much as you can – don't allow fickle things disrupt your day, it is once in a lifetime by God's grace. And for brides – get an amazing chief bridesmaid, it makes everything a whole lot easier!
***
BellaNaija Weddings wishes Oby and Obi the blessings and beauty in love, life and marriage.
~ Photography: Tope Brown Studios | Ayede Photography
Pre – Wedding Photography: Tope Brown Studios
Wedding Photography: Ayede Photography
Additional Wedding Photography: Tope Brown Studios
Photography:
Tope Brown – 08053351514
Ayede Photography – 08064662140
Wedding Details
White Wedding Date: July 6th 2013
Venues
White Wedding Ceremony: National Christian Centre, Abuja
White Wedding Reception: Africa and Abuja Halls, ICC
Wedding Attire
Make up: Folawe Fashawe of Siran Faces (bride's review: "she was fabulous!")
Hair: Ehiz of Ehiz Hair
Bouquet: Petals and More
Wedding Dress: Pronovias, customized by Plush Couture
Veil: Pronovias
Bride's Reception Dress: Teri Jon
Bride's Shoes For Church: Guisseppe Zanotti
Bride's Shoes for Reception: Jimmy Choos
Bride's Accessories: Chanel, Monsoon, Next etc.
Bride's Tiara: Halo & Co.
Engagement Ring: Weir & Sons
Wedding Rings: Cartier
Groom's Suit for Church: Bespoke by Baldon
Groom's Reception Suit: Richard James
Groom's Shoes: Guiseppe Zanotti and Amedeo Testoni
Groom's Accessories: Alexander McQueen
Groomsmen Suits: Bespoke Suits by Baldon
Bridesmaids Dresses: Virgos Lounge Raina Jade Dresses
Bridesmaids Shoes: River Island Barely There Sandals in Coral / Gold
Vendors:
Wedding Planners: Say It Loud Africa CEO, Femi Oyelade 07038851322, together with a wedding committee
Wedding Cake: Cake by Cake Craft, The Oven, Abuja 08033244031
Wedding Decor: Kuchelly Wedding & Events Planners
Lighting and Sound: Option A Media
Food: Festive Occassions Ltd, and others
Cocktails: Mezra Cocktails
Invitations: Say It Loud Africa, Femi Oyelade
Favours: Both mums, and couple's relatives
______________________________________________________________________________________
We love weddings as much as you do – get in touch for inquiries, inspiration & more!
E-mail: weddings (at) bellanaija.com | E-mail for #AsoEbiBella: asoebibella (at) gmail.com