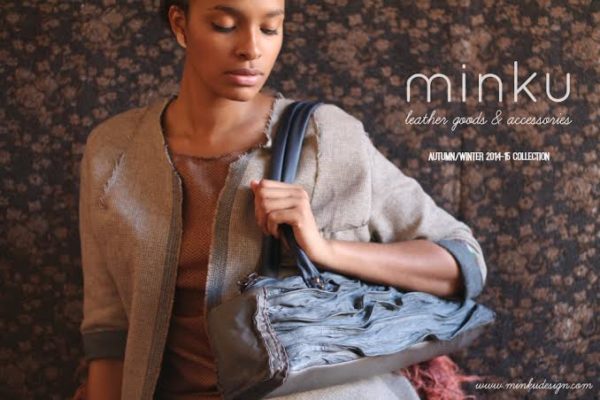 In 2012, Minku Leather Goods entered the Nigerian fashion scene with their bag collection modeled by musician Nneka.
Now they're back with "Everyday Things", their Autumn/Winter 2014 collection. This collection reflects on modern life, particularly the normalcy of high-tech objects — whose existence couldn't have been imagined 60 years ago — existing side-by-side with artifacts and concepts that have formed part of our daily home life for centuries.
The collection, which will also be shown at the Barcelona Fashion Week next January, includes designs like the Oga Patapata, a bag made from sheep hide and buffalo skin and lined with aso-oke, and the Afefe bag, which at 300g, is super lightweight for a leather bag its size.
Through her handmade designs, Kunmi Otitoju attempts to relay a fresh sub-Saharan aesthetic characterized by her subtle use of elements from her culture and artisan approach to contemporary bag making. She merges leathers from Spain with aso-oke and damasks from Nigeria to create bespoke leather good and accessories every time.
Check out the collection.
Photo Credits:
Photographer: Kunmi Otitoju
Stylists: Cristina Ramirez and Kunmi Otitoju
Models: Alexandra Silverio and Alex Kingue
To buy a piece from the collection please check out this link HERE | For the full collection visit www.minkudesign.com | Like them on Facebook | Twitter | Email [email protected]