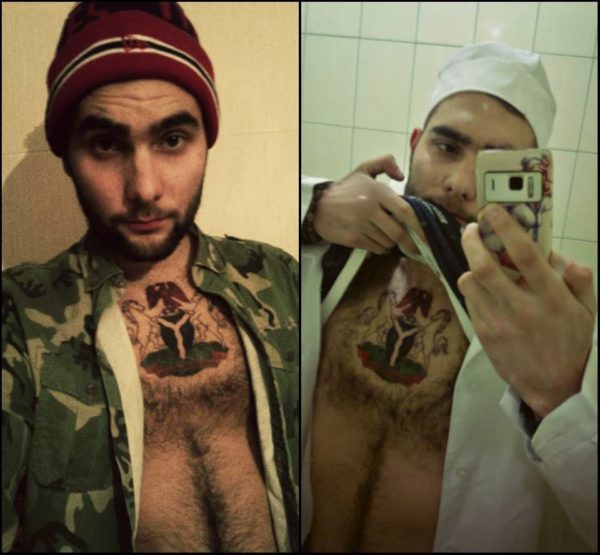 He is Ukrainian but he LOVES everything about Nigeria.
Oyinbo FlyBoi Nigerian became a media sensation in December 2013 when he posted a photo of himself with a tattoo of the Nigerian Coat of Arms on his chest.
But that wasn't the first time MC Oyinbo'FlyBoi, shared his loved for the Federal Republic of Nigeria.
He is based in Lugansk, Ukraine but says his hometown is Lekki, Lagos, Nigeria.
A quick look at his Facebook page – www.facebook.com/OyinboFlyBoiProudlyNigerian..up9ija, you can really see his passion. He is a fan of Nigerian music and most recently talked about Fela Kuti's "Zombie".
The DJ sometimes writes in Igbo, Yoruba and Pidgin English. We also hear he will be touring clubs in Abuja, Port Harcourt, Lagos and Bayelsa soon.
On his Coat of Arms of Nigeria tattoo, he says;
You don't have to be born in Nigeria to be a Nigerian. Yes am a white, but ama so fucking fully Nigerian … and am so proud that i met them, and they changed my life …So Thank you Lord, that is the best gift for me. Yes We Can Be United Yes We Can Be Faithful Yes We Can Be Peaceful Yes We Can Be Progressive Orile ede to rewa ni nigeria Chukwu bụ onye okịke.Ọ bụ ọnye ọka ịwu. #unityandfaithpeaceandprogress ! #tattoo #permanent #nigeria #oyinbo #flyboi HI5 Entertainment . One Love to ya'll ma big NAIJA FAMILY!Respectfully yours "Oyinbo FlyBoi Nigerian'
Who says Nigeria isn't the best country?