For my last post I discussed the art of hosting, but today is all about tying all that up with food.
The concept of Starters may be foreign, but starters already exist in Nigerian Cuisine, we don't just call them that, or we call them Appetisers. For Starters – you just need two, max three, and the third one should be related to one of the other dishes, so it doesn't feel like you have to cook three different foods.
Option 1 – Batter/Grill. E.g. – 'Prawn Tempura a.k.a battered prawns'. If you are going to scoff your nose at the price of prawns especially for people who won't respect themselves and take two or three, how about using cheaper cuts of 'Fish or Yamarita Fries'.
Or 'Grill a whole chicken/a big slab of Meat (lamb, beef, ham etc)', and cut into slices. Serve with an easy salad at the side. Think about it, you can marinade the animal the night before, throw in the oven for 45 minutes (or more depending on the size) on the d-day. The entire cooking process is done in the oven, while your energies are directed elsewhere. Perfect! Better still, if the weather permits assign the men in the family to barbecue. Make them contribute too.
Option 2  – A soup. E.g – 'Fish soup'. A quick and simple fish soup, you can throw together and let it simmer away on low heat. Start on the fish soup, just before you deep fry the prawns. Or a meat based Peppersoup. Not your everyday variety but 'Ukodo – Urhobo Peppersoup'. Not so familiar eh? That is the idea.
Option 3 – Bread based. E.g – 'Tuna and Crab Bruschetta' or ' Tomato and eggs Crostini'. Bruschetta's and Crostini's are antipasti's (english for 'before the meal' i.e. starters) eaten in Italy. Both are just fancy Italian words for toasted bread rubbed with garlic and olive oil with a variety of toppings. You can make everyday meals party standard, it all depends on presentation. You can get creatively Nigerian and add your own toppings. Place on a platter for guests to pick up.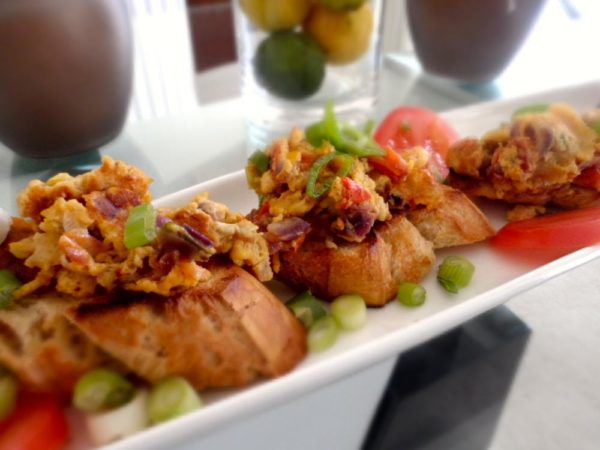 The idea of a bread not sitting well with you, okay 'Giz-dodo'.
The above 3 dishes should take you less than 45 minutes to 1 hour to complete if you planned and did the prep work the night before or early in the day. These dishes will work irrespective of the volume you are cooking.………….and that's your Starters sorted. Better still, if you are having assistance from friends/family delegate one course to one or two people. No awards for being Martha Stewart. Trust me, even she has help. For guests who arrive pretty early (there are always some), just serve them dips with chin chin, plantain chips, crackers to get out of your hair while you cook. Examples of homemade dips are my homemade 'Ube and Corn Guacamole', 'Ata din din' and 'Mayonnaise'. Make them days before, and refrigerate. Zobo or lemonade for the kids and Zobotini for adults.
Main Course – The same 2 or maximum 3 rules applies. I am recommending one rice dish, a native soup served with one starchy solid plus one wild card dish thrown if you have the bandwidth for it.
Option 1 – Stew or Curry and Rice based. Have you thought of serving rice and stew? Hold your horses, this is not just your average home cooked stew, but 'Seafood Stew'. We have our own native variation called 'Fisherman's Stew' cooked with Palm oil. Nothing says special or festive like a stew made from an array of seafood. Go extra special and serve a fragrant rice like Basmati or Jasmine rice rather than regular long grain rice. You want to be brave, serve Wild Rice. Trust me, your friends and family will be talking about your party for weeks to come.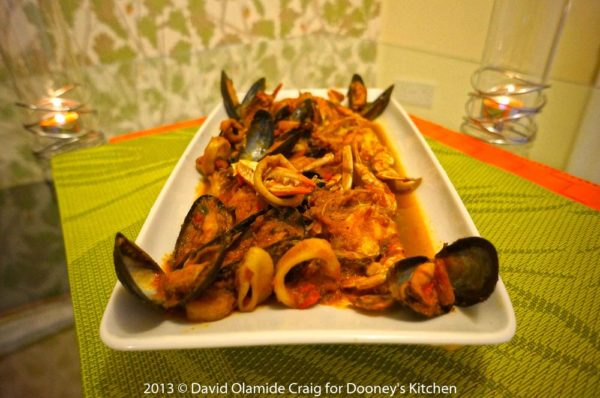 If the price of seafood will be discouraging, how about a 'Thai Chicken Curry' or a 'Goat Curry' with Jasmine or Basmati rice. That's also special isn't it, and definitely not common plus quick and simple to prepare. Don't forget the lemongrass. It will take this dish from simple to sublime.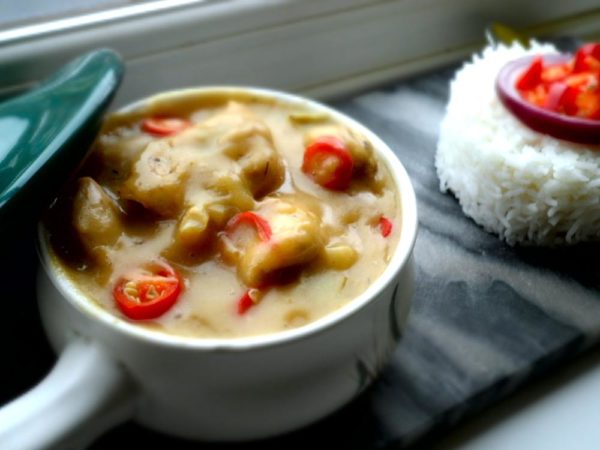 If you are still not sold on the idea to serve plain boiled rice. Okay then, stay away from the staple Jollof and Fried rice and serve 'Coconut rice' instead, which will take about the same time as the other common two. Think, when was the last time you eat Coconut rice at a party, if ever? Watch as this goes down very well with your guests, with many people asking for seconds.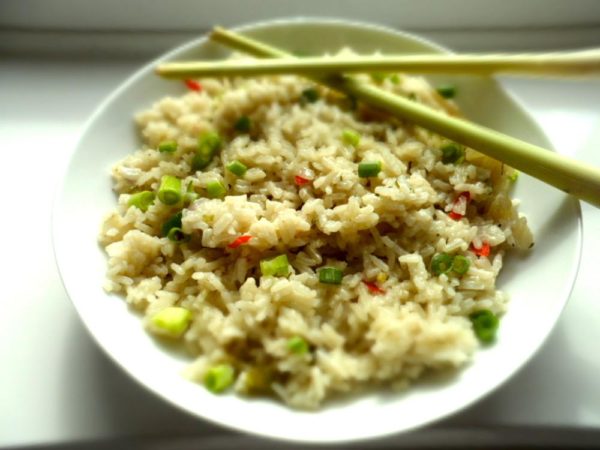 If you can't have a party without Jollof rice. Okay, okay. How about  Native Jollof rice made with Palm oil called 'Iwuk Edesi'. I call this Jollof Rice 2.0. Deeelicious and rememberable.
Option 2 – Native Soup – I will usually advice one soup, but if you feel you have to serve two types, ensure one is a creamy soup and the other is vegetable based. Why? Creamy soups usually "cook themselves", while you focus your attention on the vegetable based one. Examples of special/festive Creamy soups are 'Banga Soup', 'Groundnut Soup', 'Owo Soup', 'Miyan Taushe', 'Ofe Nsala', 'Egusi Ijebu', 'Ewedu served with Buka Stew or Alapa stew'. I will leave my So You Think You Can Cook Kitchen sisters to regale about the special delights of Buka Stew and Alapa, with a huge shout out to Boss Lady, the Group owner Bola Odegbami Coker.
Examples of Vegetable based soups that haven't be served ad nauseum at parties are: 'Edikang Ikong', 'Ukwogho Etidot' (bitter leaf version of afang soup), 'Black Soup', 'Ottong Soup' and 'Oha Soup'. I'm sure there are lots of examples, if you dig deep into your culture.
Option 3 – Wild card. i.e. something unexpected. Which can be something like 'Yam Porridge with shredded Efinrin/basil'. 'Ukang Ukom – plantain porridge', 'Ifokore', 'Burabisko', 'Alkubus', 'Ekuru', 'Ebiripo' and 'Yam/Boiled plantain and Garden Egg Stew'.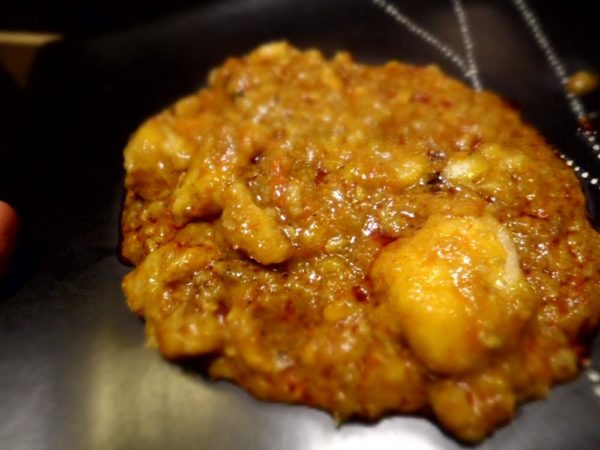 Your Wild card could also be a Chinese dish –  Smoked Turkey Stir Fry Noodles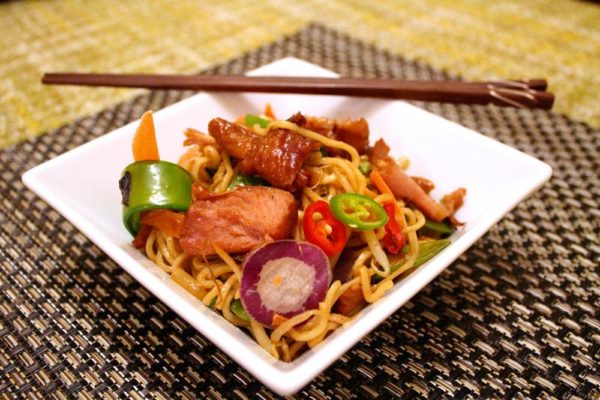 The main course is probably what will involve a lot of attention, but considering you had an easy time with the starters, you are not flustered, rushed, stressed, neither have you spent hours labouring in the kitchen. You've spent a good deal of time making your guests feel welcome, they won't miss you if you disappear into the kitchen for a bit. Besides, all the ingredients for the main should have been prepped with assistance from your friends/family, you simply need to combine and cook. Just pick options you can comfortably prepare in bulk.
Dessert – if your guests still have the stomach for it, serve a simple dessert that will wow them. Cake and Ice cream has been served so many times. Even if you bake it yourself, it's still Cake and Ice cream.
Option 1 – 'Crepés Suzette'. These are simply thin pancakes drenched in an orange caramel sauce. You can make your crepés a day or two before, as they keep well in the fridge, or on the day if you have multiple frying pans and lots of help. Make the batter in the morning and store in the fridge. Or buy from a good pastry shop. One thing truly special about Crepés Suzette is that you flambé the sauce. So, if your guests are adults, you can put on a show for them by flambéing the sauce right in their presence. Google videos on Crepés Suzette to see what I mean. I've had this done for me at a restaurant on my birthday and it was a beautiful performance.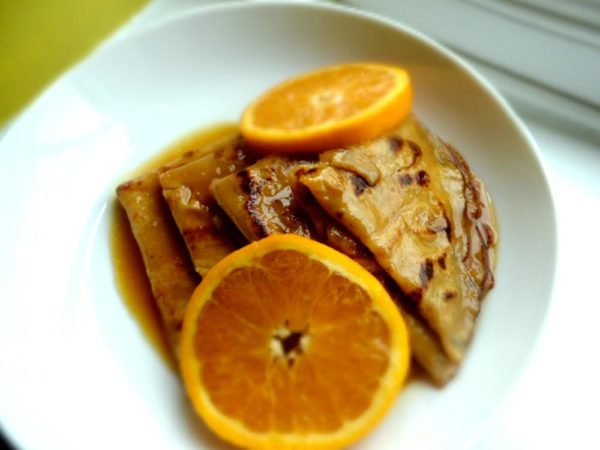 Option 2 – 'Tapioca Pudding'. Tapioca is something many people have not eaten since their childhoods, so watch the joy and nostalgia on their faces when you serve this for dessert. We are kind of wired to see Tapioca as breakfast, especially if you are from Yorubaland. The way I make it, it is a bonafide dessert. Prepare to see empty bowls staring back at you. It is also simple and quick to prepare, plus the cooking process does not need too much of your input, so you can start on tapioca pudding, while you clear the dishes from the main course.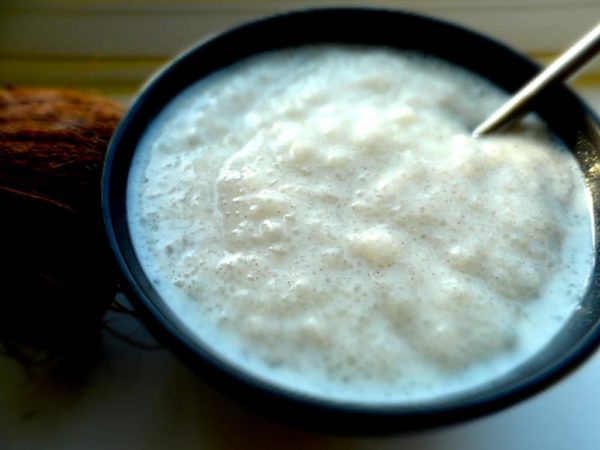 Feeling adventurous? Try my very Nigerian Pudding
Option 3 – Pap and Pineapple Brûlée. Think Créme Brûlée but with Pap instead of double/heavy cream. No one is going to see this coming. Make it fun by choosing your choice of sweet fruits.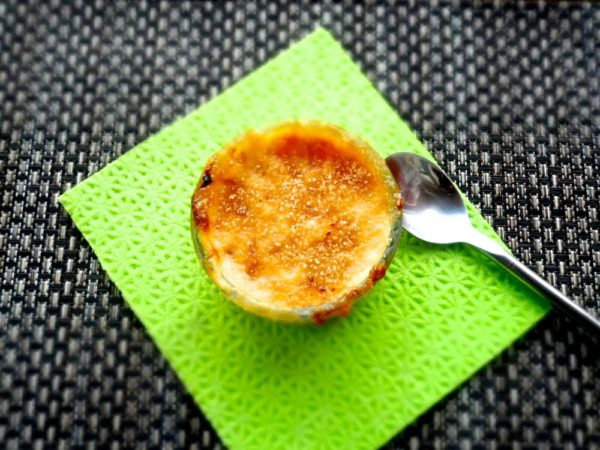 okay, okay you still want Cake and Ice Cream. Try making a simple Melted Butter Banana cake and serve with Ice Cream. This recipe is so simple, a child can make it. No need for a mixer at all, just melt the butter in the microwave, add the other ingredients,mix with a wooden spoon and throw in the oven. Serve with chocolate chip ice cream. Or you want to throw in something completely unexpected – Zobo and Pineapple Ice cream
…………….and that's a winning Party Menu. I hope I have inspired you, to think outside the box for your next party. Of course, for Bella Naijarians in The West who feel they must have a traditional Roast for Christmas, you can also work this in with the rest of the dishes I listed.
I would implore you to look at this menu from two viewpoints. As a host/hostess, this menu will not take more effort than the rest of the common dishes served at parties. You may spend more than you normally would, if you are going with seafood, but depending on what you are trying to achieve with the party, Seafood is a winner any day. I have also listed cheaper alternatives. If you are thinking, geez Dunni, all these new things to prepare, I don't want to risk something going wrong on the day. Well I'll tell you now is the time to practice. Even I will not advise you to experiment on the d-day. As a guest, now look at this menu and think to yourself, if I was served this at a party, how pleased and special would I be leaving the venue? Will this not be a party for the books, that will be remembered for a long time? When next it is your turn to host, this party will be the benchmark for you to attain.
One thing I would also like to implore you to take up is plating/presentation of your food. If you are having a large party, use fancy large serving bowls like this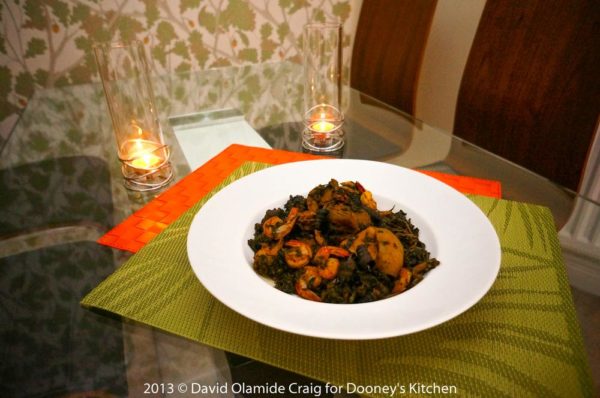 but if you are having something small and intimate, put more effort into plating your food. Start from the dinner service. I am sure if you look into your store, you probably have lots of plates you have forgotten about.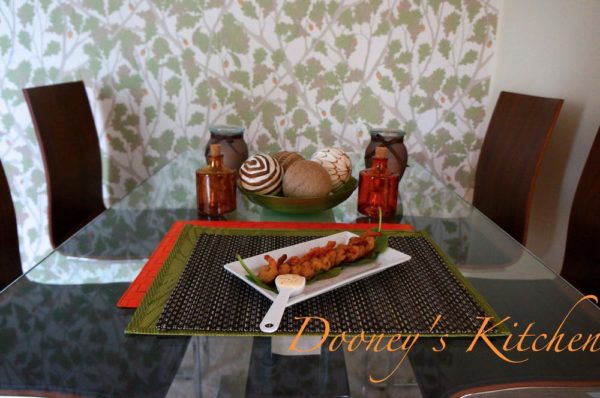 Bring them out this season and put on a show you will be proud of. Those fancy china, expensive wine glasses gathering dust in your cupboard, or wedding gifts you haven't used, bring them out and set out your table restaurant style. Make your friends and family feel special and earn your Martha Stewart stripes in the process. You don't even need all the plates to match, but show that you made an effort.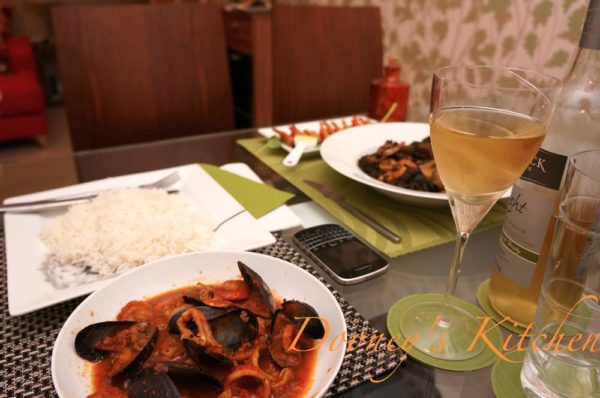 P.S – the recipes for the foods I listed are on the blog. I hope you get to clicking and experimenting. I wish you the best party you have ever hosted, and for new brides and hubby's who may be hosting their first Christmas party as a couple, set the standard this season and do it like a Pro. Seasons Greetings from Dooney's Kitchen!!!
_________________________________________________________________________________
Dunni Obata is an IT Project Manager by day and a cook the rest of the time. She loves entertainment and one of her bad habits is feeding people. When she's not cooking, she's watching the Food Network. Dunni is very passionate about Nigerian food and believes it has a lot to offer globally. Visit her blog – www.dooneyskitchen.com